Are Savannah Guthrie And Hoda Kotb In The Middle Of A Feud?
SD Mack/Shutterstock
It's been nearly five years since Matt Lauer was fired from NBC, and thus the "Today" show, due to sexual assault allegations. Hoda Kotb took over as the co-anchor of the show following Lauer's exit, and became Savannah Guthrie's partner-in-news-reporting. On May 12, Guthrie opened up on the show about how she felt when Kotb replaced Lauer.
"It felt like I could drown if Hoda hadn't reached down and grabbed my hand," the news anchor said. "I will always say she saved the show full stop. And holding hands with her and being like, 'We're going to do this together,' meant everything to me. I don't think I had the confidence by myself."
The two hosts became a dynamic duo as they appeared to have a great on-screen relationship. According to Good Housekeeping, they often lift each other up as they are both mothers and they both go through the same hardships and struggles. But recent tension has caused viewers of the show to believe that the two may not be as close as they appear to be on-screen.
An awkward moment sparked feud rumors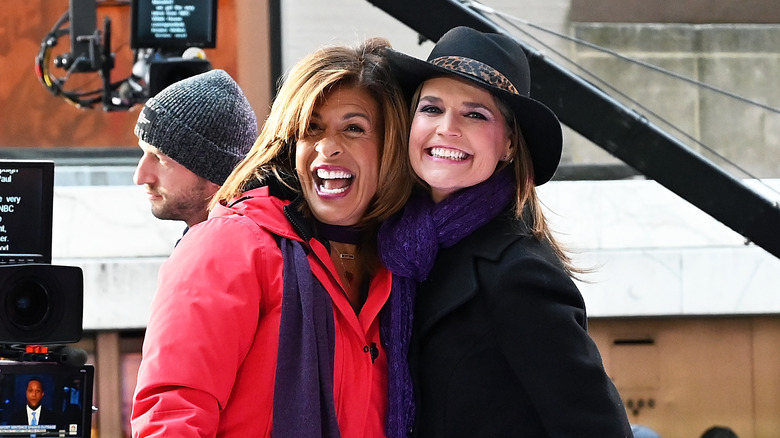 Slaven Vlasic/Getty Images
Hoda Kotb and Savannah Guthrie recently made "Today" show viewers wonder if their friendship is just for the camera. According to OK!, a feud was sparked after an awkward moment on the show. The two co-anchors were making a salad when Kotb asked if they were finished. Guthrie then snapped back, "Yeah, that's it. Moving on. We'll just move on, we don't have time for all that." Viewers picked up on the fact that Guthrie seemed rushed and annoyed.
"For years their personality differences have created the perfect balance on the show," body language expert Patti Wood told The U.S. Sun on July 24. "Still, stress makes people go to their personality extremes, so Savannah is showing more perfectionism, and Hoda is showing more of an 'I want to have fun,' carefree attitude." A source for the same outlet claimed in June that the news anchors "can't stand each other" behind the scenes. The insider continued to tell The U.S. Sun that Guthrie sees herself as a "real news person," while Kotb is the fun and easygoing one. The source added Guthrie and Jenna Bush Hager's close friendship could also be a factor as to why she and Kotb aren't as close.
On July 25, Kotb posted a quote on Instagram about "the power of silence" and growing "silently," and it could be taken as a hidden message. The news anchors haven't directly said anything about the "feud," so we hope this is all just speculation and rumors.