The Truth About Candace Parker's Wife, Anna Petrakova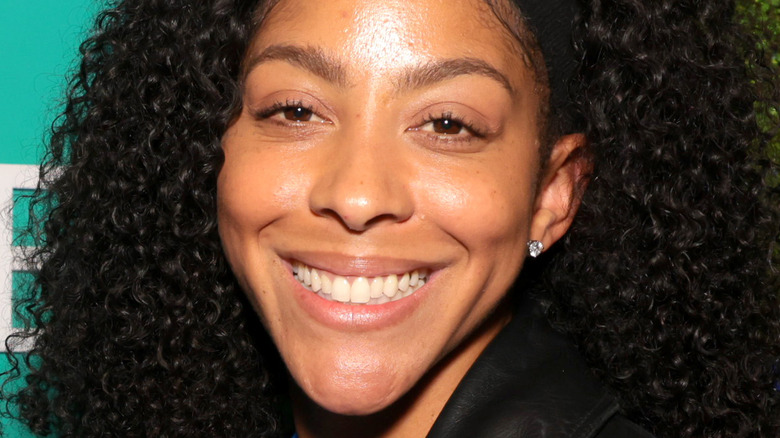 Tiffany Rose/Getty Images
To ring in the new year, Candace Parker dropped some major bombshells in December 2021. The WNBA star revealed she'd re-married and was expecting a baby all at the same time. Parker was previously married to Shelden "The Landlord" Williams, and the couple shares a daughter, Lailaa Nicole Williams.
Per BET, he ended their seven-year marriage after filing for divorce in 2016. The former NBA player requested that his soon-to-be ex-wife pay him spousal support and cover his legal fees. Parker kept mum about the reasons behind their split, but she did open up about life as a single mom and her close bond with her daughter. "Lailaa is definitely her mother's kid," Parker shared in an infomercial for Tempur-Pedic. "She's my personality twin."
The Chicago Sky player is notoriously private about her off-court life and rarely discusses her family or personal relationships. So, her Instagram reveal was a total surprise, especially given that it included her unexpectedly coming out and that she was expecting with her pregnant wife, Anna Petrakova. Adding further ammunition to Parker's bombshell, she disclosed that it was their second wedding anniversary. "To know me or you is to know our love," Parker captioned a photo of the two embracing on their wedding day. She thanked Petrakova for being "my happy home" and announced they'd "always dreamed of growing our family." So, who is Candace Parker's baby momma and wife, Anna Petrakova?
Candace Parker's wife Anna Petrakova is a Russian baller
Candace Parker's wife, Anna Petrakova, is more than capable of giving her a run for her money on the court. According to Pro Ballers, Petrakova was born in Budapest, Hungary, in 1984, when the country was still aligned with the Soviet Union. She went on to play for the Russian national team, racking up plenty of trophies and accolades along the way. Petrakova was part of the winning team for the women's 2012 European Cup, 2013 EuroLeague, and the 2013 Europe SuperCup. She also competed in the 2012 Summer Olympics, where Russia came fourth.
Telecom Asia Sport reports that basketball is in Petrakova's blood as her father, Viktor Petrakov, played for the Russian men's team. She studied in the USA before returning to Russia to further her sports career. After the 2017 season ended, Petrakova decided to retire from playing and focused her skills on coaching instead. Per The Bleacher Report, Parker actually played with Petrakova on the same Russian team, UMMC Ekaterinburg, for three years.
Like Parker, Petrakova was involved with a man before the two women married. She was in a long-term relationship with Nikita Kurbanov, captain of the CSKA team. Parker first started appearing on Petrakova's Instagram in 2018. "These two right here #oneofakind #thanksforhavingmeinyourlife," she captioned a photo of Parker and her daughter posing on the red carpet on June 9.
Anna Petrakova was Candace Parker's teammate
Candace Parker had her first kid when she was pretty young and she admitted her daughter was the motivation behind her decision to come out. "I always tell my daughter to be proud of who she is. And I always tell my daughter to speak for herself and speak up for those that she loves," Parker told Time. "And I can't say that to her if I'm not doing it myself."
The WNBA star shared that she and wife Anna Petrakova started as just friends when they played for UMMC Ekaterinburg in Russia. However, as they began spending more time together, things began shifting, and after they kissed for the first time, they realized their true feelings. However, it took time for them to come to terms with things. "We literally denied it to ourselves for three years, I think," Petrakova admitted. "Then we just finally accepted it."
People reports that Petrakova gave birth to their son in February. "Airr Larry Petrakov Parker 2-11-22 We are in absolute love and utter appreciation that Goose chose us. Welcome to the fam, SON," the proud new mommas posted on Instagram. They included a series of adorable photos of the whole family, including two of Airr's big sister, Lailaa, cradling and kissing the tiny baby.