What Georgina Rodriguez's Life Was Like Before Meeting Cristiano Ronaldo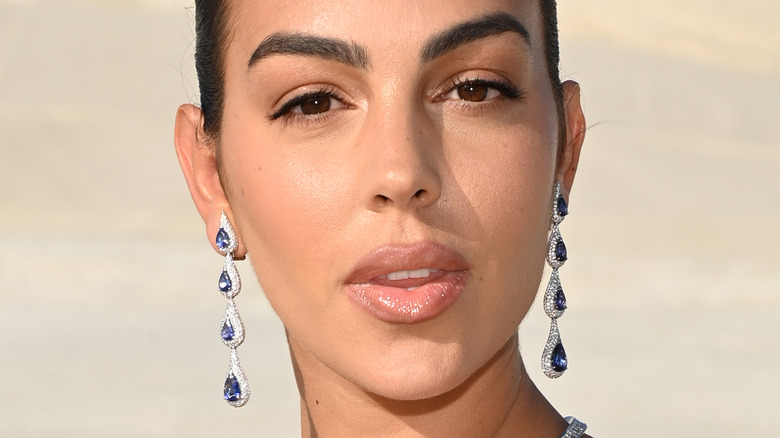 Pascal Le Segretain/Getty Images
Today, soccer star Cristiano Ronaldo is synonymous with his sport on the level of Lebron James, Tiger Woods, or former Man U player David Beckham. In 2020, the Manchester United striker became the first soccer player to earn a billion dollars (per CNN), cementing his place in soccer lore. The Portuguese icon has won multiple titles in Europe's top divisions and has been awarded the Ballon d'Or (the most prestigious individual honor in the soccer world) on five different occasions. But much less is known about Ronaldo's longtime girlfriend, Georgina Rodriguez. Now, that's all changing, thanks to the 2022 Netflix documentary "I Am Georgina."
Billing her as a "mom, influencer, and businesswoman," Netflix takes viewers behind-the-scenes with Rodriguez — proving that underneath the glitz and the glam, the Argentine-born model is just an ordinary woman. She's also someone who hasn't forgotten what her life was like before meeting Ronaldo. "My life changed the day I met [him]," she reveals in the documentary (via Sportskeeda). In a separate interview with Elle Italia, she claimed that "it was love at first sight for both of us."
Unlike some sports stars — who date models and actors — Rodriguez was a total unknown when she happened to bump into her future boyfriend. Theirs is a love story like something you might see in a movie, and it's a true rags-to-riches story for Rodriguez. But even with all the wealth and opportunity that dropped into her lap thanks to Ronaldo, Rodriguez has never forgotten where she came from.
Georgina Rodriguez hails from humble beginnings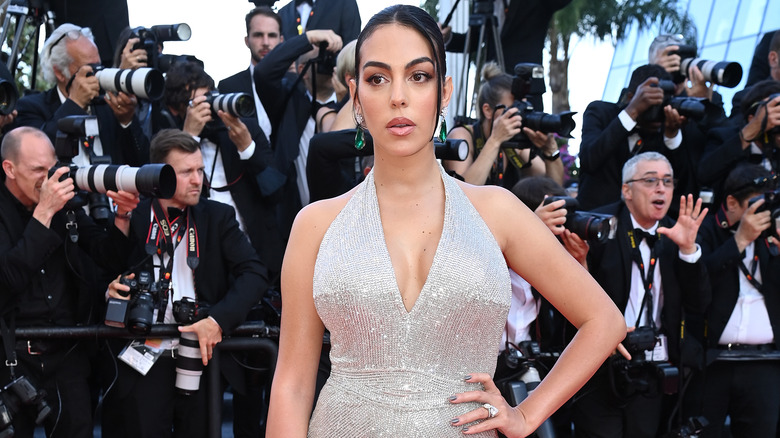 Pascal Le Segretain/Getty Images
As detailed in "I Am Georgina," Georgina Rodriguez met Cristiano Ronaldo when she was working as a Gucci store assistant in Madrid, according to Soccer Stories. When they began dating, she left her job "as bosses feared that the presence of increased paparazzi would scare away clients," according to Foot The Ball. Per The U.K. Sun, Rodriguez had originally moved to Madrid to pursue her dream of working in luxury retail. Growing up in a tiny village in rural Spain, her parents hadn't been able to pay for the ballet classes she longed for, and she was eager to make something of herself in a big city. The outlet reports that she'd been sharing a "cramped" house with roommates, and living off a £250 per week salary when she happened to bump into Ronaldo.
In "I Am Georgina," Rodriguez describes her time in Madrid as "horrible" due to stress over her financial situation (via SCMP). The model recalls being unable to afford either air conditioning or central heating and being at the mercy of the elements all year long. It's a far cry from the lavish life she now lives with Ronaldo. In a promo for the Netflix documentary, Rodriguez tells viewers how drastically her fortunes have changed, explaining, "Before, I sold handbags in Serrano. Now, I collect them" (via SCMP). She added, "Nothing in life has come easy. I know what it is to have nothing and to have everything," per The Daily Mail.
Georgina Rodriguez can now afford to be generous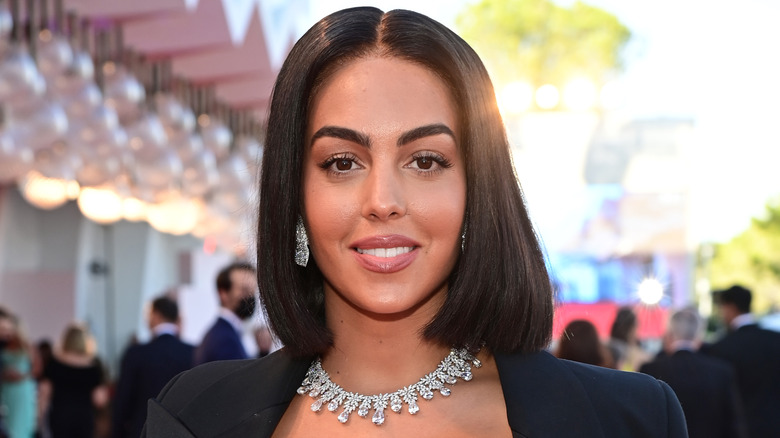 Pascal Le Segretain/Getty Images
Georgina Rodriguez's rise in fortune means that she hasn't forgotten what it felt like to grow up with little in life. "I empathize with people a lot due to my humble origins," she told InStyle Magazine in 2021 (via Lecturas). "I have worked hard and I have had a sacrificial life and the universe has rewarded me with the greatest thing: a beautiful family." Perhaps because she remembers what it's like to struggle, the model also prioritizes giving back to communities in need. A preview for "I Am Georgina" shows her wrapping presents for the Spanish child protection nonprofit, Nuevo Futuro. "It's very important not to forget where I come from," Rodriguez shared in an Instagram clip. "Whenever I think of the children, I always get emotional." That same year, she also donated a £20,000 check to a food bank in Madrid, per The Daily Mail.
Of course, financial woes are no longer a blip on Rodriguez's radar. Celebrity Net Worth estimates her total net worth at $10 million, as of this writing. She has appeared on the cover of high-fashion magazines like Harper's Bazaar Spain, VIP, and Diva E Donna, and that's just the tip of the iceberg. Rodriguez's 39 million Instagram followers are equally instrumental in helping her land new, lucrative and brand partnerships. But take away the designer clothes and luxury cars, and Rodriguez is just a woman with "a big heart," as one fan wrote her.