The Truth About Ana Navarro And Meghan McCain's Relationship
Jamie Mccarthy/Getty Images
On August 4, ABC's "The View" announced that always a guest-host never a co-host Ana Navarro had finally been tapped as a permanent fixture on the famous talk show. "'The View' is an institution and incomparable platform for women of different backgrounds to share their opinions and insights," Navarro later said in an official statement, per Variety. "It's been a long courtship, but we're finally making it official. I love being on the show, and I love living in Miami. I'm happy I will be able to do both. Thank you to ABC News, 'The View' family, and our loyal viewers for their continued support."
But while many were celebrating Navarro's new role on the show, some looked to controversial former co-host Meghan McCain for a reaction as the two had been known to butt heads in the past. But what's the truth behind the two political pundits' relationship? Let's take a little time to enjoy the view break it down for you.
Meghan McCain stormed off set after a heated debate with Ana Navarro
Dueling Republicans?
While many assumed that Meghan McCain and Ana Navarro would hit it off as they are both members of the Republican Party, it didn't quite work out that way. Case in point: the September 20, 2019 episode when all of the back and forth finally came to a head. During a hot topics discussion about a whistleblower who claimed that Donald Trump made an improper promise to a foreign leader, Navarro took McCain to task for her shouting at her. "I'm two feet away I don't need you to scream at me this way," Navarro snapped back before moderator for the day and "The View" OG Joy Behar abruptly cut to a commercial. McCain then dramatically walked off set but not before referring to Navarro as "so rude." She then magically reappeared after the break. And scene!
Later, however, McCain appeared to brush off the on-air spat. "I think everybody in America is having a hard time expressing their point of view," she explained during a "Watch What Happens Live" appearance. "But vibe-wise with the hosts I'm actually much more comfortable with the main five hosts that I work with every day than I was last year cause now it's my third year." As for the walking out debacle, McCain maintained she was just following protocol... and getting a little glam too. "We are told by producers to leave the table if it's too heated and I get touched up backstage with my makeup so that's what I was doing."
Meghan McCain was reportedly blindsided by Ana Navarro's new promotion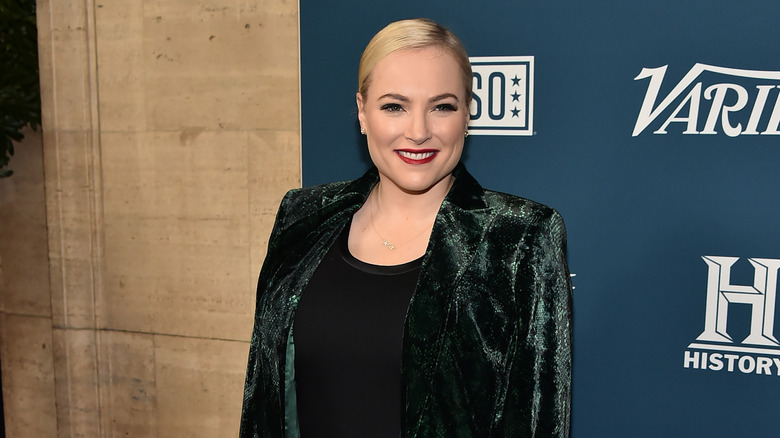 Theo Wargo/Getty Images
Perhaps, however, Meghan McCain wasn't willing to let bygones be bygones after all.
"She was outraged. Ana had embarrassed her and the truth is, Meghan can dish it, but she sure can't take it," a source later revealed to Daily Mail. But that's not all. According to the source, the blood between McCain and Ana Navarro got so bad that McCain threatened to quit "The View" if Navarro became a permanent fixture. "'That's how Ana ended up only doing one day a week," the source claimed. 
But now, on the heels of Navarro's new co-hosting promotion, it's being reported that McCain was "blindsided" by the move. "No one reached out to Meghan about today's big announcement," a source told OK! "She found out the same moment everyone else did. There was a brief discussion about letting her know, but ultimately it was decided Meghan couldn't be trusted. She would have leaked the information while promoting herself." Hey, at least they waited until her old seat at "The View" had long gone gold, we guess?