Here's What Taylor Swift Really Looks Like Without Makeup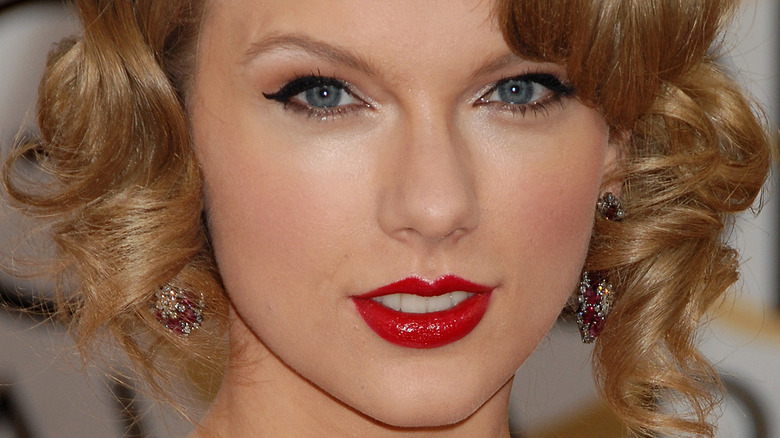 Ga Fullner/Shutterstock
Taylor Swift is no stranger to honesty and relatability, primarily getting very candid with her fans when it comes to her innermost thoughts and feelings through her music. But there have also been a few occasions this talented star has shown some of that realness in interviews and on social media. It's there where the star is known to strip back the layers of the glamour queen we know and love from the red carpet, getting more honest about things like her insecurities and how she really spends her days away from the cameras. One of her most candid times came in her "Miss Americana" documentary, where she opened up about some of her secret struggles. "I didn't know if I was going to feel comfortable with talking about body image and talking about the stuff I've gone through in terms of how unhealthy that's been for me — my relationship with food and all that over the years," Swift told Variety of the documentary in January 2020.
But there's no doubting this star — who's become pretty famous for a bold red lip — is a beauty on the inside and the outside, and she's proven in on multiple occasions by getting oh so real with her fans by going totally makeup-free. So, what does the "Bad Blood" hitmaker really look like when she's not all dolled up? Stunning, of course! And we have the proof.
Taylor Swift's makeup-free photos
Taylor Swift has ditched the makeup a few times on Instagram, including in January 2019 when she flaunted her obvious natural beauty with a gorgeous selfie. The photo showed the sans-cosmetics star rocking a denim jacket as she posed next to a trailer door with a sign that read "Bombalurina." Of course, that was the name of her cat character in the not exactly well-received movie version of the musical "Cats." But there's no doubting Swift looked so stunning as she showed off her blemish-free complexion that she totally overshadowed the backlash the notorious movie went on to receive.
That's not the only time the "Look What You Made Me Do" star, no makeup, and a cat have gone hand in hand on Instagram. In December 2018, the beauty cuddled up to her feline friend in two gorgeous Instagram photos to celebrate the festive season as she once again ditched the cosmetics and turned the camera on herself.
It's not just in her own photos where Swift has proven she doesn't need cosmetics, though. Back in 2008, the then country star took part in People's "100 Most Beautiful People" issue via a totally bare faced photoshoot. "I have blonde eyelashes and blonde eyebrows, so my typical insecurity is that my eyes go away when I don't have makeup on. But it's important to be comfortable with who you are and go natural once in a while," she told the outlet (via Starcasm).
Taylor Swift's take on makeup
Don't think just because Taylor Swift is comfortable without makeup (and who could blame her, looking like that?) that she doesn't enjoy getting glam when it's time. In fact, Swift has such a love for makeup that she even teamed up with cosmetics brand Covergirl in 2010 — but it sounds like her preference is still to keep things light and natural. Speaking about one of her favorite products from the brand at the time, a glossy lip balm, Swift explained to Style Caster, "Makeup doesn't have to feel like paint. It's really light and airy and makes me feel like I don't have to take things so seriously because my makeup isn't so seriously heavy." She also revealed that her love for makeup goes back to when she was in school and she would beg her mom to let her experiment with different products, with her mom relenting and putting a few light cosmetics on her. "That made me feel like I got to be big like her and dress-up," Swift recalled.
But there is one makeup faux pas Swift has fessed up to before — not taking it off! The star appears to be one of the lucky ones whose skin stays perfect anyway, as she told Allure of her pre-bed routine back in 2011, "I take my contacts out, wash my face, put on night cream... Sometimes I forget to wash off my makeup. Okay — almost all the time." Oopsie!