Nicolas Cage Debuts Head-Turning New Look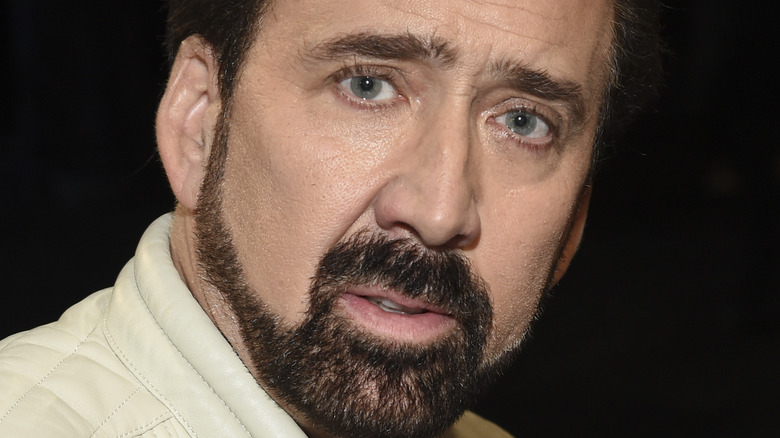 Michael Kovac/Getty Images
It's time we as a society collectively admitted that we are low-key obsessed with all things Nicolas Cage. Does the "Adaptation" star have a pet octopus that he introduces to visitors? Why yes, yes, he does, and we need to know more. Did a man once break into his house naked simply to eat a Fudgesicle? Yes, and we salute that kind of dedication. Was he offered a role in "The Matrix," but turned it down for his kids? Ow, that gets us right in the ovaries. 
Even "The Family Man" star himself is wont to admit to his eyebrow-raising proclivities. "I had some moments that I went off and did some wild stuff, but a lot of that was by design," he told GQ in March. "I think many people in the public got swept up with an idea of me being kind of a wild madman, which was fun in the beginning."
So while the "National Treasure" star may not be down for buying his very own bat cave (yes, that was also a thing), he is down these days for other fun ways of expressing himself creatively. Fam, he has broken into the medicine cabinet and found the Manic Panic hair dye!
Nic Cage debuts his new red 'do to much fanfare
Red hair, don't care! Actor and Oscar-winner Nic Cage has debuted a new 'do and the fans think it's fire. Fan accounts have posted a picture of the "Face/Off" star with newly dyed hair the color of a fire engine, and the star is clearly smiling and living for his new lewk. While his beard remains the same color, with a touch of grey, we would expect no less from the "Con Air" star.
The stans are also definitely feeling it. "Hell yeah," one fan quote-tweeted. "Good for him. Live it up, Nic!" another gushed.  On an Instagram fan account, one comment praised the red with, "This is beautiful." The rest of the comments section is filled with the fire emoji (how apropos). 
Before you think that perhaps this is just a clever photoshop or maybe even a Deep Fake, other fans have posted their selfies with the "Leaving Las Vegas" star, and yup, his hair is indeed redder than the state of Communism. One can only hope that other big things are in store for his hair follicles. Might we suggest a red mullet?