Kim Kardashian Gets Cryptic After Pete Davidson Split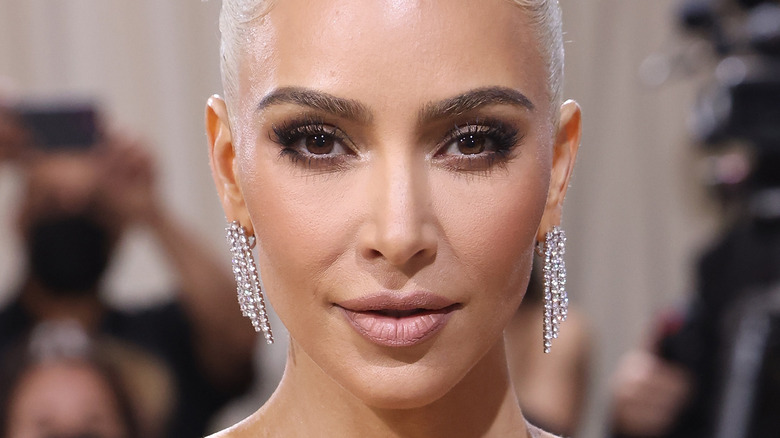 Taylor Hill/Getty Images
Hearts were shattered everywhere on August 5 when the news broke that famous lovebirds Kim Kardashian and Pete Davidson had called it quits after nine months of dating. (Alexa, play "End Of The Road by Boyz II Men.)
"I'm still in complete shock that Pete Davidson and Kim Kardashian broke up. I really thought theirs would be a love that lasts forever," one fan tweeted about the demise of Kardashian and Davidson's relationship. Meanwhile, another wrote, "I'm so depressed Kim and Pete broke up." And while many immediately got to work coming up with their own theories as to why the relationship ended, one source told E! News that it was the long-distance coupled with hectic work schedules that ultimately "made it really difficult to maintain a relationship." Still, the insider was adamant that both Kardashian and Davidson had "a lot of love and respect for each other."
But now it appears Kardashian, herself, is finally breaking her silence... sort of.
Kim Kardashian believes 'time will always tell'
A woman of few words.
On August 23, 2022, reality star turned business mogul Kim Kardashian took to Instagram to post three photos of herself perched on what appears to be a countertop in her monochromatic greige bathroom while sporting an over-sized leather bomber jacket, a flowing grey skirt, knee high boots, and a perfectly coiffed side part to boot. (In the words of "RHOBH" star Dorit Kemsley à la her scene with Jamie Lee Curtis, "THE CHICEST!") The pictures, however, weren't what got everyone talking. It was the mysterious (and perhaps subliminal?) message she penned in the caption that read, "time will always tell."
As one can imagine, shortly after Kardashian hit "share," her loyal fans (and perhaps a few foes as well) immediately got to work deciphering the cryptic post. "First impression is that you miss Ye in these pics. Not sure why but that's what came to mind (and I'm not even necessarily a big fan of his). Love you @KimKardashian .....follow your heart lady, life's too short to do anything else! And yes.....time will always tell!" one user tweeted. Perhaps, however, the cryptic post has nothing to do with her love life at all. The post coincidentally comes off the heels of Kardashian being accused of using too much water amid Southern California's ongoing drought, as reported by the Los Angeles Times. Maybe the aspiring attorney is subtly proclaiming her innocence in the saga that is celebrity watergate 2022. Waste not, want not, right? TBD, we suppose.