Over 30% Of People Agree That This Celebrity Has The Worst Sense Of Style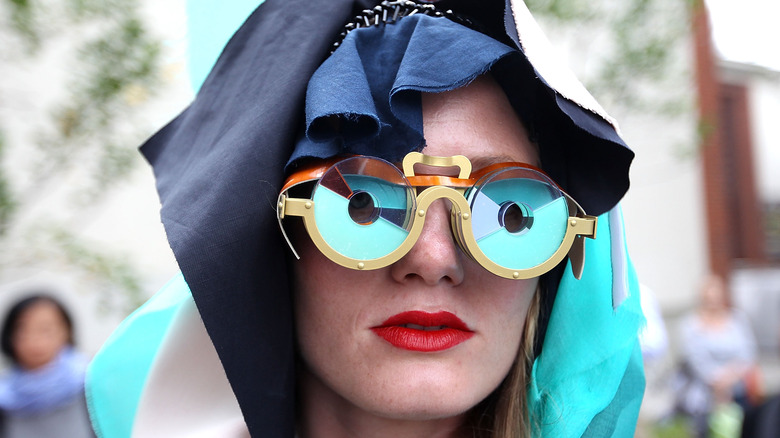 Danny Martindale/Getty Images
One of the best things about award shows is ranking the best to worst dressed stars on the red carpet. It doesn't matter if it's the Oscars, Golden Globes, or BETs; you're guaranteed to see the entire style spectrum from WTF to OMG! Things have never been quite the same since Joan Rivers died. However, even though there are no fashion police on patrol now, it doesn't mean celebrities have ceased committing severe crimes against fashion.
Over the years, some complete cringe disasters have occurred, like poor Tara Reid's infamous 2004 red carpet catastrophe. As the actor posed for cameras outside P. Diddy's 35th birthday party, one of the straps of her dress fell down, resulting in one of the most awkward wardrobe malfunctions ever. And who could ever forget the star of the 2010 MTV VMAs, which turned out not to be a performer, but Lady Gaga's meat dress?
Celebrity style can be subjective and divisive. One person's Kim Kardashian 2013 Met Gala dress is a floral delight, and another's grandma's couch. Even unexpected fashion critic, the late Robin Williams, weighed in on the Kardashian clothing debate. "I think I wore it better," he tweeted (via Page Six) along with a side-by-side comparison pic of the reality star and himself dressed as Mrs. Doubtfire. But haters gonna hate, and when it comes to clothes, the claws come out. Nicki Swift asked readers which celebrity has the worst sense of style, and over 30% of people agreed on one star.
Bad guy? More like badly dressed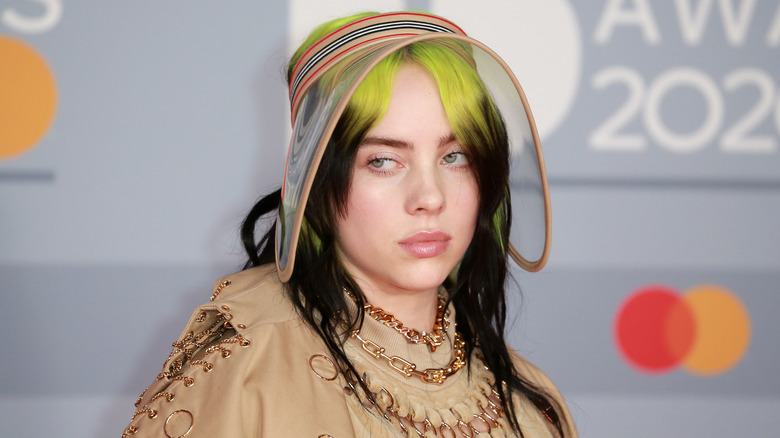 Cubankite/Shutterstock
When it comes to star-style slip-ups, there's no shortage of contenders. It's one thing if they're purposely being provocative or courting attention. But other times, you can't help but wonder if they looked in the mirror before leaving the house, or if they lack friends willing to give them a clothing reality check. Prime example? Nicki Swift's readers' choice of the celebrity with the worst sense of style.
31.76% of 595 respondents decreed Billie Eilish as the winner (or loser). British Vogue hails Eilish's fashion evolution as "a lesson in fierce individuality." They claim "her distinctive sense of style" has "always [been] arresting." Others might argue it's a crime that warrants arrest. Another musician hit the number two spot, and he's every bit as controversial and clothing cray as Eilish. Kanye "Ye" West scored 21.34% of the votes, with 127 respondents not digging the performer's panache.
The ex-Mrs. West was viewed as being a fashion failure by 89 voters. Kim Kardashian came third, with 14.96% of the ballots. Britney Spears was fourth with 13.95%. The Cheeto dust-covered "Circus" singer's style was deemed "Criminal" by 83 respondents. With 11.43% of the votes, Justin Bieber hit the number five spot. 68 people gave two thumbs down to Bieb's bro-skater style. And the loser (or winner) in the style stakes? Kourtney Kardashian at 6.55%. Only 39 people don't want to keep up with her clothing choices.