The Real Reason Alyson Stoner Shaved Her Head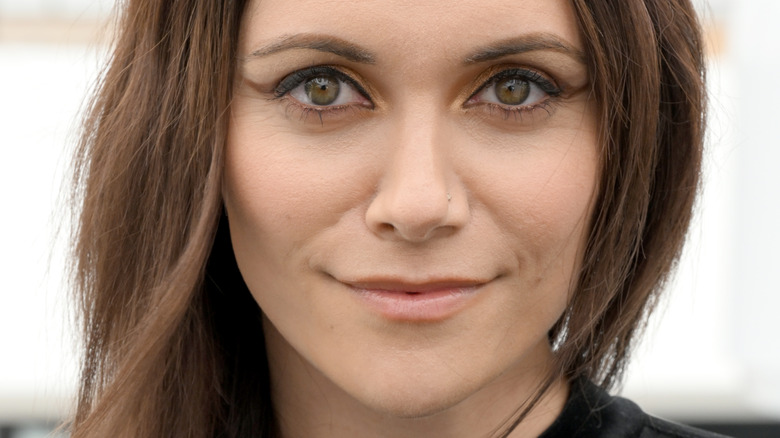 Michael Kovac/Getty Images
Alyson Stoner first stole our hearts as a 9-year-old backup dancer in Missy Elliott's original "Work It" music video, which went on to win Best Video of the Year at the 2003 MTV Video Music Awards. In 2019, Stoner told TMZ that she almost didn't go to the audition. She shared, "My sister, I think, had a scrimmage. My parents said, 'We've spent too much time focused on Alyson.' I think the scrimmage got canceled. I ended up going [to the 'Work It' audition]." And the rest, as they say, is history. 
Per IMDb, Stoner became a Disney Channel actor, starring in the 2003 flick "Cheaper by the Dozen" and its sequel, the "Camp Rock" movies, "The Suite Life of Zack & Cody," and the animated show "Phineas and Ferb," where she did voiceover work. However, in an op-ed for People, Stoner revealed that the cost of child stardom was almost too great. She wrote that at the age of 12, her "body [was] medically undernourished and chronically stressed, which later will evolve into severe eating disorders, adrenal fatigue and mandatory bed rest." She continued to explain, "The onset of puberty has turned my waist and bust into the main objects of attention ... I've learned that it is safer to dissociate in order to survive what my mind and body are subjected to daily."
In fact, Stoner's introduction to the entertainment industry and her resulting self-image became the reason she would take such drastic steps later in her life. 
Alyson Stoner's shaved head reflects her confidence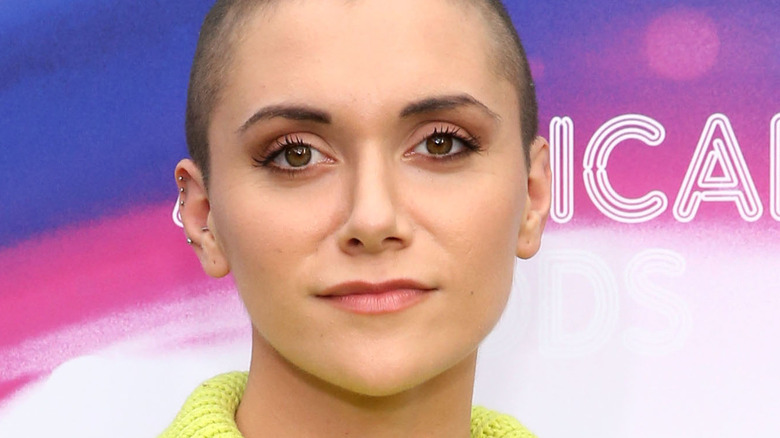 Robin Marchant/Getty Images
In 2019, Alyson Stoner released her song "Stripped Bare" and debuted her new look. In the emotional video, the singer shares real footage of her childhood, where she plays with her toys and later creates an audition tape. Later, Stoner watches the tapes, packs up the house, and sings, "I'm finally cutting the strings / Because I'm stripped bare." The track explores the theme of moving on from your past and letting go.  
In an interview with People, she shared that she had booked herself into rehab for her eating disorders before her 18th birthday. She knew that she needed help, so "the second that I finished the contract, I told my family that I was going." Stoner decided to move on and start a new chapter in her life, asking, "How much of my health am I willing to sacrifice for my job?" So, the dancer decided to take charge of her life and the decisions she made including the edgy look she sported for the "Stripped Bare" music video.
Stoner cuts and shaves her hair in the video and told People that she felt liberated. "Shaving my head is an act of mental health and confidence, not self-destruction," Stoner shared. "I can't tell you how many beliefs and opinions and insecurities fell to the floor with every tuft of hair, and I'm leaving them there. I'm shedding an era and rising as a new being in real-time." Essentially, cutting her hair signaled this new chapter.
Alyson Stoner's platform explores the connection between mental and physical wellness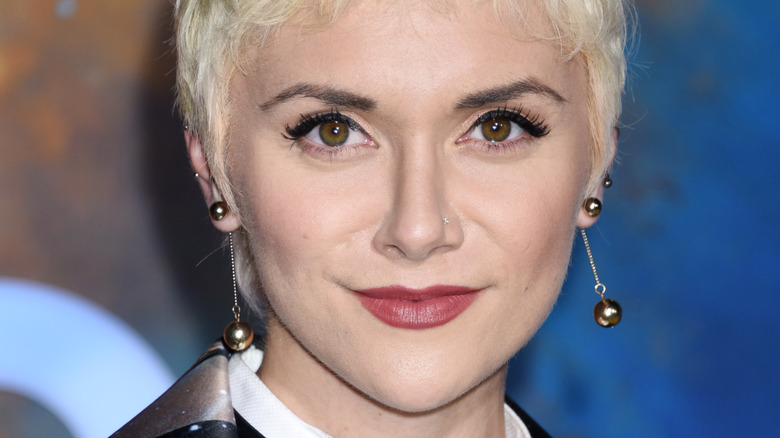 Ga Fullner/Shutterstock
Alyson Stoner turned her journey around. She told People that after she checked herself in for rehabilitation before turning 18, she was not only diagnosed with eating disorders. The artist was also diagnosed with OCD, anxiety, and alexithymia. The latter is a disorder that is commonly associated with PTSD. So, Stoner decided to transform her life and scaled down. Her transformation wasn't only physical, like when she shaved her hair, but touched every aspect of her life. She now embraces a minimalist lifestyle and cut down on her digital footprint.
Stoner also partnered with her sister Correy O'Neal and started Movement Genius. In the first year alone, they signed up 500,000 people on their platform. Movement Genius focuses on connecting mental and physical health for a holistic wellness experience. In an interview with Distractify, she said, "It's bittersweet to think that we live in a body for our entire lives, yet it can feel like a foreign land to us." Stoner continued to expand on that concept. "We don't even understand it or we feel detached or for our own safety and survival reasons we've shut down," she shared.
Per She's a Full On Monet, she revealed why the platform is so popular. "I think people feel empowered and encouraged that they have that much agency over their well-being," she said. It seems as if Stoner not only embraced her past, but used it to shape her future.
If you or someone you know needs help with mental health, please contact the Crisis Text Line by texting HOME to 741741, call the National Alliance on Mental Illness helpline at 1-800-950-NAMI (6264), or visit the National Institute of Mental Health website.