What Does Lock&Key Mean By Lolahol? Here's What We Think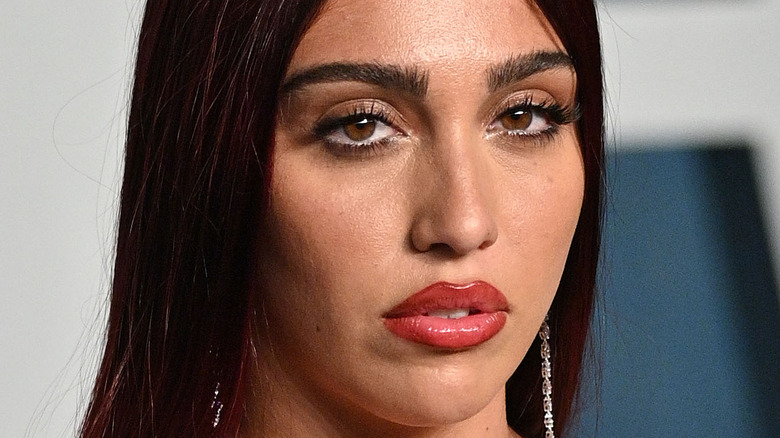 Lionel Hahn/Getty Images
Lourdes Leon may have kickstarted her career in fashion, but it seemed inevitable that she would venture into music, given that her mother is Madonna after all.
In October 2021, the model admitted to Interview magazine that she wasn't completely sure what she wanted to do with the rest of her life. She informed the outlet that she had the gift of singing. However, she added she "just [doesn't] care about it," insisting it's "too close to home." It appears Leon has since changed her mind, as less than a year later, she delivered her debut single, "Lock&Key" under the stage name Lolahol. Even though Leon released her first-ever single on August 24, that doesn't mean this is the first time Leon has dipped her toes into singing. As Entertainment Weekly previously reported, Leon provided backing vocals on Madonna's 2012 song "Superstar," which was taken from her mom's "MDNA" album. 
After providing a small contribution to one of Madonna's tracks, it appears Leon has waited for the right time to launch her music career. Sonically, "Lock&Key" is completely different from Madonna's music and takes on a more experimental and electronic genre. But, what is the meaning behind the lyrics?
Lock&Key references a Lady Gaga meme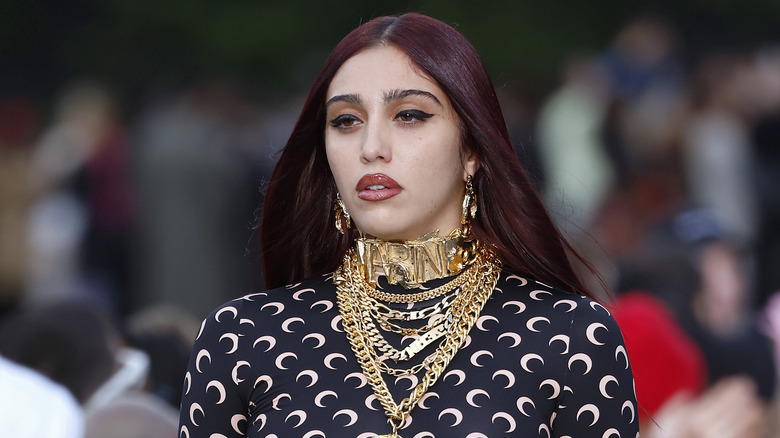 Estrop/Getty Images
Even though Lourdes Leon's single "Lock&Key" is a solid 2 minutes and 57 seconds long, it doesn't contain too many lyrics. However, what she does sing about is quite telling.
While Leon hasn't confirmed what the meaning behind the lyrical content is, it seems the model is singing about someone who is a special person in her life. "Why can't I just lock into a Polly Pocket? / It could all be crystal clear / Keep a photo of you in my locket / Addicted to the comfort," she sings during the first verse, before saying she wants to be whisked away during the chorus. In the second verse, Leon continues to express her desire for this person: "Wanna keep you close for my protection / The delusion keeps me safe." It sounds like she wants to keep this special person all to herself, under a lock and key. Perhaps it's about Jonathan Puglia, her partner of five years.
What fans might be surprised to find out is that Leon references a 2011 viral moment from Lady Gaga. "No sleep, next plane, no sleep, make up, next club, next car, next plane, no sleep, no fear," she sings at the end of the second verse. As Entertainment Weekly noted, Gaga previously stated her work ethic and lifestyle consisted of "no sleep, bus, club, 'nother club, 'nother club, plane, next place, no sleep, no fear." In the accompanying video – which was directed by Eartheater – Leon wears a glittery hood, which is reminiscent of Gaga's style during her "The Fame" era.
Lourdes Leon's debut song received a mixed reaction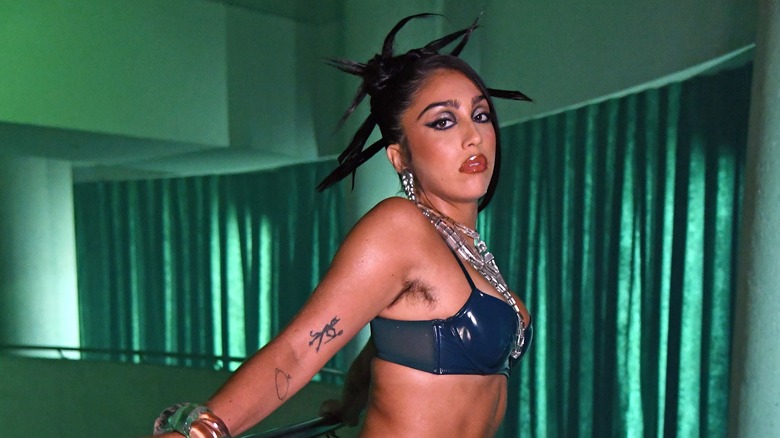 Kevin Mazur/Getty Images
Lourdes Leon's unexpected debut single, "Lock&Key," has listeners divided online. However, it at least has a lot of people talking. Its music video has been watched over 375,000 times in less than 24 hours on YouTube. "This is actually pretty cool!" one user wrote. "I really love the whole vibe of the song. The subtle touches of synth, the beat, the soft vocals, they all come together to give a very certain feeling that I can't quite describe but I love it!" another person shared.
On the other hand, there were also people who didn't think highly of the track. "Well that was pretty horrible and a complete waste of time," one user remarked. "Wow.... I expected so much more. She can't sing and doesn't sing. She's playing a strange act with a bit of sound and voice in the background. I hope her next project let us hear a more unique sound," another said.
Taking to her Instagram Story (via Vanity Fair), Madonna showed her support for her daughter. "I am so proud of you Lola!" the "This Used To Be My Playground" hitmaker wrote. As of this writing, it is unknown what Leon's future plans surrounding music are.