The Serious Illness That Landed Lily-Rose Depp In The Hospital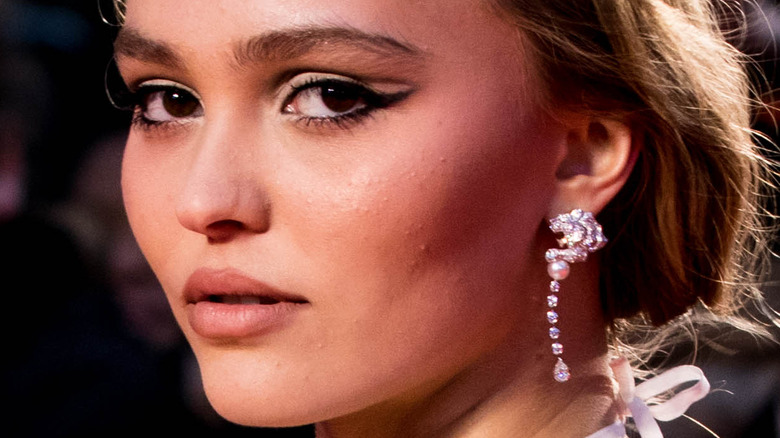 Tom Rose/Shutterstock
As a succesful model taken under the wing of the legendary Karl Lagerfeld at just 15, Lily-Rose Depp learned to pay attention to her health and body pretty early on. But facing the pressures of such a competitive industry while still essentially a child can have its own set of consequences. Lily-Rose developed an eating disorder, a condition she fought hard to overcome. "I have spent a lot of energy fighting the disease. I was much younger when I faced anorexia. It was very difficult to deal with it," the model and actor told French Elle in 2016 (via SheKnows).
While she has recovered, Lily-Rose has continuously faced negative comments about her body throughout the years, with her Instagram feed offering plenty of evidence. "I'm sorry but this body type is unattractive AF .... get a lil meat on your bones for god sake .... you look unhealthy AF," one user wrote under a picture of Lily-Rose wearing pajamas. Because of her history, she's particularly sensitive about body-shamers who comment on her slender figure. "It hurts a lot and depresses me," she told the magazine, adding: "All who are familiar with this problem know how difficult it is to return to a normal life."
Lily-Rose has put anorexia in the past, but the disorder wasn't the only health struggle she faced in her childhood. When she was just 7, Johnny Depp and Vanessa Paradis' daughter had to be hospitalized with serious symptoms that had her parents seriously fearing the worst.
If you are struggling with an eating disorder, or know someone who is, help is available. Visit the National Eating Disorders Association website or contact NEDA's Live Helpline at 1-800-931-2237. You can also receive 24/7 Crisis Support via text (send NEDA to 741-741).
Lily-Rose Depp was in critical condition for more than a week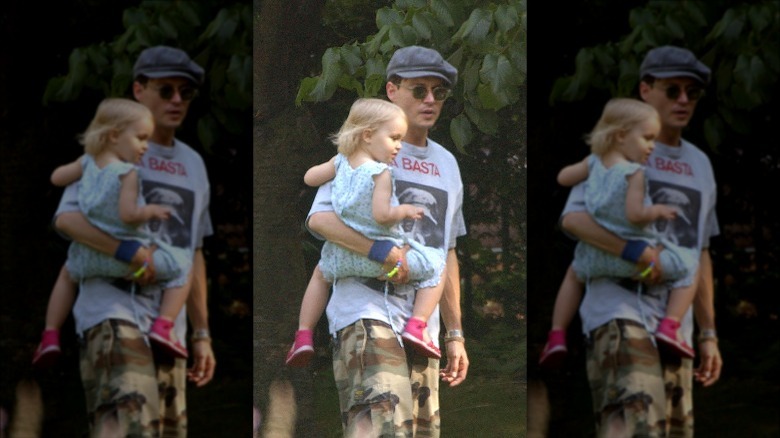 Antony Jones/Getty Images
In early 2007, Lily-Depp Rose fell ill with E. coli, a bacteria that might be present in untreated water and some foods, particularly undercooked red meat and raw vegetables, according to the Mayo Clinic. Symptoms in adults tend to be mild and include stomachache, diarrhea and vomiting. But young children and the elderly are at a higher risk to have the infection spread to the kidneys. That is what happened to Lily-Rose.
Her case was so severe that she suffered kidney failure, according to Daily Mail. The girl had to be rushed to a London hospital, where she was in critical condition for nine days. "Everyone gasped when we were given the real reason for her illness. It was touch and go for a while," a source said at the time. The total time she was hospitalized stretched much longer. "I lived in the Great Ormond Street Hospital for three weeks with my girl and my kid, not knowing if she was going to make it or not," Johnny Depp said after receiving the Rhonda's Kiss Healing and Hope Award in 2016 for his support of cancer patients.
Lily-Rose's strength is what kept Johnny and Vanessa Paradis going. "What got us through this wasn't the strength of Vanessa or me but our daughter and her incredible ability to make us feel OK even though she was very unwell," Johnny told the Mirror in 2007. "She was super strong."
Johnny Depp's experience inspired him to become involved
Those were among some of the most difficult days of Johnny Depp's life. "I've known darkness in my life, but that was the darkest period ever," he said on "The Graham Norton Show" in 2015. His time at Great Ormond Street Hospital opened his eyes to the difficulties faced by patients and the families who experience long hospital stays. A year after Lily-Rose Depp's recovery, Johnny donated more than $1 million to the institution that cared for his daughter, Daily Mail reported. 
His experience also inspired him to dedicate even more time to visiting hospital dressed as Captain Jack Sparrow, the beloved character from the "Pirates of the Caribbean" franchise. "I'd always kind of done these visits, but after that the visits became more and more important," he told Norton. Throughout the years, Johnny has made headlines for these events, usually doing so while filming projects in different cities. When he went to the BC Children's Hospital in Vancouver in 2017, Johnny was the one who reached out first, a rep told ABC News. "We got the wheels in motion," she said. "And wanted to make it as quiet as possible."
Johnny kept at it even throughout the COVID-19 pandemic, adjusting the practice to the circumstances. In June 2020, he joined Juiced TV for a virtual visit with patients at Australia's Queensland Children's Hospital. "I'm with all of you and I send you all my love," he told them (via ET Canada).