How Vanessa Bryant Is Honoring Kobe And Gigi After Her Huge Legal Win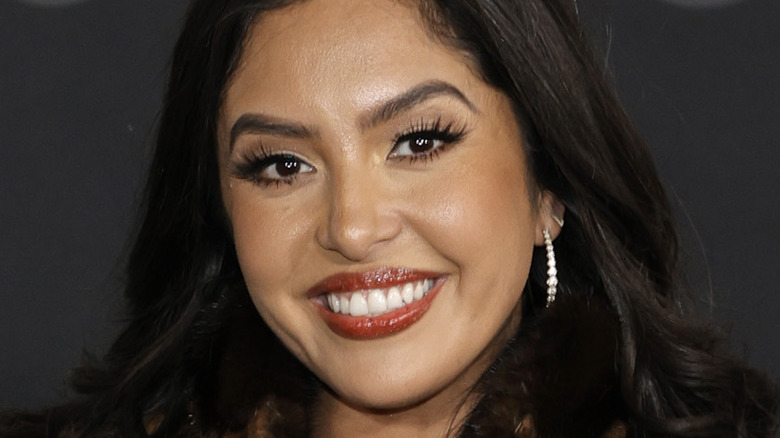 Amy Sussman/Getty Images
Vanessa Bryant recently won a lawsuit against Los Angeles County, following the tragic death of her husband Kobe Bryant and daughter Gianna in a 2020 helicopter crash, per TMZ. Bryant's legal battle revolved around fear that cellphone photos of the victims wrongfully obtained by L.A. County deputies would one day become public. A jury of 10 individuals awarded Bryant $16 million after agreeing she suffered emotional distress caused by the images' existence. The jury found Los Angeles County Sheriff's and Fire departments guilty of breaching the family's constitutional rights by violating their privacy, per CNN.
Following the legal win, Vanessa posted a selfie of her with Kobe and Gianna on Instagram and captioned the post, "All for you! I love you! JUSTICE for Kobe and Gigi! #Betonyourself #MambaDay 8•24•22 [purple and gold heart emojis] #MambaMentality." Per CNN, Bryant's lawyer, Luis Li, released a statement following the verdict and said, "This case has always been about accountability. And now the jury has unanimously spoken."
The jury also awarded Christopher Chester $15 million, a man who lost his wife and daughter in the tragic helicopter crash. While attorneys for Los Angeles County disagreed with the verdict, it's clear the families involved received justice for their loved ones. Now, Vanessa Bryant just announced a new way she will be honoring both Kobe and Gigi years after the tragedy.
Vanessa Bryant launches new jewelry line celebrating Kobe and Gigi
On Mamba Day, August 24, Vanessa Bryant announced a new jewelry line that will raise money for the Mamba and Mambacita Foundation, per Instagram. On a photo of one of the featured bracelets, Bryant wrote, "The limited capsule will be available for one month and 100% of the proceeds will benefit the Mamba and Mambacita Foundation, dedicated to creating positive impact for underserved athletes and boys and girls in sports." The jewelry line is in collaboration with LA-based company Zoë Chicco Fine Jewelry and is being called MAMBACITA x ZC, per People.
Zoë Chicco Fine Jewelry also posted the jewelry collaboration on Instagram and explained that the capsule celebrates Kobe and Gigi through meaningful details of their memory engraved on the 14k jewelry such as "empowering quotes, jersey numbers and symbols." The collection is not only personal to the family, but also limited edition with proceeds all going to charity. There are a variety of pieces available in the collection for both men and women, including rings, ear cuffs, necklaces, and bracelets.
The Mamba and Mambacita Foundation keeps the legacy of Kobe and Gigi Bryant alive by empowering underserved athletes to participate in sports programs and pursue their dreams. Although the jewelry line will only be available until September 24, the foundation always accepts donations through their website.