Justin Long Confirms What We Suspected About Britney Spears' On-Set Behavior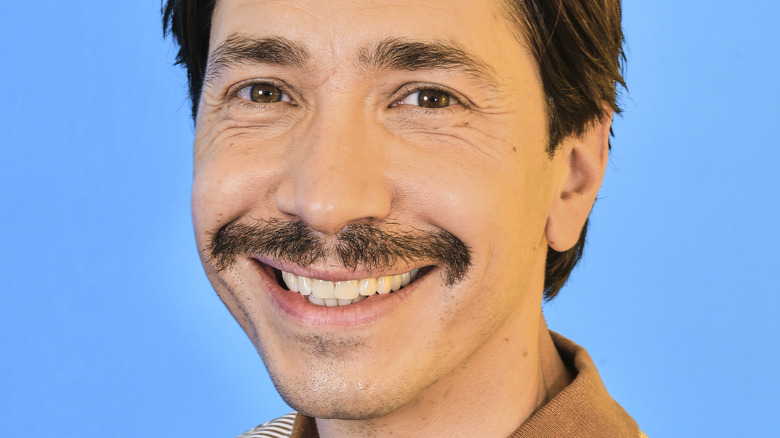 Irvin Rivera/Getty Images
When it hit theaters in 2002, the movie "Crossroads" appeared to be a vehicle for Britney Spears. Instead, it helped launched successful acting careers for her a number of her co-stars: "Guardians of the Galaxy" actor Zoe Saldaña, "Orange Is the New Black" star Taryn Manning, and Justin Long, who would appear in "Dodgeball: A True Underdog Story" and "Live Free or Die Hard" a few years later. Oh, and future "Grey's Anatomy" creator Shonda Rhimes penned the screenplay.
In the movie, Long and Spears play Henry and Lucy, high school lab partners who share a kiss in bed. Henry begs Lucy to have sex with him before he goes off to college, but she shoots him down. "I don't know if I'm the best actor in the world — it's my first experience — but it was really easy to get into the character. And everything I said came from the heart," Spears told the Daily Record ahead of the movie's release. Long had already appeared in the TV series "Ed" and the horror movie "Jeepers Creepers," but he didn't seem to think that he had much of a chance at getting cast alongside Spears. "I thought, what the hell, it would be fun to say I auditioned for the untitled Britney Spears project," he recalled to Hollywood.com. Long would end up being one of the few actors who got to see what Spears behaved like on set.
Britney Spears was no diva, according to Justin Long
In 2001, Britney Spears spoke to the Daily Record about how important it was to her to stay grounded and avoid letting fame go to her head. "When I'm off stage, I'm just like everybody else," she stated. Over two decades later, Justin Long confirmed this to be true in an interview with Entertainment Tonight. "I remember her being so down-to-earth, like disarmingly down-to-earth," he said. "I remember being struck by how normal and easygoing she seemed for all the hoopla surrounding her."
Long praised Spears for treating everyone on the "Crossroads" set with kindness and expressed sadness over her treatment by the invasive paparazzi. He described getting a brief glimpse inside Spears' far-from-normal life in a 2020 Instagram post. "People would clamor to get to her and paparazzi were constantly lurking behind trees, in bushes, etc." he recalled. According to the "Accepted" actor, Spears grew apprehensive when she had to leave the set and face the frenzy.
One way Spears made sure that Long felt comfortable working with her was to apologize to him for the state of her legs when they were shooting their bedroom scene. She tried to prove that they were a bit bristly by making him touch her leg, but he laughingly recalled to People, "It was like silk. I swear, it was the smoothest thing I'd ever felt, it was like a dolphin."