What Does Hold Me Closer By Britney Spears And Elton John Mean? Here's What We Think
Tinseltown/Shutterstock
It's been a whirlwind year for Britney Spears. After a long legal battle, the pop star was finally released from her conservatorship. In 2008, Spears was placed under the legal control of her father, Jamie Spears. This meant that Jamie controlled nearly every aspect of Britney's life. Britney was not allowed to drive, get married, go to the doctor, or make decisions about her fertility without his permission.
Years after Britney entered her conservatorship, the "Free Britney" movement began, and devoted fans campaigned tirelessly on her behalf. These days, she's married, driving wherever she wants, and She's engaged, spending time with her kids, and getting extravagant manicures. Besides focusing on herself, Britney has reportedly been giving a lot of attention to her career – which stalled out for a bit during her conservatorship.
After a very long wait – six years to be exact – Britney Spears has finally released new music. The new track, "Hold Me Closer," performed with Elton John, is the first song Spears has released since her conservatorship ended. It was massive news that Spears was preparing to drop a new song. And now that she has, we're all dying to know what it means.
Spears needed a fresh start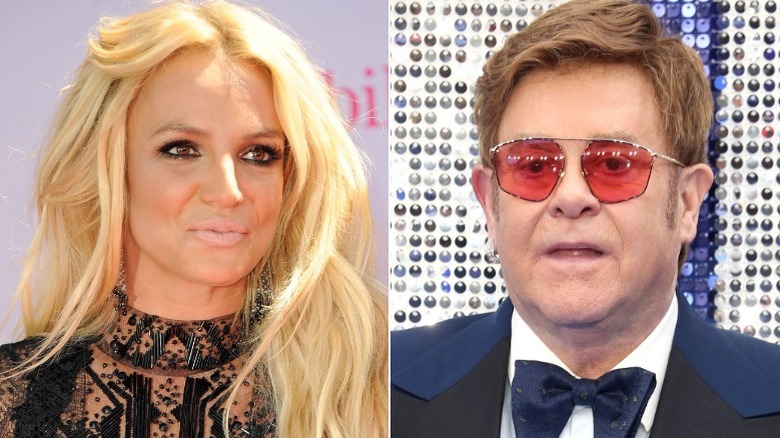 Tinseltown & Cubankite/Shutterstock
Britney Spears' new song isn't exactly a "new song," it's an updated remix of Elton John's classic "Tiny Dancer" with a couple of other songs, including "The One." As for what the mashup means – not much – it's just supposed to be fun, John told The Guardian. The rock legend released a similar mashup/remix with Dua Lipa last summer and told the outlet that he wants to keep releasing a new one every year – to add something fun and summery to his catalog.
For Spears, though, the new song is about more than just a fun summery jam. It marks a new chapter for the artist, one she was initially nervous to embark upon. "Okie dokie ... my first song in 6 years," Spears tweeted. "It's pretty damn cool that I'm singing with one of the most classic men of our time." Spears also shared that she was overwhelmed and trying to calm down via meditation techniques.
Ultimately there was nothing to worry about because John only had her best interests at heart. "I'm so excited to be able to do it with her because if it is a big hit, and I think it may be, it will give her so much more confidence than she's got already and she will realise that people actually love her and care for her and want her to be happy," John told The Guardian. "That's all anybody in their right mind would want after she went through such a traumatic time."
Spears is working on something new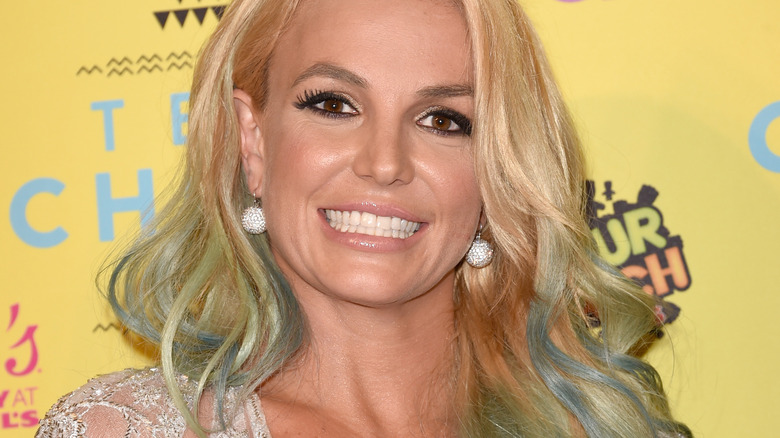 Jason Merritt/term/Getty Images
You'd be wrong if you thought Britney Spears would be content to stop at one new single. According to sources, Spears has big plans now that she's free of her conservatorship and in control of her career once again. First up, there could be a new album in the works. "[Britney] loves creating music and wants to give her fans a new album," a source told People in November 2021. A different source told The Sun, that while Spears was excited about making more music and has begun putting together a team, she wasn't pressuring herself with strict deadlines for a new album. At this pace, we might get Spears' long-awaited memoir before we get a full album.
Almost immediately after freeing herself from her conservatorship, Spears reportedly signed a $15 million deal with Simon & Schuster for a memoir chronicling the ordeal, per Page Six. Sources told TMZ that the manuscript was completed in July. That's when things hit a snag. The outlet reported that the book, sure to be an instant best-seller, was being kept from the public thanks to supply chain issues, making its emancipated January 2023 publishing date impossible.
"I'm writing a book at the moment and as it's actually healing and therapeutic," Spears wrote in a since-deleted Instagram post, per Billboard. "I's also hard bringing up past events in my life... I've never been able to express openly," she wrote, hinting at the heavy nature of the forthcoming memoir.