The Truth About Nicki Minaj And Jennifer Lopez's Rumored Beef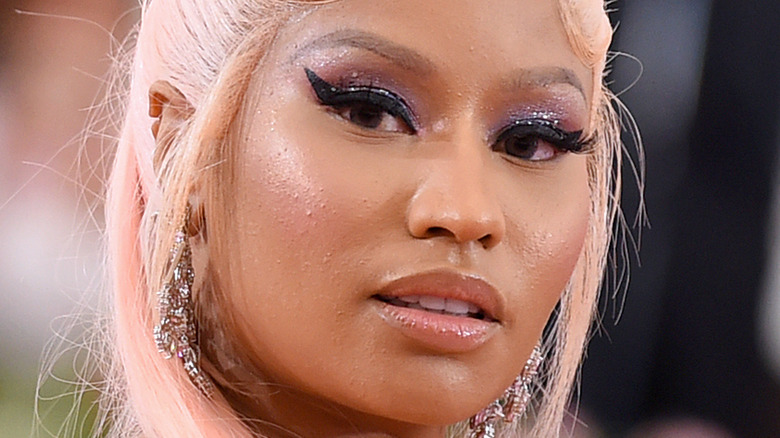 Jamie Mccarthy/Getty Images
Nicki Minaj never holds her tongue for fellow celebrities when she feels a fellow artist has crossed a line. During the 2015 MTV VMAs, Minaj had choice words for Miley Cyrus while receiving her award for hip-hop video of the year. "And now, back to this b**** that had a lot to say about me in the press. Miley, what's good," Minaj said (via Entertainment Weekly), which was in response to an interview Cyrus gave about earlier comments the rapper made regarding those nominated in major categories.
Knowing that Minaj was unafraid to beef with other artists had fans believing there was tension between her and Jennifer Lopez. There was a back-and-forth between Barbz and Lopez on an episode of "American Idol" in 2012. After performing, Minaj said she wanted to join the judges — which included Lopez. "I was hoping maybe I could come back and be a guest judge. J-Lo, can you scoot over a little bit?" Minaj said playfully (via The Hollywood Reporter). The "Selena" star rebuked the proposal. "I don't know if there's enough room for both of us," Lopez replied.
Afterwards, Minaj was asked about the interaction. "She didn't seem to be having it but she gonna have it!" the "Super Bass" rapper said to THR, before clarifying she was joking. "No, actually, I love J-Lo. I love what she's done for pop culture I have nothing but respect." she added. The two appeared on good terms, but a few years later, drama was suspected.
Nicki Minaj's viral reaction to Jennifer Lopez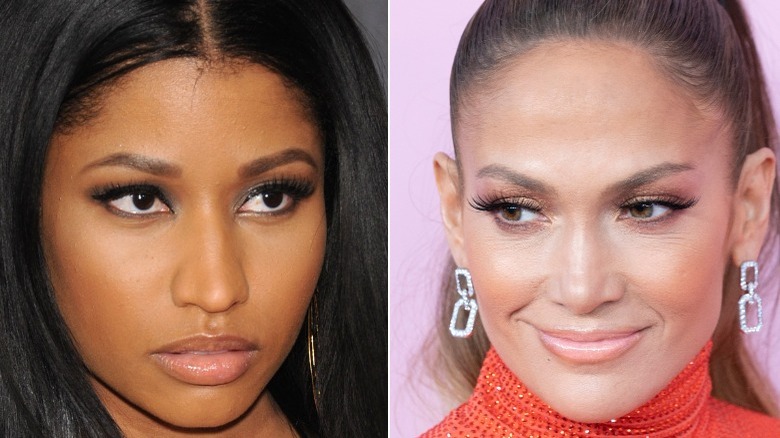 DFree & lev radin/Shutterstock
Once again, a major awards show became the stage for suspected Nicki Minaj beef. Jennifer Lopez hosted the 2015 American Music Awards and performed a medley of popular songs at the time, including Minaj's salacious "Anaconda" track. When Lopez was performing that song the camera panned over Minaj who had an unimpressed look on her face, per Entertainment Tonight.
Social media users noticed the "Feeling Myself" rapper's unenthused face and took it as shade toward Lopez. "Damn J Lo ... Nicki Minaj facial expression says it all" DJ Akademiks tweeted at the time (via ET). Minaj was quick to explain why she made that face while Lopez performed. "I'm looking at my own face on the screen when I'm looking to the right. I turn Bak & look @ her," she tweeted to Akademiks. Perhaps Minaj's facial reaction was blown out of proportion, but there were other reasons that hinted at a feud between the rapper and "On the Floor" singer.
In 2014, Minaj recruited Casper Smart to be the choreographer for her tour, as he also choreographed her "Anaconda" music video, per Entertainment Tonight. The dancer was best-known to the public as Lopez's ex-boyfriend. The following year, in 2015 — before Lopez hosted the AMAs — paparazzi spotted Minaj hanging out with Smart. Reportedly, the "Hustlers" star was not thrilled to see her ex hanging out with Minaj, per Daily Mail. Years later, a Minaj rap verse had fans speculating the grudge was back on.
Nicki Minaj throws shade in lyrics
Nicki Minaj dropped serious sublimanals when she appeared on the Doja Cat's "Say So Remix" in May 2020. Her explosive lyrics appeared to be shots fired at an unnamed target. "Why you talkin' 'bout who body fake? With all them fillers in your face, you just full of hate ... Now you lookin' silly, that's word to silicone" she rapped, per Genius. At first, many listeners believed Minaj was throwing shade at long-time rival Wendy Williams. The daytime talk host had been vocal about criticizing Minaj's husband, Kenneth Petty, in the past.
A year earlier, the "Do We Have a Problem?" artist addressed Williams on an episode of her "Queen Radio" show. "There are people who report the news, and there are people who do it with an evil intent in their heart," she said about Williams (via Hollywood Life). Despite indications that the lyrics were a shot at Williams, Minaj dismissed those claims in an Instagram post. "The line ain't about Wendy tho," she wrote, per Hollywood Life. That led some fans to speculate online that the lyrics were aimed at Jennifer Lopez, but there was no confirmation from Minaj about who the verse was about.
If Lopez harbored any ill-will toward Minaj, then it was not evident in an Instagram post she made shortly after getting engaged. In April 2022, the "Out of Sight" actor gave fans a glimpse of her engagement ring while bumping Minaj and Coi Leray's track "Blick Blick" in her car, per Pink Villa.