What Happened To Dwight Eubanks From RHOA?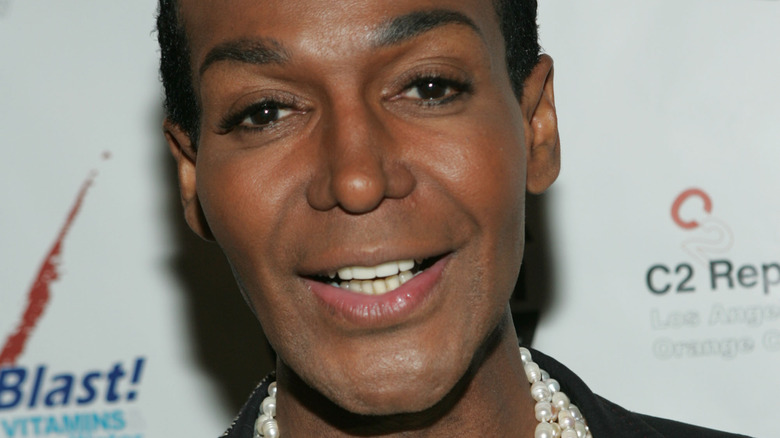 Thos Robinson/Getty Images
Dwight Eubanks was introduced to fans of "The Real Housewives of Atlanta" as NeNe Leakes' BFF hairstylist. During one of their catty gossip sessions, Eubanks uttered a memorable line that Bravo fans still remember over a decade later: "A fashion show with no fashions. How dreadful."
This was in reference to Shereé Whitfield's ill-fated viewing party for her planned clothing brand, She by Shereé. When she received the samples for the line, they were of such poor quality that she had to replace human models with life-size sketches of her designs at the event. But while Eubanks' critique of her failure to launch a fashion label lives on in "Real Housewives" lore, the man himself announced his exit from "RHOA" in an interview with BET in 2011. He and NeNe had a falling-out after she heard that he had loaned her late husband, Gregg Leakes, $10,000. To make matters worse, Eubanks showed up at a party with NeNe's nemesis, Phaedra Parks. Viewers saw NeNe confront Eubanks, who later told Access Atlanta (via Reality Tea), "She bruised me up a little bit."
But according to Eubanks, there was another reason he left the series. "They have not yet shown what I really do," he complained to BET. "I've had a salon for over 25 years and they just refuse to show it. It does not make sense." But as it turns out, didn't need the show's help promoting his business to stay busy.
Dwight Eubanks does hair, events, and booze
Dwight Eubanks is an entrepreneur who wears many hats. He founded the Atlanta salon the Purple Door, which has been in business for over 30 years. In a 2012 interview with Fashion Reverie, he shared one possible secret behind its longevity, saying, "Where others in Atlanta do very inexpensive weaves and extensions using non-human hair, my salons continue to use quality product."
The salon's success hasn't stopped Eubanks from engaging in some extreme side-hustling. When he created a line of men's lingerie, we're just guessing that he had some samples to show customers, and in 2016, he launched his own gin label. Eubanks is also active in the Atlanta beauty community. The New York Times spoke to him when he served as a judge at the 2018 Bronner Bros. International Beauty Show, of which he said, "It's a hairdresser's fashion week."
Eubanks is also a successful event planner. He and fellow entrepreneur Annette BibbyOliver teamed up to produce the 2022 Oscars Griot Gala, a star-studded affair with a guest list that included honorees Phylicia Rashad, Cheech Marin, and Reneé Lawless. Cedric the Entertainer served as host, per Hollywood Digest. In an interview with Sheen Magazine TV, BibbyOliver said of Eubanks, "Dwight is actually our event designer, so he designed everything, from the food to the ambience to the atmosphere to the red carpet ... Dwight doesn't do anything small; otherwise, it's not going to be done."
Dwight Eubanks' return to The Real Housewives of Atlanta
In 2014, Dwight Eubanks popped up on the Bravo series "Married to Medicine," where he used his fashion expertise to help Lisa Nicole Cloud with her clothing line. And "Botched" fans might remember his appearance on a 2015 episode of the show — he got a rhinoplasty and bid farewell to his former nose by holding a funeral for it, per E! News.
On "Watch What Happens Live," Andy Cohen said Eubanks was his favorite "Real Housewives" side character, so maybe viewers shouldn't be that shocked that the hairdresser was eventually welcomed back to "The Real Housewives of Atlanta" family. In 2021, he teamed up with Shereé Whitfield to provide commentary on an episode of the show. When he promoted the television event on Instagram, NeNe Leakes wrote in the comments, "They sho use u when they need cha."
But his former friend's Bravo shade couldn't keep Eubanks away from the network. In 2022, Whitfield finally got her She by Shereé fashion show, as fans saw in the trailer for the second half of "RHOA" Season 14. Eubanks was briefly shown in the audience, so Whitfield apparently forgave him for his famous quip about her first attempt to bring her clothing designs to the masses. Some fans immediately recognized him, with one YouTuber writing, "Dwight made sure he had a front seat for this show, making sure it had fashions this time."