Here's What Lisa Rinna Really Looks Like Without Makeup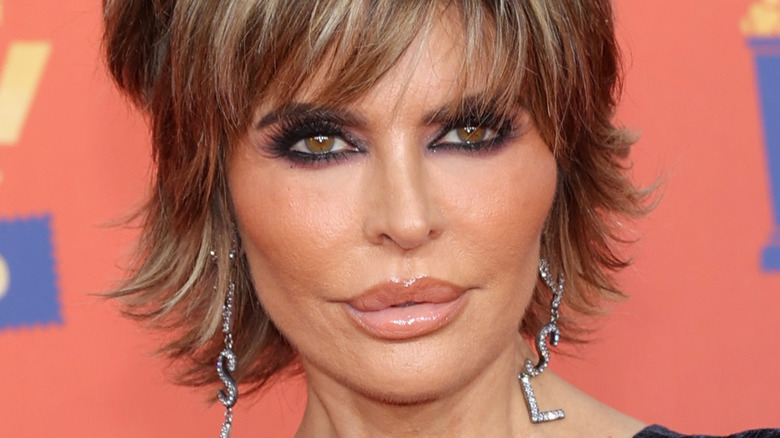 Rich Polk/Getty Images
Chances are you've seen Lisa Rinna's famous face somewhere. As an actor, she had notable roles in shows like "Days of Our Lives" before moving into reality television. She appeared on "Dancing with the Stars" in 2006, and eventually became a regular on "The Real Housewives of Beverly Hills."
As such a high-profile figure in Hollywood, Rinna has become an expert at maintaining her beautiful appearance, even launching her own makeup line. Creating a youthful beauty brand while in her 50s was something that Rinna was very proud of, according to BuzzFeed News. Rinna hoped to help others achieve the iconic looks that made her famous and confident: "My lips are big, I wanted them big, I made them big, so now you too can have big lips."
The success of her career and beauty line is the culmination of her lifelong goal of achieving fame. As she told the Los Angeles Times, "I didn't care whether I was a great actor. I just wanted to be famous and was going to do whatever I had to get there." But, despite her love of makeup and the silver screen, Rinna has also shown off her bare-faced beauty online, putting the "real" back into the "Real Housewives."
Lisa Rinna often posts bare-faced selfies
In 2018, Lisa Rinna took part in People's Beautiful Issue, a publication dedicated to highlighting celebrities' natural beauty. Rinna's photo, which was reposted by the magazine, was met with plenty of praise and some pushback from commenters. People captured a now-deleted interaction between the actor and a hater. Someone wrote, "Ok! Put the makeup on please hahahahaha." Rinna was quick to retort, "Let's see you without make up Hon."
The negativity on her People photo didn't stop Rinna from continuing to show off her natural appearance. In a since-deleted post (via The Blast), the star shared a stunning selfie with a sassy caption. "Someone just dared me to post a photo with no [makeup] on," Rinna wrote. "Real deal here this is no make up." Her glowing skin and smug smile is the perfect clapback to anyone who doubted her authenticity.
In the past, Rinna hasn't even needed a dare to share her bare-faced looks. After Kyle Richards shared an exhausted, post-"RHOBH" filming selfie to her Instagram Stories (via the Daily Mail), Rinna posted one of her own in solidarity. Playing off her co-star's caption, Rinna wrote, "Double hot mess express." For these stunners, there's certainly an emphasis on the "hot," though.
Lisa Rinna is happy to share her beauty secrets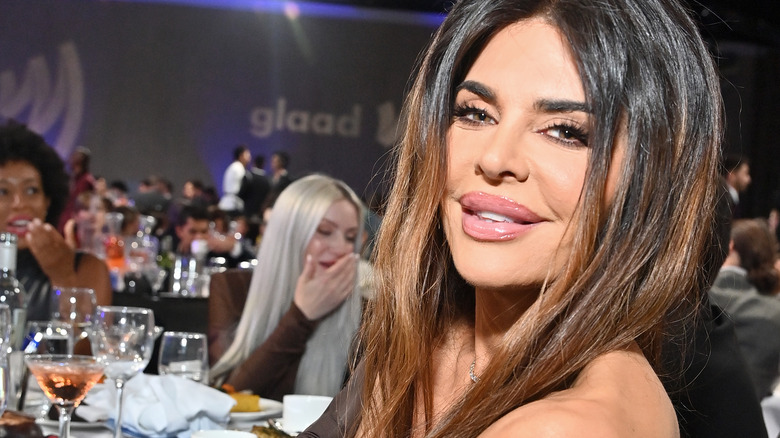 Stefanie Keenan/Getty Images
Besides launching her own beauty brand, Lisa Rinna has also been open about her makeup routine. She's perfectly open about her heavy use of makeup, and joked about it in a 2020 video for Vogue. "To look like I do at 57, it takes work," she said. The actor also shared that, while on-set, she frequently needs higher coverage makeup to take on the bright lights of filming. "I'm not afraid to load it up." 
In an interview with Marie Claire, she shared her ultimate beauty hack: constant maintenance. She tweezes her eyebrows every morning — even if she only finds "a couple of hairs." Rinna also recommends putting on sunscreen as soon as you wake up. When it comes to brands, Rinna has plenty of high-end favorites: "I like a doctor ... Dr. Barbara Sturm, I like Dr. Lancer, I like Dr. Sabagh. Sturm is my favorite, but I cheat on everyone." 
During the times of global quarantine, Rinna turned to another doctor: Dr. Gross. She told Today that, while she was stuck inside and unable to receive facials due to the pandemic, she invested in his LED light mask, which uses blue and red light to reduce flaws and damage. Forget bare-face selfies — we want a picture of Rinna wearing that contraption.