The Truth About Savannah Guthrie And Jenna Bush Hager's Friendship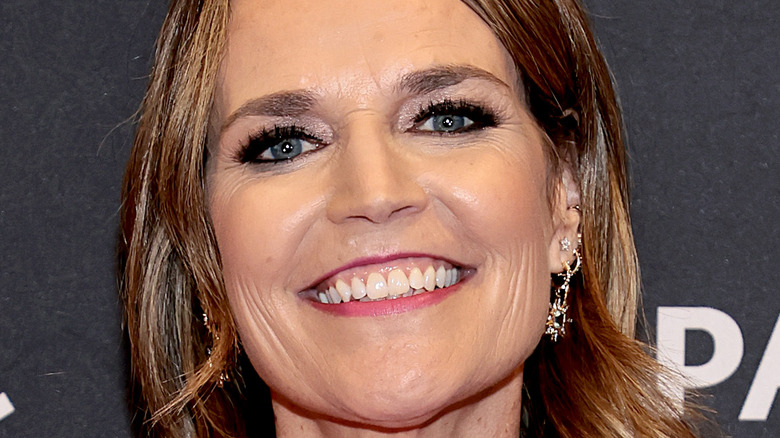 Jamie Mccarthy/Getty Images
Savannah Guthrie and Jenna Bush Hager are prominent fixtures on daytime television, thanks to their roles on the "Today" show. Guthrie, who previously served as NBC News's White House correspondent, joined the popular morning show in 2011, per WFMJ. After spending a year manning the show's third hour, Guthrie was promoted to "Today" co-anchor, where she remains today. The Australian-American recently celebrated her 10-year anniversary with the news program and was sure to thank her co-hosts for their support. 
One of those co-hosts was "Today" show third-hour anchor Hager. The daughter of former president George W. Bush took on the role, alongside Hota Kotb, following Kathie Lee Gifford's exit in 2019. Amid the news, Guthrie took to social media to congratulate Hager on landing the gig. "Bursting with joy and pride and so happy we can finally shout it to the world!! @JennaBushHager is the new cohost with @hodakotb of the 4th hour of TODAY," Guthrie tweeted. And while fans are used to seeing the stars of "Today" playfully interact on-air, Guthrie and Hager's friendship extends far beyond their TV roles.
Jenna Bush Hager and Savannah Guthrie are close friends
Jenna Bush Hager has made no secret of her admiration for her friend Savannah Guthrie. In 2017, the TV personality penned a heartfelt letter to her dear friend, in honor of Guthrie's 5-year "Today" show anniversary. "I knew nothing about Savannah Guthrie before she sat down next to me in the makeup chair five years ago," Hager wrote. Adding, "But after five years working alongside her — and living next to her (yes, we are next door neighbors in New York City), I now know a lot about Savannah." Hager went on to explain that since their introduction, the pair has gone on countless adventures together. From playdates with their children to periodic moms-only outings, Hager and Guthrie have seemingly built an unbreakable bond. 
The "Sisters First" author also applauded Guthrie for her religious devotion, and her ability to maintain a healthy work-life balance. Hager explained that while the Emmy-winning journalist "loves a good night out," she often leaves events early in order to prepare for work the next day. "Some call her a grandma," Hager wrote. "I call her a rock star."
Most recently, Hager gushed over her friend on Guthrie's 50th birthday. "My sister-wife, devoted friend, litigator of all things literally, dog-sweater-wearing, enthusiastic partier until 9pm turns 5-0 today," Hager wrote on Instagram. "@savannahguthrie deserves to be celebrated for her dedication to her family and friends, her loyal heart, and her relentless faith."
Other Today show relationships are reportedly strained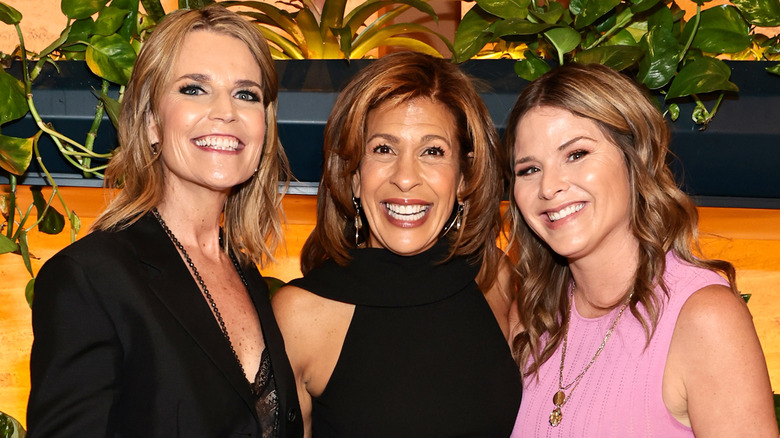 Jamie Mccarthy/Getty Images
Jenna Bush Hager recently found herself at the center of a reported feud with her third-hour co-host Hoda Kotb and her pal Savannah Guthrie. In June, sources told The U.S. Sun that Kotb and Guthrie "can't stand each other" behind the scenes, and that Hager was caught in the crossfire. The source went on to claim that Guthrie wanted "Today" show star Willy Geist to replace Matt Lauer in 2017, and was upset that the role was instead given to Kotb. "Jenna and Savannah are the best of friends, and they ice Hoda out," the insider said. 
However, that report differs greatly from statements Hager has previously made about her TV family. In May, Hager raved over her relationship with Kotb and the entire morning show staff. "I can text Hoda [Kotb] and ask for advice," she told Hello! "I'm so lucky to work with people who I not only adore, but I can lean on them. That's the true meaning of sisterhood." 
Hager and Kotb even put their friendship to the test during a December 2021 episode of their talk show by playing The Best Friend Game. During the bit, the TV pals were tasked with answering questions about each other, and Hager had a hilarious reaction to Kotb's claim that she could survive without her to-do lists. "You talk to yourself with your to-do list every day," Hager exclaimed. She then began to playfully impersonate Kotb, who couldn't contain her laughter.