What Does Calm Down By Rema & Selena Gomez Mean? Here's What We Think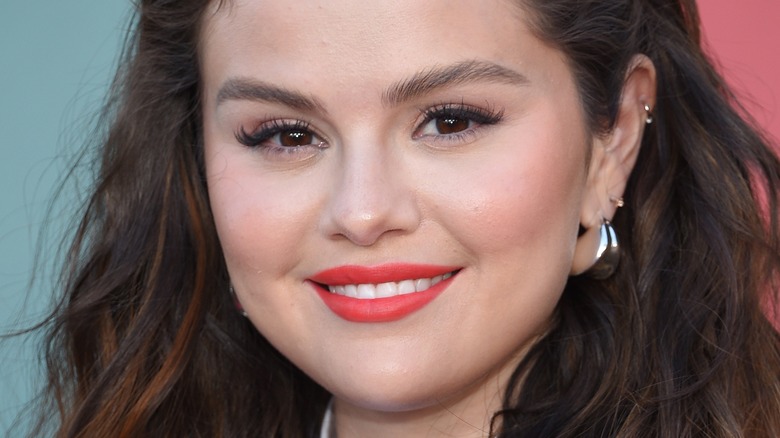 DFree/Shutterstock
Music artists remix and update their already-released songs for multiple reasons. For Nigerian rapper and singer Rema, he decided to have pop star Selena Gomez collaborate with him to record and re-release an updated remix of his song, "Calm Down," per Rolling Stone. Gomez has been working on her acting career, so it was a pleasant surprise for fans to hear her singing again.
"The song's fun," the Disney channel star said in a teaser video she posted on Instagram. "I hope people like it, that's all I want." She also mentioned that she was thrilled to have the privilege of collaborate on the song with Rema. The teaser has some behind-the-scenes footage for the music video, as well as a portion of the song in the background.
The "Love You like a Love Song" singer is no stranger to collaborations, as she has been lending her voice to other artists for their songs, per Hollywood Life. In 2020, she collaborated with K-Pop girl band BLACKPINK on their song "Ice Cream," and she can also be heard in Trevor Daniel's "Past Life" and Coldplay's "Let Somebody Go." As for her new collaboration with Rema, the number dives into the concept of love and romance, something that Gomez's fans have been very interested in.
Calm Down is about young love and attraction
With its catchy beat that makes people want to dance and its raunchy lyrics, Rema's new song featuring Selena Gomez (released August 26) can be considered a good bop for the club. According to Native, the lyrics of "Calm Down" reveal a story about a young and single man pining for a girl, hoping she will eventually flirt back with him. 
Mandy News points out the lyric, "if I tell you I love you no dey form yanga." The media outlet mentioned that this is Edo slang, commonly used to express romantic feelings for someone. After comparing the girl's sweetness to the soda brand "Fanta" as he's watching the girl's every move at the party, Rema ultimately decides to shoot his shot.
This theme of trying to woo a girl can be seen in the Nigerian rapper's music video for the song. Rema is seen chilling at a house gathering until he sees a girl in a yellow dress, as he describes at the beginning of the song. Throughout the video you see the girl go from resisting his charm to eventually giving in and having fun with him, even going on dates with him. Rema's telling the girl to "calm down" because he genuinely wants to get to know her, but she's toying with his feelings.
Calm Down gets real about romantic relationships
Pop star Selena Gomez, who is known for dating singer Justin Bieber before he married model Hailey Baldwin, has admitted that she doesn't mind having a little fun while she's living the single life. On a segment of James Corden's "Carpool Karaoke," the talk show host jokingly asked the "Can't Keep My Hands To Myself" singer why there aren't any men on Taylor Swift's so-called "squad." Gomez told Corden to get her a boyfriend before she answers his question, coyly adding, "I like to have fun."
Gomez's comment from 2016 can tie into her verse in Rema's "Calm Down." The "Wizards of Waverly Place" star sings, "I push back, you hold me tight / Get a taste for a night," per Genius Lyrics, implying that she's the type to play hard to get and doesn't desire to be in a serious relationship with the guy.
In July, people questioned whether or not the "Naturally" singer was back in the dating game. "Selena isn't dating anyone specific at this time," a source told ET. The insider added she wants someone who is with her for the right reasons, and not just because she's famous. So, Gomez's intention of saying "calm down" could be because she wants the guy to truly want to be with her through the ups and downs of life.