The Truth About Kat Graham And Ian Somerhalder's On-Set Feud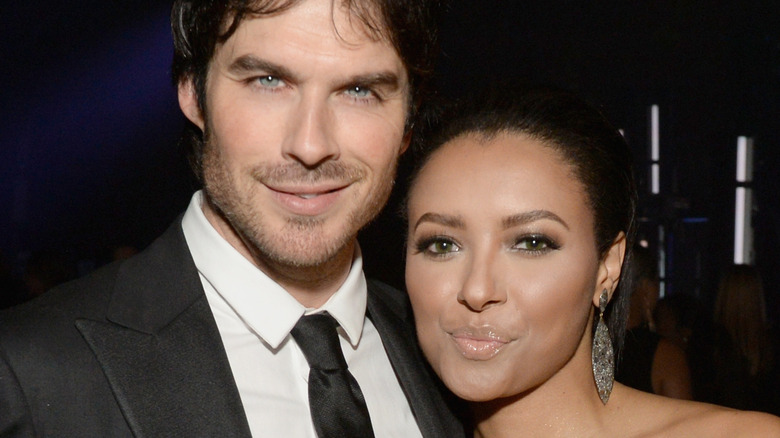 Michael Kovac/Getty Images
With eight seasons and over 150 episodes, "The Vampire Diaries" dominated pop culture and The CW for many years. Its legions of fans mobilized to help it win 30 Teen Choice Awards over the years, and its cultural impact is still discussed today. "10 years ago every girl either binged gossip girl, pretty little liars, or the vampire diaries," said one hit tweet. Someone replied, "I was so OBSESSED with the vampire diaries that I convinced all my 7 friends to watch it too and comment about it."
As they spent nearly a decade on the screen together, it's unsurprising that many of the show's main characters developed off-screen relationships — giving fans plenty to comment on. Ian Somerhalder dated the show's star, Nina Dobrev, for three years. He eventually moved onto another vampire portrayer — Nikki Reed from "Twilight" — and the pair got married. Though Dobrev told Andy Cohen that there's no bad blood, some blame the fractured relationship for the lack of a "Vampire Diaries" reboot.
While one would expect the workplace romances to be the largest source of on-set drama, Somerhalder actually had more conflict with a different leading lady.
Kat Graham and Ian Somerhalder did not get along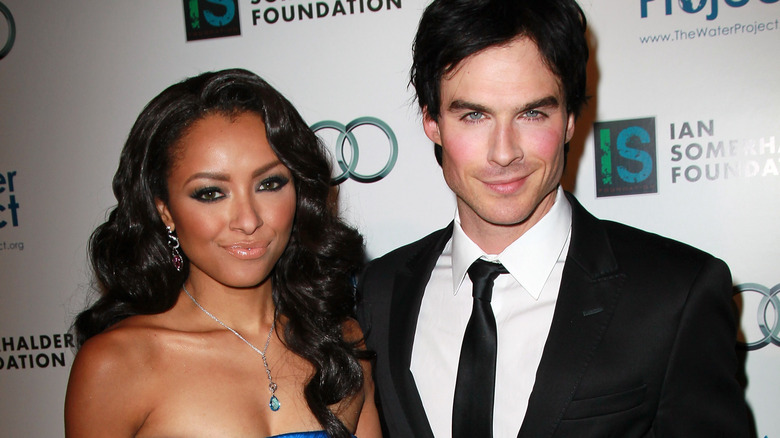 David Livingston/Getty Images
In "The Vampire Diaries," Kat Graham played Bonnie Bennett — a witch who has a prominent role in the series. Although she was with the OG cast from the very first season, she revealed to Aol that they didn't initially all get along.
"Ian and I used to not like each other at all," she spilled. "We hated each other first season ... We wanted to kill each other." When looking back on the feud, she attributed most of the problems to simply being young and having equally strong personalities. "Now he's my best friend in the cast ... He's helped me find myself and is now one of my greatest inspirations."
Her on-set beef with Somerhalder didn't seem to impact her performance, as the show's co-creator has praised her talent and even begged her to reprise her character. "The door will always be open for Bonnie," Julie Plec told Deadline. Unfortunately, Graham made it pretty clear to TMZ in 2021 that she and the cast had moved on. After all, her former rival Somerhalder now has a child and wife ... who Graham also has some opinions on.
Kat Graham and Nikki Reed are close friends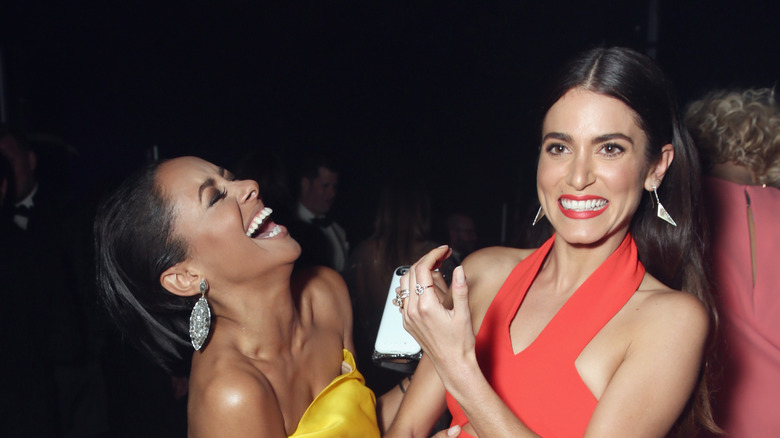 Todd Williamson/Getty Images
What's that saying — "The wife of my enemy is my friend?" No? Either way, Kat Graham seems to have fully moved past her former feelings for Ian Somerhalder and celebrated his relationship with Nikki Reed. "Nikki is amazing, and we are very, very close," Graham told People. Back in 2014, E! News caught up with the girls at the Diamond Ball. Reed went as far as to joke that she was canceling her upcoming wedding to Somerhalder to be with Graham instead. 
When taking Reed and Somerhalder's relationship seriously, however, Graham has nothing but positive things to say. Graham explained to People that why they're a "perfect match." She said, "They have the same values when it comes to people, how you treat people, how you treat animals, how you treat the world, the environment." Thinking Somerhalder is worthy of her BFF is all the proof we need that this beef is squashed.