The Real Reason Raygan Tyler Got Fired On Below Deck Med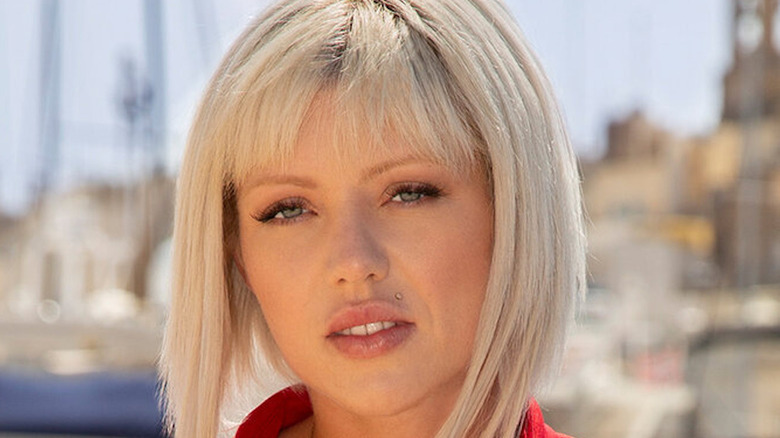 Bravo
For its seventh season, "Below Deck Mediterranean" saw a major cast shakeup with the addition of Raygan Tyler. Her time on the uber-popular spin-off, however, was rather short lived.
Originally, Tyler was "Below Deck Med's" newest cast member for Season 7,  brought on to replace Malia White (the franchise's first female bosun), who exited at the close of Season 6. Since Tyler's first episode, she's been a divisive figure for both her "Below Deck Med" castmates and fans of the show, who didn't appreciate her lackadaisical approach to running the ship. One Twitter user wrote, "Pretty sure I could be a better bosun than Raygan just from watching years of Below Deck." Meanwhile, another fan tweeted, "Is Raygan going to do anything other than smoke cigarettes?" Even though Tyler made history as the second ever female bosun, her inability to strike a good first impression has left her with little support since her reported firing. 
With that said, reality shows thrive on drama and theatrics, and Tyler's behavior was rife with such. In fact, the chain of events that got her kicked off the boat do warrant a side eye. Here's why Tyler was fired from "Below Deck Med."
Why Raygan was fired from Below Deck
David M. Benett/Getty Images
When Raygan Tyler joined the cast of "Below Deck Med's" seventh season, fans were happy to see another female take on the role of bosun — the person who essentially rules over the deckhands and is responsible for keeping the ship running smoothly. Unfortunately, it appears as if Tyler couldn't keep up with the demands of running the ship (via Us Weekly). Or, perhaps she just didn't care, as she was often filmed ditching her duties, eating, and taking cigarette breaks. Whatever Tyler's deal, head honcho Captain Sandy Yawn often had to deal with the consequences of her slacking. During one episode, Tyler was noticeably absent from ship duties, and when Yawn inquired as to the reason, she claimed "food poisoning," an excuse that Yawn saw right through (via MEAWW).  
Unfortunately, Raygan's lack of work ethic reached far beyond herself; it also put the crew in danger. "There was a point where you called three meters and I had less than a half a meter," Yawn said (via Bravo). "And that can't happen, Raygan. It's dangerous." Ultimately, Yawn ended up letting Tyler go. And despite the tough love, Yawn did share that if she had time, she'd put more effort into training Tyler. However, the size and pace of the boat didn't allow for that kind of one-on-one effort. "If I had the time and I wasn't running a boat this size, I would train you. I would teach you," Yawn said. 
What Kyle Viljoen thinks of Raygan Tyler
The "Below Deck" franchise has had its fair share of firings over the years. And in the case of Raygan Tyler, it appears that there's no love lost between her and her former castmates. In an appearance on Bravo's "Watch What Happens Live with Andy Cohen," cast member Kyle Viljoen gave his thoughts on Tyler and they were not nice. During one of Cohen's signature games, "Shady Slide," where he picks the mind of his guests, the host asked Viljoen who he believed the "weakest link" on the cast was, to which he replied: "To be honest, at this stage, I'd definitely say Raygan."
It should be noted that this interview took place before the episode where Captain Sandy Yawn lets Tyler go, so that may be why he kept this answer short. As of this writing, Raygan Tyler went quiet follower her "firing" episode. As Express points out, Viljoen's comments seem to align with many of the "Below Deck Med's" fans, who don't feel that Tyler was qualified to run the yacht, so it's possible everyone's waiting for the season to mature before making concrete statements about Tyler's firing from "Below Deck Med."