Paul Rudd's Son Is His Twin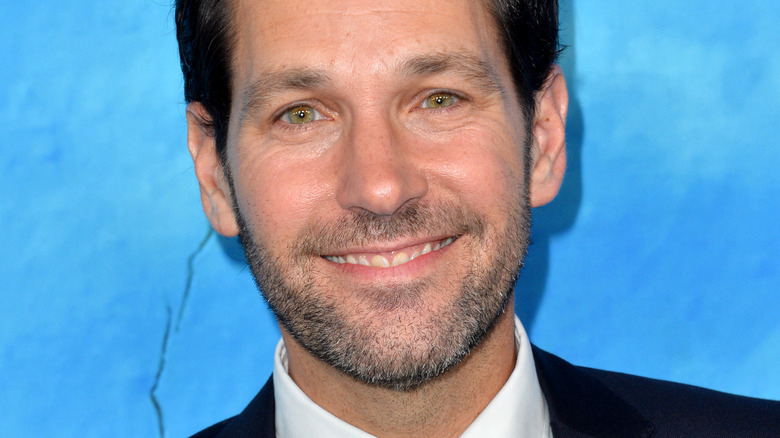 Featureflash Photo Agency/Shutterstock
Actor Paul Rudd has had numerous roles in his career, from Josh in "Clueless" to the superhero Ant-Man in multiple films set within the Marvel Cinematic Universe. Beyond his credits in Hollywood, though, Rudd also has another role: He's the father of two children, son Jack Sullivan and daughter Darby, with wife Julie Yaeger (via Insider).
In fact, Rudd once referred to himself as being "the embarrassing dad" to his son and daughter in a 2018 interview with the British edition of Marie Claire. "My son is 13 and doesn't even want me going to his school. I make jokes to a series of eye rolls," the actor revealed. On the other hand, Rudd said that "My daughter is eight and thinks I'm the bee's knees" — so at least he has that going for him!
Despite this, there's little doubt that Paul and Jack are father and son. The two share similar facial structures, and Jack looks almost exactly like a younger version of his famous dad.
Jack Sullivan Rudd inherited his dad's looks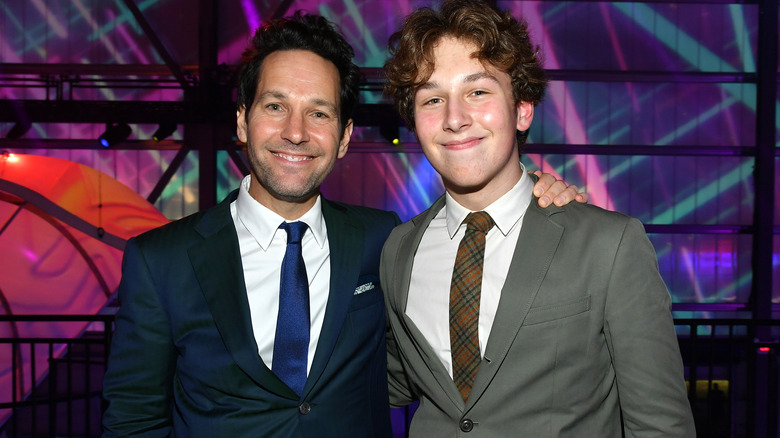 Mike Coppola/Getty Images
From their similar noses to their lookalike smiles, it's clear that Jack Sullivan Rudd takes after dad Paul Rudd. As shown above, the two were photographed together at an event in Miami, and it would be easy to do a double take. Standing with his arm around Jack's shoulder in the snap above, Paul's age and stubble — and his darker, shorter hair — are the few features that distinguish him from his son, whose hair is more reddish in color. 
The resemblance between the two became even more apparent when Paul and Jack celebrated Kansas City's win against San Francisco during Super Bowl LIV. Speaking with NFL on Fox after the big game, the two shared a true father-and-son moment on camera as the doppelgängers reveled in victory. "It feels like I'm seeing colors for the first time in my life," said Paul, while Jack — who celebrated so hard he got a nose bleed — added, "It doesn't even feel real."
Surprisingly, it appears that Jack has never played the younger version of his father in any of his film or television roles (as of this writing!), but we can't say that we would be surprised to see that change at some point in the future.
Family time is important to the Rudds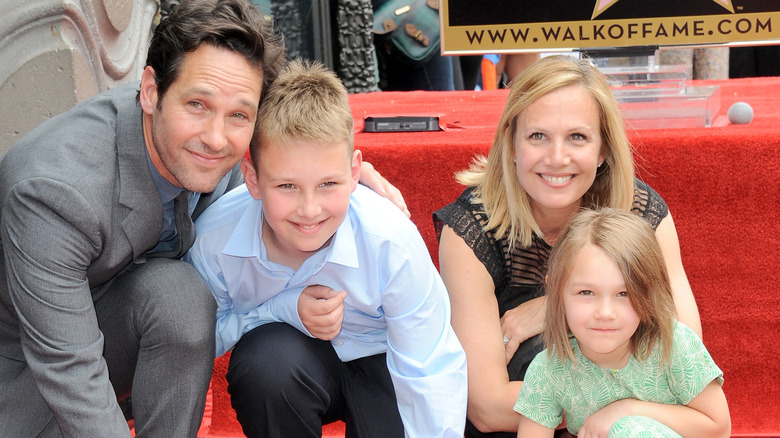 Albert L. Ortega/Getty Images
In all, the Rudds appear to be a close-knit family. Paul Rudd was supported by his wife and children when he was honored with a star on the Hollywood Walk of Fame (via Hollywood Life). According to its IMDb page, both Darby Rudd and Jack Rudd were given special thanks in the credits of the film "Fun Mom Dinner," which was produced and acted in by their father and written by their mother, who is credited on IMDb as Julie Rudd.
Beyond Super Bowl LIV, Paul and Jack appear to share a love of sports, and they aren't just football fans. The father and son pair previously have been photographed sitting courtside to watch the New York Knicks play basketball. This is apparently the Rudds' home team; the Times Union, a local newspaper in the Capital Region of New York, reported in 2021 that Paul and his family call Rhinebeck, New York their home.