Why Paul Rudd Is The Biggest Kansas City Chiefs Fan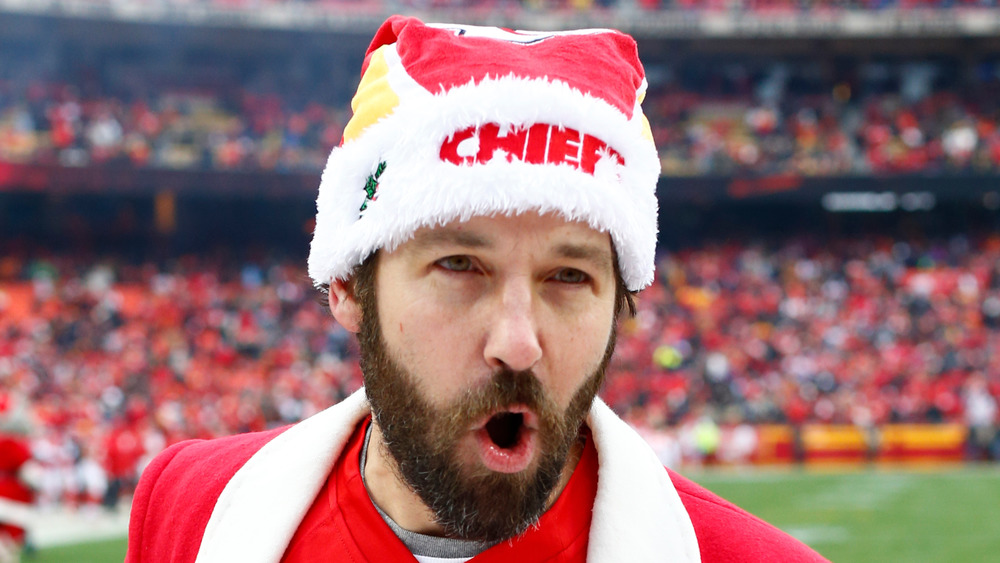 Jamie Squire/Getty Images
Paul Rudd is one of the Kansas City Chiefs' biggest fans. When the football team won the 2020 Super Bowl, fans saw Rudd and quarterback Patrick Mahomes hugging to celebrate the Chiefs' first Super Bowl win in 50 years. The Chiefs even named Rudd one of the team's Spirit Captains during the 2020 AFC Championship game and 2020 Super Bowl. According to CBS Sports, "Paul Rudd is such a huge Chiefs fan that he records the NFL Draft so he and his son can watch every single Chiefs draft pick together." That is devotion!
Even months after the Super Bowl 2020 win, Rudd was still on "cloud nine" over the team's victory. "It's weird for fans of the Chiefs, this is an unusual feeling for us. We don't know what to do with it..." the Clueless star told SiriusXM Fantasy Sports Radio (via The Kansas City Star). Keep reading to find out why Rudd is one of the Kansas City Chiefs' biggest fans.
Paul Rudd loves his hometown of Kansas City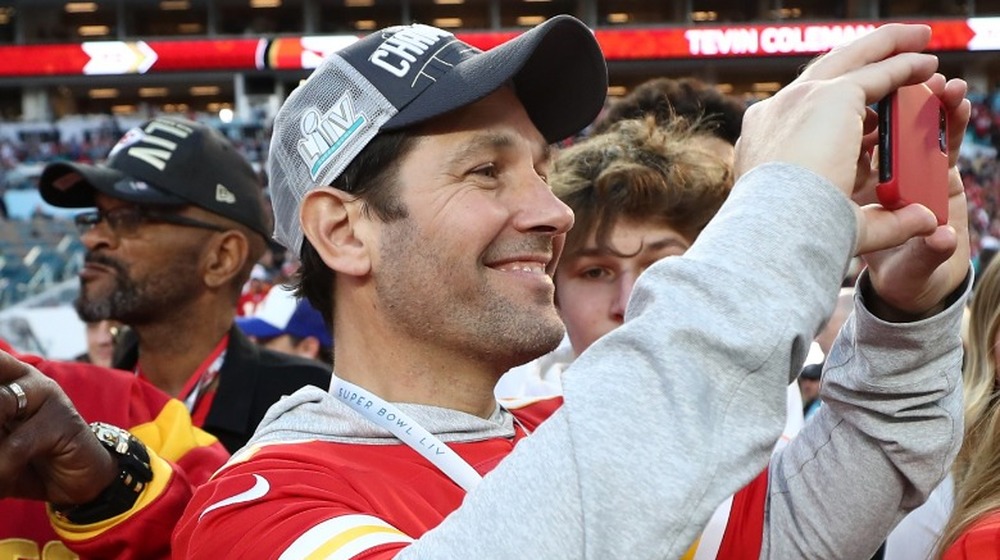 Jamie Squire/Getty Images
Paul Rudd is one of the most vocal celebrities cheering on the Kansas City Chiefs, but the Antman star is certainly not the only notable name sporting red and gold. According to People, other famous fans include Brad Pitt, Jason Sudeikis, Henry Cavill, Rob Riggle, John Amos, Melissa Etheridge, and Eric Stonestreet.
Rudd has been a fan of Kansas City teams since he was a boy. When the Kansas City Royals went to the World Series in 2015, he joked after he was "throwing a kegger" at his mom's house. "I was completely kidding but some people did show up," he said, per The Hollywood Reporter.
Rudd's excitement about the Kansas City Chiefs is contagious. During a 2020 interview on SiriusXM Fantasy Sports Radio (via The Kansas City Star), he expressed high hopes for the future of the squad. "It's really exciting that they're a great team ... we've locked up Andy Reid and Brett Veach for the next how many years and so it is really exciting but it's never in my nature to kind of just sit back and relax. I'm enthusiastic about the future, I'm very excited obviously that, you know, [Patrick] Mahomes is on my team."
The Marvel star gives back to his hometown in other ways too. Rudd, Riggle, and Sudeikis have put on an annual charity event for over ten years..