What Happened To Nicole Remy And Daniel Bochicchio After The Courtship?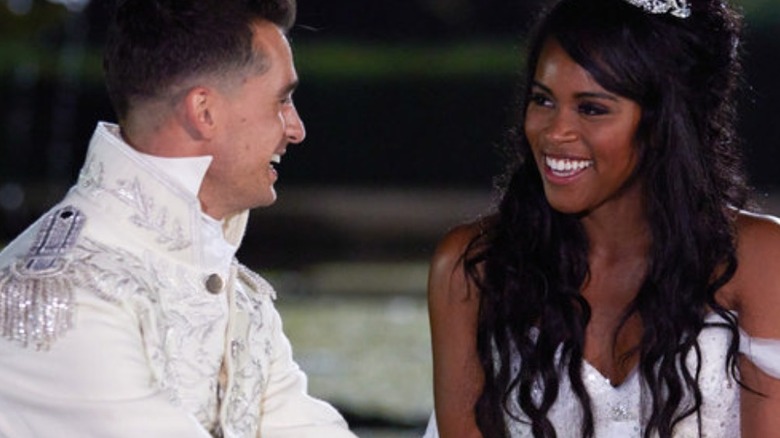 Sean Gleason/USA Network
"The Courtship" has been described as a mashup of "Bridgerton" and "The Bachelorette." The Regency-themed dating show premiered on NBC in Spring 2022 and is centered on Nicole Remy, a software engineer and former Seahawks dancer, who describes herself as a "hopeless romantic," per TV Insider. Over 12 episodes, a group of potential suitors (dressed in attire that would put Jane Austin's characters to shame) vied to win Remy's heart as they participated in a series of delightfully cheesy Regency-era challenges. You know, like writing love letters and learning to ballroom dance.
By the season finale, Remy had chosen her perfect prince: Daniel Bochicchico, an NYC-based real estate agent and USC graduate. Despite a rocky start, which included Remy questioning the validity of Bochicchio's feelings, he professed his love for her and proposed with a ring (via Distractify). Unfortunately, Remy's fairytale love story was over nearly as quickly as it started. Just one and a half months after they filmed the finale — after an adventure-filled trip to her hometown of Seattle — Bochicchico called off their engagement, an event that obviously left Remy heartbroken. "The feelings I had for him on the show and post-filming were always the same, and I wanted nothing more than to spend my life with him, whereas Danny told me after the show wrapped that he felt differently about me, and no longer felt like I was the one," said Remy to E! News.
Bochicchio's side of the story is slightly different, however.
Why Nicole Daniel Bochicchio called it quits
Sean Gleason/USA Network
While Nicole Remy's statement leaves open the interpretation that Daniel Bochicchio's intentions were not as pure as hers, his statement to E! News paints a different picture. "I had a great experience on 'The Courtship,' where I made new friends and got to know the incredible woman that Nicole is," said the reality star. "At the time of the proposal, I was hopeful that Nicole and I could make this work in the real world. It was never my intention to call off the engagement or hurt her, but unfortunately, the realities of modern-day life caught up to me once I got home." He ended this statement by apologizing that "it didn't end as we all had hoped" and wishing Remy "nothing but the best."  
Within the same article, Remy questions if she made the right choice, given the somber end to the relationship. "I was in love with him and I always knew he was the one. But after reliving this heartbreak all over again, I can't help to imagine doing things differently." Even so, Remy says that Bochicchio is "the only suitor I was fully in love with." With that said, Remy shared that she did "fall" for several of the contestants with Hollywood Life. "I do start falling for more than one person. That's really scary. That's what I can tell you." Now that the engagement is done, perhaps she can enjoy a second-chance romance with one of the others.
Daniel Bochicchio's reality show past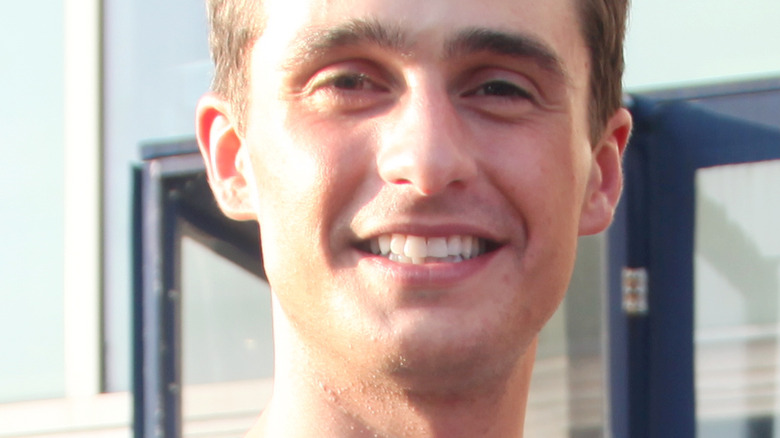 Marie Simonova/Getty Images
Daniel Bochicchio's experience on "The Courtship" didn't end in a marriage, but he may have a future as a reality TV star because, well, he certainly has a past in it. According to Cheatsheet, Bochicchio once appeared on Bravo's "Watch What Happens Live" hosted by Andy Cohen. During his appearance, he worked the bar as a guest bartender and even got a sweet photo with some "Real Housewives" alum.
Nearly a decade prior, the real estate agent also competed on "America's Next Top Model," although he didn't make it far enough to appear on camera (via Distractify). However, it's possible Bochicchio's reality-TV ambitions may have influenced casting directors to seek him out. "I was approached by someone from casting and they sent me an application and it intrigued me, he told SI Live.
If you're expecting Bochicchio to get a "Bachelor" style spinoff where he gets a second chance at love, you may not want to hold your breath because, well, the show's future is a bit uncertain. Romance lovers were excited when "The Courtship" was announced. And while it's clear that "The Courtship" didn't garner the hype of its competition, it premiered with moderate viewership. However, Variety reports that the show's popularity took a steady dive over the season, leading NBC to drop it from its lineup and stash it on the USA Network. So far, there's no word on whether USA Network will produce another season, but it hasn't officially been canceled yet.