The Truth About Aubrey Plaza's Terrifying Stroke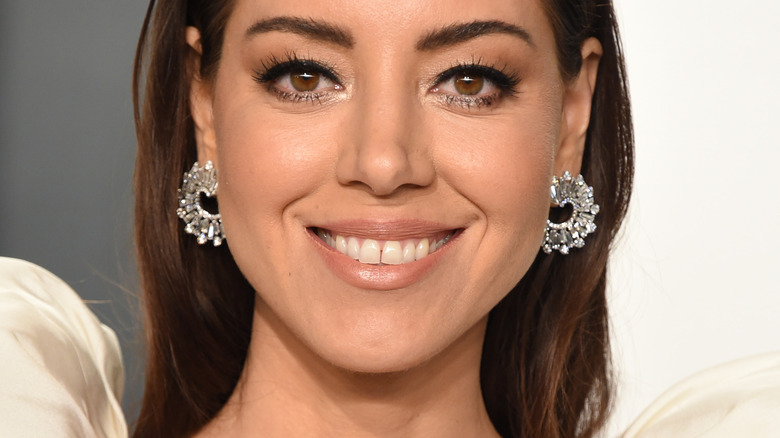 John Shearer/Getty Images
Aubrey Plaza made a name for herself as one of the stars of the hit show, "Parks & Recreation." Since her time on the NBC sitcom, Plaza has gone on to star in a string of hilarious productions like "Scott Pilgrim vs The World," and "Dirty Grandpa." The Delaware native recently opened up about the funny-girl type casting attached to her name and admitted that she often has a hard time getting others to take her seriously. "It's a lifelong pickle that I've found myself in," she told The Independent. "I've had so many moments where I'll say something very sincerely and people will completely think that I'm taking the piss out of them."
And while Plaza has since gone on to star in more serious roles, the actor cannot seem to shake her comedic reputation. "I wish to one day become as effortlessly funny as jennifer lawrence, aubrey plaza, dakota johnson and anna kendrick," one fan tweeted. While another wrote, "I like Aubrey Plaza she is a funny dark little thing."
Despite gaining notoriety for her hilarious personality, Plaza once had a terrifying health emergency that nearly derailed her entertainment career.
Aubrey Plaza was left paralyzed after a stroke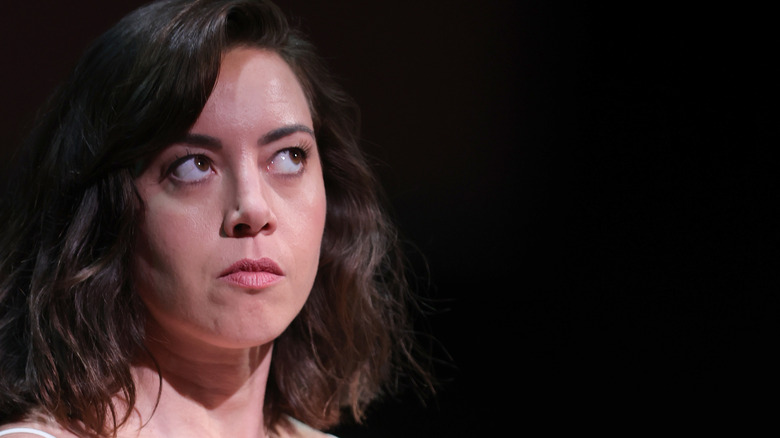 Michael Loccisano/Getty Images
Aubrey Plaza previously opened up about the devastating stroke she experienced at 20 years old that left her unable to communicate. When discussing the connection she had with her "Mike and Dave Need Wedding Dates" co-star, Adam Devine, Plaza revealed that they both suffered from "major health crises" when they were younger. "I had expressive aphasia, where I could understand what's happening, but I couldn't talk or communicate," she told The Guardian in 2016, adding, "When they gave me a piece of paper and a pen I just kept writing lines instead of words. But at least I could walk. When it first happened to me I was paralyzed, but I was so young that my brain healed itself really fast. I was really lucky in that way." Following Plaza's medical setback, she went on to intern at "Saturday Night Live," and later began her acting career.
Similarly, Devine has openly discussed the tragic incident that happened to him when he was only 11 years old. In an episode of "Armchair Expert with Dax Shepard," the "Workaholics" actor detailed an incident that saw him get hit by a cement truck, resulting in the need for 26 surgeries. Devine further explained that after the incident he was forced to write jokes about his peers to defend himself, as he was incapable of physically fighting back.
She has not suffered another major stroke
Vivien Killilea/Getty Images
Aubrey Plaza says she is doing fine after having a major stroke over a decade ago. During a 2012 appearance on "The Late Show with David Letterman," Plaza clarified that she is doing just fine. "That was a one-time thing," Plaza said when Letterman asked if she had experienced another stroke. The talk show host then questioned if the actor was warned to "look out" for future emergencies, to which she playfully responded, "that's literally what my doctor said." Plaza went on to explain that the medical incident was a surprise to her as no one in her family had ever had a stroke.
And while Plaza has long since recovered from the ordeal, she admitted to NPR that the healing process was difficult. "Your brain has to heal itself. And that part of — you know, the blood clot area in my brain will never be healed," she said. Plaza further explained that while she has since experienced "tiny little strokes," she is doing fine overall.