Addison Rae's Mom Overshadowed Her At The 2022 VMAs In A Truly Wild Way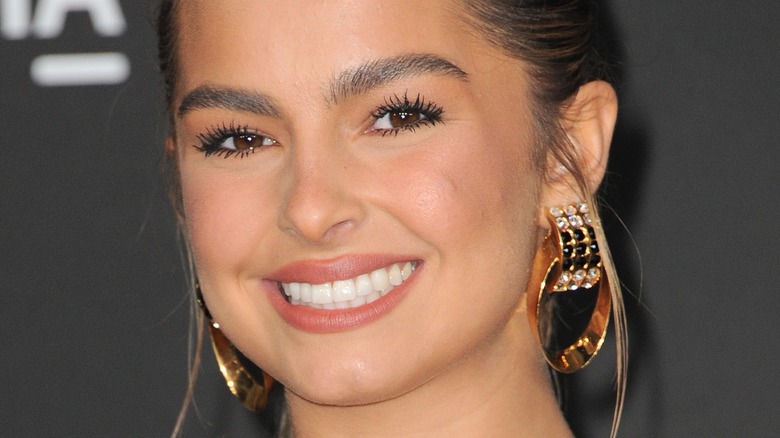 Tinseltown/Shutterstock
Aside from being a TikTok sensation, Addison Rae has been in the news for a number of reasons in recent years. First, was her bizarre relationship with Kourtney Kardashian, who's several years older than she is, and then there is her family drama, which has caused quite the stir and does not appear to be slowing down anytime soon.
In July, Page Six reported that Rae's father Monty Lopez was previously in a five-month affair with a 25-year-old named Renée Ash. People would later confirm that Lopez and his wife Sheri Easterling were, in fact, no longer together. "They've been separated for a year," a source told the outlet. This revelation was soon followed by more drama, as Rae unfollowed both of her parents on Instagram, per Cosmopolitan. There's no doubt that the TikToker did this to distance herself from the drama — or so she thought.
Amid the chaos, however, Easterling caught the public's attention, as she has seemingly moved on to a new relationship that she debuted at the VMAs.
Addison Rae's mom had an interesting date
Sheri Nicole Easterling arrived at the 2022 MTV VMAs in grand style! Donning a lovely lavender dress, Easterling walked the VMAs red carpet with "Mr. Clean" rapper Yung Gravy, who rocked a black suit and coordinating lavender shirt. But these two didn't just walk the carpet — they also made sure to steal the show. A video shared on Twitter shows Easterling and Gravy sharing a kiss while the cameras flashed. And, of course, fans went wild!
"OMG !!!!! If I was Addison I'd be embarrassed ngl," one fan tweeted. "Addison Rae's mother and yung gravy oh ur not fr?," another user commented, seemingly disapproving of the relationship.
Per Cosmopolitan, Gravy opened up about his relationship with Easterling following his performance at the VMAs pre-show. "We met online and connected right away," Gravy said, before adding that he figured they'd be perfect together because he's "into MILFs, and she's kind of the queen of MILFs." It's unclear how serious things are between them, but it appears we just might be seeing more of Easterling and Gravy in the days to come.