Lizzo Let Loose On Critics At The 2022 VMAs In The Most On-Brand Way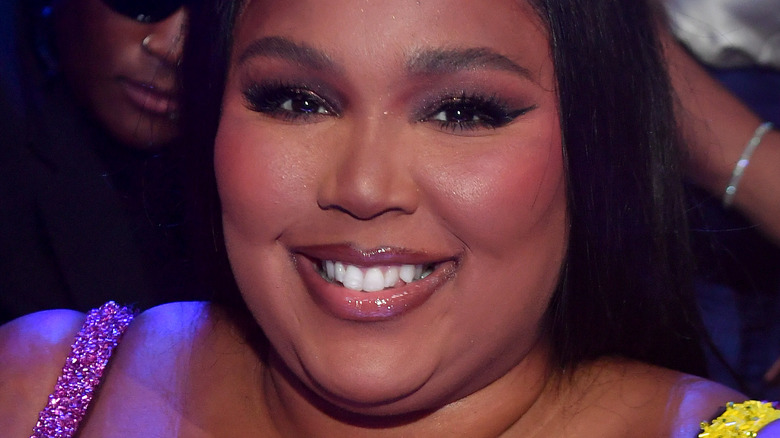 Paras Griffin/Getty Images
The 2022 MTV Video Music Awards took place in Newark, New Jersey, on August 28, and the show was anything but disappointing. The VMAs stage saw incredible, ground-breaking performances from artists such as Blackpink and Anita, while Nicki Minaj received the Video Vanguard Award and delivered a performance worthy of the title. Those were only a few of the fantastic new artists — like Måneskin — who graced also the VMA stage, but there were some great, established musicians who lent their talent to the show, as well, like Jack Harlow (who was also one of the show's three hosts) and Lizzo. After Harlow's incredible opening number with Fergie, Lizzo took to the stage, performing a mashup of some of her best new singles. 
But while the performances at the VMAs are always entertaining, it is an award show, so some trophies were given out throughout the night. Lizzo was nominated for four awards at the 2022 show, and managed to take home the Moon Man for Best Video for Good, a category that has changed names over the years, but essentially is given to an artist whose music is making a difference in the world. And Lizzo — in true queen fashion — didn't let the opportunity to speak up pass her by. 
Lizzo channelled Nicki Minaj during her acceptance speech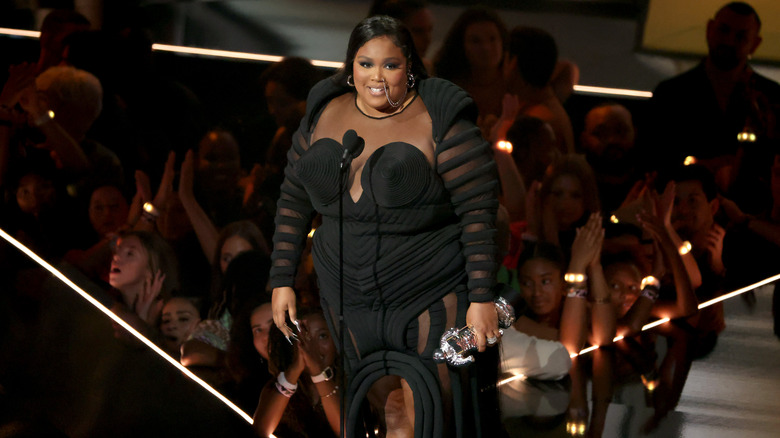 Arturo Holmes/Getty Images
For her acceptance speech for the Best Video for Good Award at the 2022 MTV VMAs, Lizzo took the opportunity to continue on her path of public service, as she told her fans and everybody who was watching to make sure they turned out to vote. But that wasn't the only thing she used her time at the mic for: She also took the opportunity to clap back at some of her haters, channelling her inner Nicki Minaj while mentioning the way some people were talking about her in the press. For those who need a slight refresher, during Minaj's 2015 VMAs acceptance speech for Best Hip Hop video, she took a shot at Miley Cyrus for how the pop star was supposedly talking about the "Super Freaky Girl" singer. Lizzo used similar terminology, calling out people who have been fat-shaming her, like the recent comments made by comedian Aries Spears. 
But instead of truly clapping back against Spears and the rest of her haters, Lizzo did what she does best: Take the high road. The "2 B Loved (Am I Ready)" singer shared that people had been asking her to take a stand against such comments, but reminded her fans and viewers that she got the best revenge possible. She mentioned she didn't need to say anything because she had the Moon Man in her hand. Or, as she put it: "'Cause b***h, I'm winning, ho."