The Tragic Death Of Sopranos Star Bob LuPone
Joe Corrigan/Getty Images
Actor Bob LuPone has died at age 76 after a three-year struggle with pancreatic cancer. LuPone appeared in film, TV, and stage alike, making the biggest impact in the latter. In addition to acting, he served as producer, artistic director, and co-founder of the off-Broadway MCC Theater in New York alongside Bernie Telsey and Will Cantler. After LuPone's death, the company released a statement paying their respects: "The MCC Theater community mourns the loss of our much loved and uniquely inspiring partner, colleague and dear friend, Bob LuPone, who lived fearlessly and with great curiosity, good humor, a boundless passion for connection, and a whole lot of heart. We will miss him deeply and always" (via The Hollywood Reporter).
While best known for his theater work, LuPone made several notable film and TV appearances, including a recurring run as Dr. Bruce Cusamano on "The Sopranos." One of his most remembered scenes on the show was receiving a mysterious and possibly deadly package from neighbor and patient Tony Soprano as revenge for hounding Soprano with questions about his mob ties at a golf outing. Despite only appearing in a handful of episodes, LuPone's presence on the HBO drama made a mark and felt much bigger, with his character often being mentioned, even in episodes in which he was absent. However, his career and legacy were much bigger than a minor TV role.
Bob LuPone's death is felt in the theater community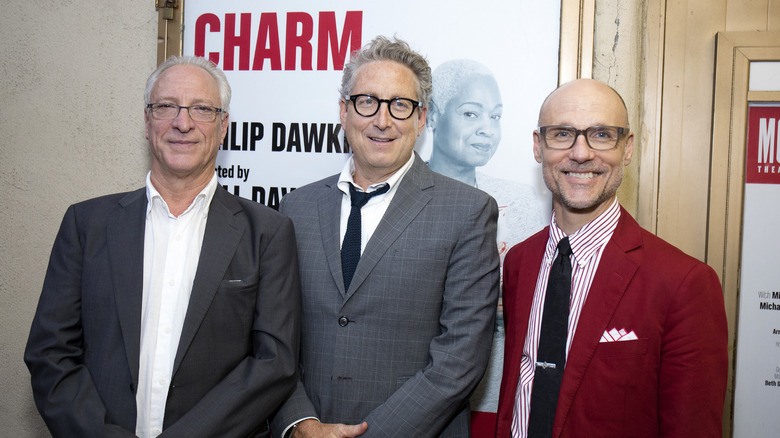 Santiago Felipe/Getty Images
Besides his "Sopranos" character, Bob LuPone played an iconic Broadway role: Zach in the original 1976 run of "A Chorus Line." While he wasn't meant to play the character at first, instead being cast as Al, LuPone persuaded the show's director to upgrade him to the lead role, according to TMZ. The decision paid off, as LuPone received a nomination for Best Featured Actor in a Musical at that year's Tony Awards. LuPone would go on to co-found the Manhattan Class Company in 1986, which would later become the MCC Theater.
LuPone reflected on his theater career in a 2019 interview with the company, saying, "There's no better life. Despite the cost, there's no better life than a life in theatre in New York City, with the community, with the ups and downs, with the fullness of life and creativity that you experience. Both positive and negative, with the joys and sorrows of inspiration." 
Several fellow actors have paid their respects to LuPone, with Amber Tamblyn tweeting, "Sending love and light to Bob and his family and all those at MCC he left behind, especially [co-founders] Will and Bernie. A tough day for the theater community." LuPone is survived by his wife Virginia, son Orlando, and younger sister, fellow Broadway legend Patti, as well as their brother William. A full tribute to the actor and producer can be found on the MCC Theater website.