The Real Reason Harry Styles Skipped The 2022 VMAs Despite Winning Big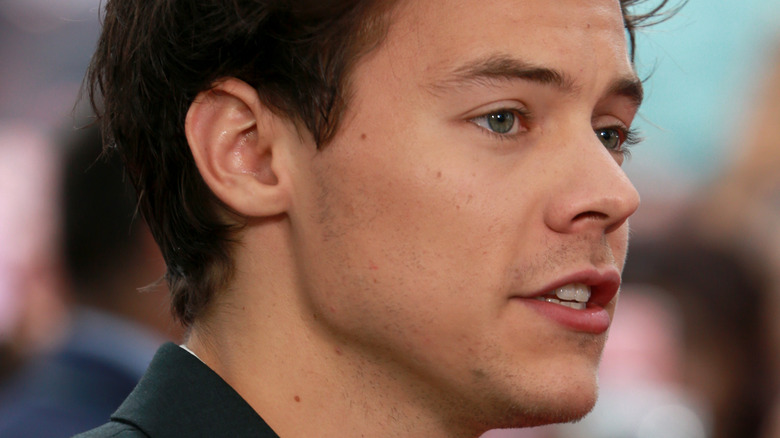 Cubankite/Shutterstock
Harry Styles has had quite a busy performance schedule lately. The "Watermelon Sugar" singer has been wowing crowds on his Love On Tour. According to the New York Post, the star is playing 15 shows at Madison Square Garden in New York City through September.
Recently, Styles made headlines for a fan incident revolving around chicken nuggets. A video posted to Twitter captured the drama. Apparently, a fan tossed some nuggets onstage at his August 27 concert. Styles responded, "Interesting, very interesting approach. Who threw the chicken nugget? I don't eat chicken, sorry. I don't eat meat." He continued to make light of the situation, saying, "First of all, this is cold, and I'm assuming very old. Would you like it back? Why? Alright, here you go. Don't eat it! Now it's on the floor! Don't go looking for it, we'll get you another nugget."
While some fans are weighing in on this chicken nugget ordeal, other people may be wondering why the star skipped the 2022 VMAs. However, Styles' reason for missing out was more than justified.
Harry Styles had a major conflict with the 2022 VMAs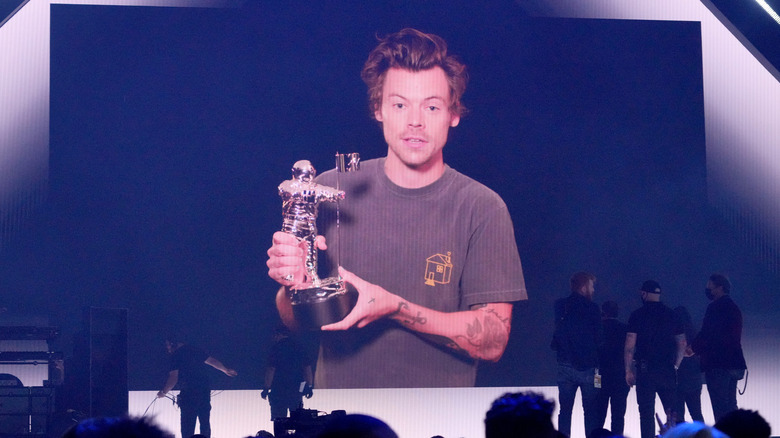 Kevin Mazur/Getty Images
At the 2022 MTV VMAs, Harry Styles won album of the year for his album "Harry's House." Despite being nominated for eight awards, including artist of the year and video of the year for his song "As It Was," the hit crooner was absent from the awards show, per Hollywood Life. He had a concert at Madison Square Garden for his Love On Tour the same night. But he still showed up — virtually, that is.
In a video speech for MTV, Styles greeted fans and thanked them for his award. He said, "I know this is a fan-voted award. I would like to say thank you to all my fans who voted. Thank you so so much. I obviously wouldn't be holding this if it wasn't for you." After thanking those he worked on the album with, he concluded by saying, "I'm sorry I can't be there with you tonight. I'm about to go on stage just down the road. But I hope you're having a wonderful evening, and thank you so much."
Virtual award acceptance wasn't really a thing prior to the COVID-19 pandemic. In the past, a friend or colleague would accept the award on the winner's behalf, like when "Lose Yourself" co-producer accepted the Academy Award for best original song on Eminem's behalf in 2003. During the height of the pandemic, all acceptance speeches became virtual, with people in hazmat suits delivering trophies to winners at their homes.