Amber Heard's Sister Is Seeing Red Over Johnny Depp's 2022 VMAs Appearance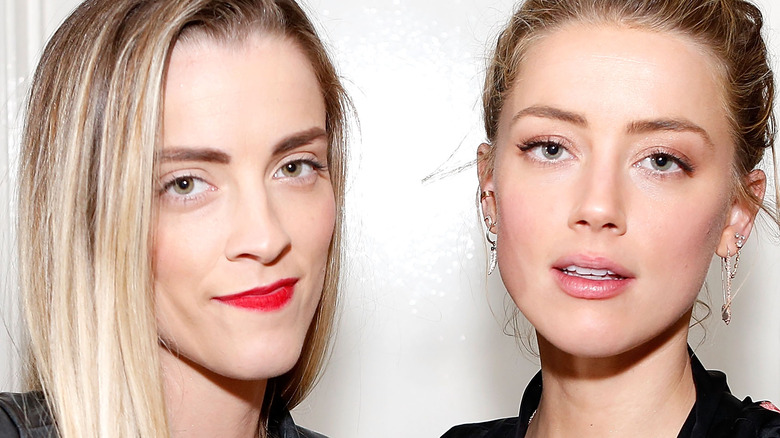 Randy Shropshire/Getty Images
Amber Heard's sister, Whitney Heard, is lashing out at Johnny Depp and MTV Video Music Awards, following the "Pirates of the Caribbean" star's surprise cameo at the August 28th ceremony. Days before the show, TMZ confirmed that the actor was set to make his first major public appearance since the defamation trial against Amber.
Depp made do on his promise to return to the VMA stage, but his appearance was virtual. Attendees, and at-home viewers, were treated to an augmented version of the entertainer – as his head was digitally placed atop a giant Moonperson. "You know what? I needed the work," Depp said, as the Moonperson appeared on stage (per The Hollywood Reporter). The brief moment was followed by a commercial break, after which, Depp returned to the stage and told the audience, "Hey, VMAs, let's get back to the f***ing music, shall we?"
In a later appearance, Depp continued to poke fun at himself and suggested that he was open to appearing at other events. "I just want you guys to know that I'm available for birthdays, bar mitzvahs, bat mitzvahs, weddings, wakes, any old thing you need." Now, Amber's sister Whitney is sharing her thoughts on Depp's return to the spotlight and is not holding back her words.
Whitney Heard slammed MTV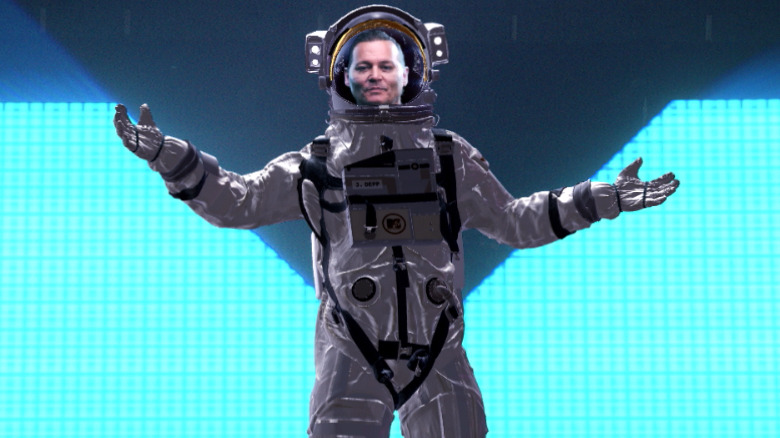 Mtv Vma 22/Getty Images
Whitney Heard has made it very clear that she was not fond of Johnny Depp's appearance at the 2022 MTV Video Music Awards, and is now slamming the network. Following Depp's cameo, Whitney took to Instagram to emphasize her continued support for her sister, Amber Heard. "stand with Amber Heard," read an image posted to Whitney's Instagram Story (via Entertainment Weekly). She adds, "@MTV you're disgusting and clearly desperate! I really hope that none of the people that made this call have daughters." Whitney shared the note along with the altered image deeming the ceremony the "DVMAs."
Fans online also appeared to be divided over Depp's appearance at the award show. "Johnny Depp at the VMA's simply show's he doesn't give a f**k about the trolls," one person tweeted. While another wrote, "Imagine being a VMA producer in 2022 and thinking "we should get Johnny Depp. I feel sick."
Despite the barrage of opinions on social media, Depp's career now shows no signs of slowing down. According to TMZ, the actor recently signed a seven-figure extension deal with Dior, and has reportedly made over $3 million from his debut art collection.