Jason Aldean Welcomes First Child With Wife Brittany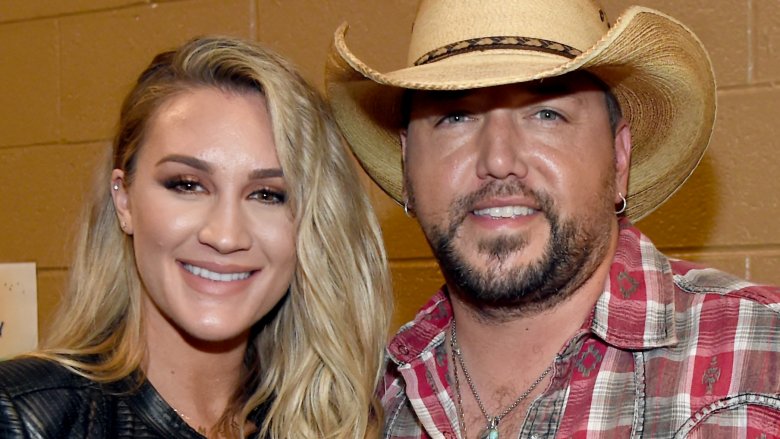 Getty Images
Congratulations to the country music star!
Late on Friday, Dec. 1, 2017, Jason Aldean announced that he and his wife, Brittany Kerr Aldean, welcomed their first child together. And—drumroll, please—it's a boy! The Aldeans' son weighed in at 9 pounds and 5 ounces. As for his name, Jason and Brittany named their baby boy Memphis Aldean.
"So blessed today to see my little man come into the world," Jason wrote on Instagram, sharing a photo of himself, his wife, and his newborn in the hospital. "In a year that has been a rollercoaster ride, this is what its all about. I cant wait to see what life has in store for this kid. Memphis Aldean... 9lb 5 oz. #mamawasarockstar."
Brittany posted the same image on her own Instagram page, writing, "Memphis Aldean Williams💙 Born today at 1:29PM weighing 9lbs 5oz 🙈🙌🏼 There are truly no words for the love we feel🙏🏼 Thanks for the amazing support @jasonaldean and enduring all the hand squeezing and nail digging🤗."
She added, "HANDS DOWN THE HAPPIEST DAY OF MY LIFE!!!"
As Nicki Swift previously reported, Jason and Brittany announced that they were expecting back in May. "SURPRISE!!! WE ARE PREGNANT!!!" Brittany wrote on social media at the time, sharing a photo of her and her husband wearing coordinating "Baby Mama" and "Baby Daddy" T-shirts.
"This was the hardest secret we've ever had to keep," she went on. "This journey for us has been full of many happy times & also many tears... The biggest rollercoaster we have ever been on, without a doubt! All of the moments of heartache were followed by the biggest blessing in the entire world!! We will never take one moment for granted & can't wait to meet you, sweet baby!!!"
While Memphis marks the first child Jason and Brittany have had together, he's not Jason's first kid. Jason shares daughters Kendyl and Keeley with his ex-wife, Jessica Ussery.
As we wait for more details about the newest member of the Aldean family, read up on the strange truth about Jason and Brittany's marriage.