How Much Was Mikhail Gorbachev Worth When He Died?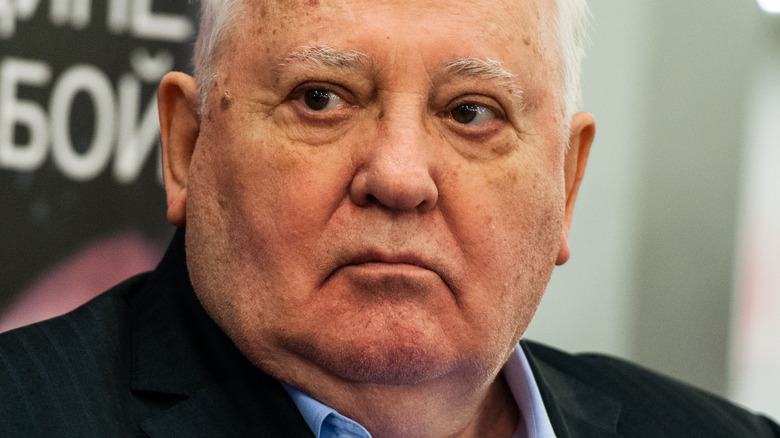 Evgeny Eremeev/Shutterstock
The last leader of the Union of Soviet Socialist Republics (USSR), also known as the Soviet Union, Mikhail Gorbachev died on August 30, 2022, at the age of 91 (via Reuters). The subject of former President of the United States Ronald Reagan's plea to "tear down this wall" (a reference to the Berlin Wall that divided East and West Germany, as described by The Washington Post), Gorbachev later developed a friendship with Reagan's successor and fellow Republican, President George H.W. Bush . A controversial figure of the Cold War era, Gorbachev was reported by the Mirror to be "seriously ill" and on dialysis treatment for his kidneys.
With the stereotype of the Russian oligarch and Russian President Vladimir Putin's speculated high net worth, it's worth bringing into question how much Gorbachev — who removed Russia's Communist Party from its place of influence with the collapse of the Soviet Union — was worth prior to his death. Surprisingly, sources estimate that it isn't anywhere close to that of Putin.
Mikhail Gorbachev's net worth was only in the millions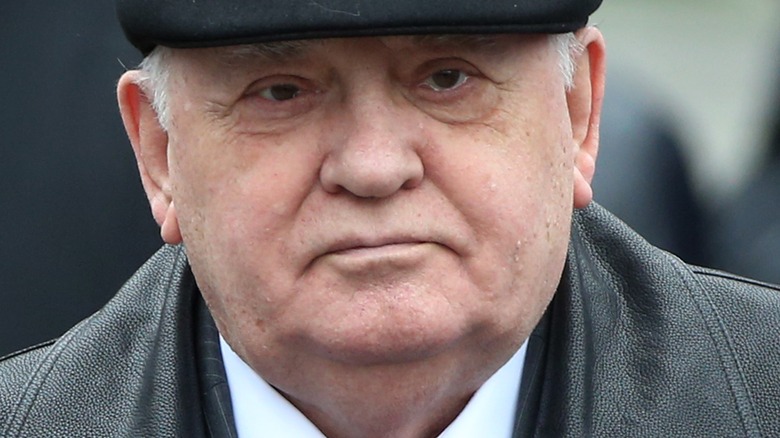 Mikhail Svetlov/Getty Images
Compared to Vladimir Putin's estimated net worth of around $70 billion, according to Celebrity Net Worth, Mikhail Gorbachev had a much lower net worth at the time of his death. Make no mistake, though; it doesn't appear that the former leader of the USSR was left penniless even in old age.
According to Celebrity Net Worth's profile on Gorbachev, he was worth $5 million at the time of his death. Celebrity Net Worth also notes that Gorbachev was once a supporter of Putin but later "denounced" him, although it's unclear if this change of opinion affected Gorbachev's finances substantially. A 1988 article from the Harvard Business Review described Gorbachev as a "turnaround CEO" at the time, which was before the fall of the Soviet Union.
In the later years of his life, Gorbachev remained involved in politics, but he also broadened his horizons and released an album of songs dedicated to his late wife, Raisa, with the proceeds going to charity (via The St. Petersburg Times). In a 2017 article published originally in The New York Review of Books, the Brookings Institution reported that Gorbachev was living in a dacha — a type of cottage or summer home — outside Moscow.
Gorbachev's health had deteriorated numerous times before his death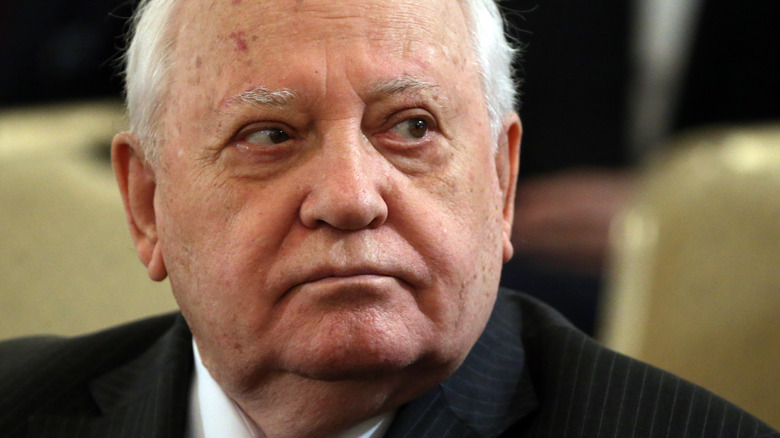 Mikhail Svetlov/Getty Images
At the end of Mikhail Gorbachev's life, finances seemingly weren't a big concern for the late politician. Rather, prior to his death, Gorbachev was hospitalized multiple times for the treatment of different medical conditions. In 2014, the Independent described Gorbachev as "fighting for his life" while hospitalized. This came after Gorbachev previously had to deny reports of his death from Russia's RIA Novosti in 2013, which the news agency attributed to having been hacked, as reported by sources including the Independent and Sky News.
Then, in 2019, Gorbachev was hospitalized for pneumonia, but ultimately recovered. The late politician told RIA Novosti, "The treatment is basically over, now they are keeping me in for a couple of days and that's it" (via NDTV).
According to an article from Russian news source TASS, Gorbachev was first hospitalized as a precautionary measure in 2020 amid the COVID-19 pandemic as a way of monitoring his health, and he had been in the hospital in deteriorating condition since that time.