Are Patrick Dempsey And Eric Dane Friends?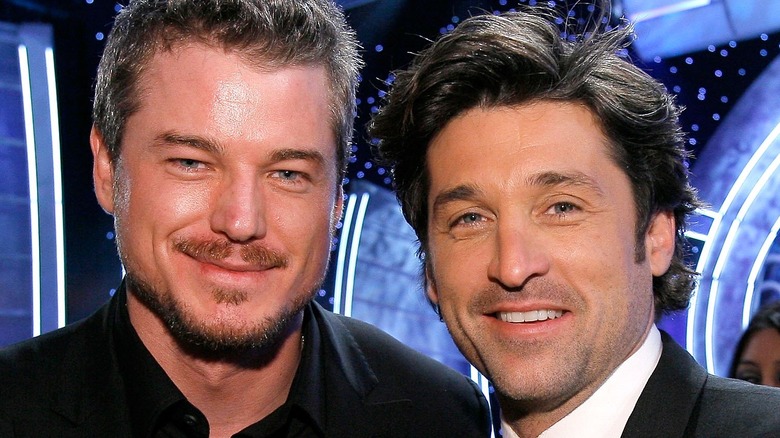 Vince Bucci/Getty Images
Patrick Dempsey is well-known for his role as Derek Shepherd (or as fans call him "McDreamy"), and Eric Dane played Mark Sloan (better known as "McSteamy") on the iconic ABC hit series "Grey's Anatomy." The show first aired in 2005 and is now the "longest-running medical drama on American television" — beating out "ER," which ran for 15 seasons, according to People. Although "Grey's Anatomy" is still a massive hit and is now in its 19th season, Dane exited the show in 2012 after his character Sloan died from injuries sustained in a plane crash, per TVLine. "It has been wonderful to work alongside and learn from a creative force such as Shonda Rhimes," he told the outlet. 
Meanwhile, Dempsey left "Grey's Anatomy" in 2012, when his character tragically died in a car accident. "It was just a natural progression with the way the story was unfolding," he told Entertainment Weekly of his departure. 
Although fans were crushed to see two main characters no longer a part of such a legendary series, it's safe to say Dane and Dempsey have remained close friends even after they said goodbye to "Grey's Anatomy."
Fans went wild over an Instagram photo of Eric Dane and Patrick Dempsey
When Patrick Dempsey and Eric Dane reunited, fans were here for it. The unexpected get-together came in the form of an Instagram photo showing the former "Grey's Anatomy" co-stars standing oddly far away from each other — illustrating social distancing during the height of the COVID-19 pandemic. "Blurry pic of how to hang out 6 feet apart," Dane wrote on the April 2020 post. Although McSteamy provided useful information, fans were more excited to see the TV doctors together again.
"God, I miss Mark and Derek," one follower commented. "God, you two are such a huge miss! Watching Grey's (again), and you guys are both still in it ... alive," another wrote. Dane's post also gained a lot of traction on Twitter, with over 5,000 retweets and thousands of comments from fans expressing how iconic this mashup was. "I wasn't planning on crying today, but I guess I have to now," one Twitter user wrote. "This is the best friendship ever," another tweeted. 
While it was refreshing to see the dynamic duo link up again, fans of the show "Euphoria" have still demanded that Dempsey and Dane join forces and make an appearance on the series together.
'Euphoria' fans think Patrick Dempsey should make a cameo on the show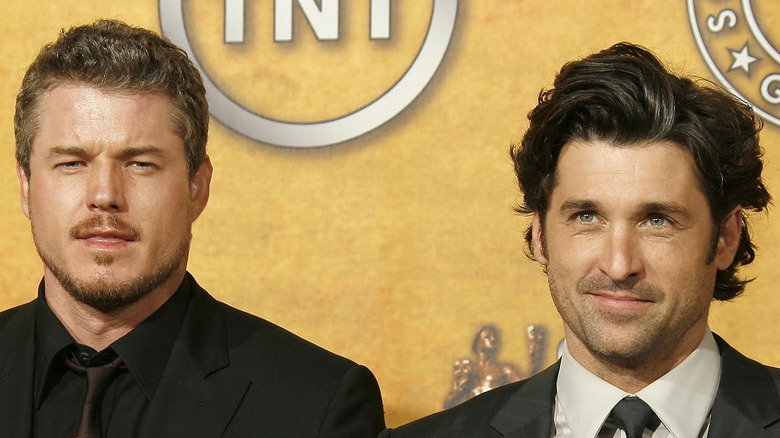 Vince Bucci/Getty Images
Eric Dane joined the cast of the HBO hit series "Euphoria" as Cal Jacobs back in 2019, and the show turned into a massive worldwide success. According to Variety, "Euphoria" pulls in millions of views per episode and it is now HBO's "second-most watched show' — catching up to "Game of Thrones," which is still in the lead. In Season 2, viewers got to dig deeper into Dane's complex character Cal and the defining moments that molded him when he was just a teenager, per Us Weekly. During these flashbacks, Cal shared a deep connection with his best friend Derek, and fans are already pitching that Patrick Dempsey should play the role of Derek in the present on "Euphoria."
Considering Mark Sloan and Derek Shepherd were best friends on "Grey's Anatomy," fans believe it's only right they reunite on "Euphoria" — and they have high hopes that it could happen. "Manifesting Cal's best friend to come back, and it's Patrick Dempsey," one user tweeted. "Absolutely terrified 'Euphoria' is gonna cast Patrick Dempsey as old Derek," another wrote. 
While the idea sounds pretty epic, Dane told E! News "Euphoria" creator Sam Levinson that choosing the name Derek for his best friend and love interest was "purely coincidence." Therefore, the possibility of Dempsey joining the cast or making a cameo on the show is slim to none. But even if the two never get on the big screen together again, they remain friends.