Pink Opens Up About Raising Her Kids Gender Neutral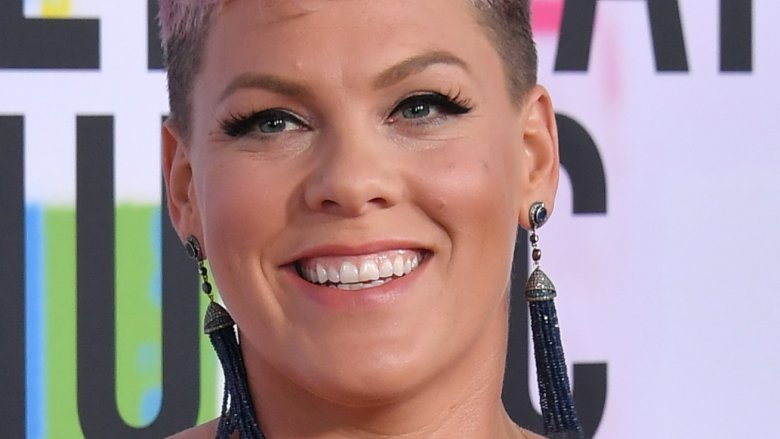 Getty Images
The "Beautiful Trauma" singer doesn't want her kids to be defined by their gender.
During an interview with The People on Saturday, Dec. 2, 2017, Pink (real name Alecia Beth Moore) opened up about raising her children as gender neutral.
"We are a very label-less household," the 38-year-old pop star said of her family, which includes her motorcycle racer husband of 11 years, Carey Hart, 42, and their children: daughter Willow, 6, and son Jameson Moon, 11 months. "Last week Willow told me she is going to marry an African woman. I was like: 'Great, can you teach me how to make African food?' And she's like: 'Sure Mama, and we are going to live with you while our house is getting ready.'"
The "So What" hitmaker also described how impressed she was to see a gender-neutral bathroom in a school she visited. "The bathroom outside the kindergarten said: 'Gender Neutral — anybody,' and it was a drawing of many different shapes," she explained. "I took a picture of it and I wrote: 'Progress.' I thought that was awesome. I love that kids are having this conversation."
As Nicki Swift previously reported, Pink, who recently received a Grammy nomination for "What About Us," made headlines when she accepted the Vanguard Award at the 2017 VMAs. During her moving speech, she recounted a conversation she had with her daughter about androgyny and the true meaning of beauty. "She said to me out of the blue, 'Mama, I'm the ugliest girl I know,'" Pink said. "And I said, 'Huh?' And she said, 'Yeah, I look like a boy with long hair.'"
"'Well what do you think I look like?'" the "Try" singer went on. "And she said, 'Well you're beautiful.' And I was like, 'Well, thanks. But when people make fun of me, that's what they use. They say I look like a boy or I'm too masculine or I have too many opinions, my body is too strong.'" 
Pink concluded, "Baby girl, we don't change, we take the gravel and the shell and we make a pearl. We help other people to change so that they can see more kinds of beauty."