Is Shay Mitchell Still Close With Any Of Her Pretty Little Liars Co-Stars?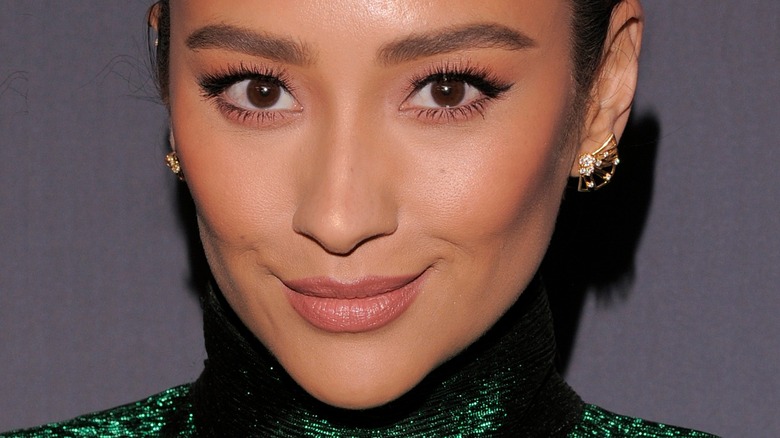 Ron Adar/Shutterstock
For many, Shannon Ashley "Shay" Mitchell will forever be Emily Fields from "Pretty Little Liars."  The actor portrayed the role of the kind-hearted swimmer from the show's debut in 2010 up until its final episode in 2017, per IMDb. The bond betweeen The Liars was pretty tight on-screen, with fans often raving about the friendship between castmates. According to IMDb, Mitchell has since appeared in various shows such as "Dollface," and has even diversified her skills. She voiced lead character Alexandra Trese in the animated horror series, "Trese." However, Mitchell took on another role in 2019 that afforded her the chance to look at the world with new eyes.
Mitchell welcomed her daughter Atlas Noa Babel with her partner Matte Babel in October of that year. On her second birthday, the Canadian-born star wrote a tribute to her daughter. She penned, "I used to laugh at the moms who cried on their babies birthdays. What was so emotional? Of course, watching your child grow up comes with a bag of feelings ... I still can't believe you're mine." But Mitchell's motherhood journey was only beginning, as she welcomed her youngest daughter in the first half of 2022. Upon the birth of Rome Babel, she wrote, "We're so happy you're here Rome, named after my best friend, my soulmate, my 'person,' my Grandma Romaine." But it seems as if Mitchell was not the only "PLL" cast member to embrace motherhood. And apparently, they continue to bond over the experience.
Shay Mitchell and Troian Bellisario are mama goals
Shay Mitchell and Troian Bellisario, who played Spencer Hastings, are now both seasoned mothers after portraying the angst of wild teenage girls in "Pretty Little Liars." After the show ended, Mitchell and Bellisario drew closer as they entered motherhood. Bellisario welcomed Aurora Adams, her eldest child, in 2018, with her husband, "Suits" star Patrick J. Adams. She then gave birth to their second daughter, Elliot Adams, in a parking lot, per an Instagram post. Mitchell and Bellisario are girl mamas, and apparently, lean on each other for support.
Per Us Weekly, Holly Marie Combs revealed that Bellisario and Mitchell "have become really close in their momhood." Mitchell herself told Us Weekly in 2020, "It's just awesome getting advice from her ... She's definitely somebody that I have on speed dial." Mitchell also told the outlet that she took Bellisario's words of wisdom to heart. "[She said to] go with your gut and to not pay attention to anything else ... That's truly something that I live by. If it feels right, then that's what I do and I don't second guess myself."
Bellisario also popped in when Mitchell's daughter Atlas turned two. Mitchell posted a carousel to Instagram of her daughter's birthday party, and one pic showed Bellisario holding her infant daughter, Elliot, in her arms as they enjoyed the festivities. It seems like even their daughters will be Pretty Little besties for life! What about Mitchell's current relationships with the other ladies of "PLL?"
Shay Mitchell and Ashley Benson dance it out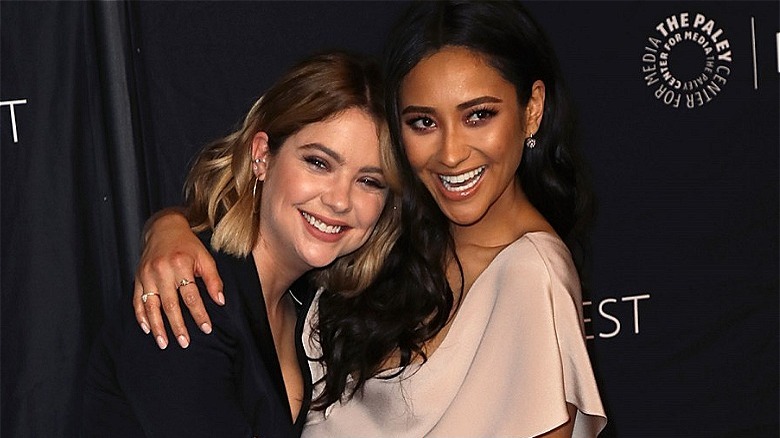 David Livingston/Getty Images
Troian Bellisario isn't the only series alum that Shay Mitchell is still buddies with.
One of the relationships that sparked intense interest in "Pretty Little Liars" was the friendship between Hanna Marin, played by Ashley Benson, and Mitchell's Emily Fields. "ButtahBenzo" was friendship goals and often had fans tweeting about the pair's antics. One viewer posted a pic of producer Lisa Cochran Neilan, Benson, and Mitchell as they were chatting, tweeting, "This is how I want to be at work." But Benson and Micthell's bond has since extended beyond the realms of "PLL."
While Mitchell and Benson may not bond over motherhood, it's clear their bond hasn't skipped a beat sine their "PLL" days. The duo took to TikTok to show off their not-so-impressive moves in a friendly dance-off. Mitchell and Benson battled it out to Handsome Dancer's "Coincidance" in 2020, and had many of their "PLL" fans in stitches. One commented, "This brought me back to both of your dance auditions in PLL." While their moves may have been on the dodgy side, it seems as if their friendship is as real as ever.