Kanye West Just Took His Feud With Gap To A Whole New Level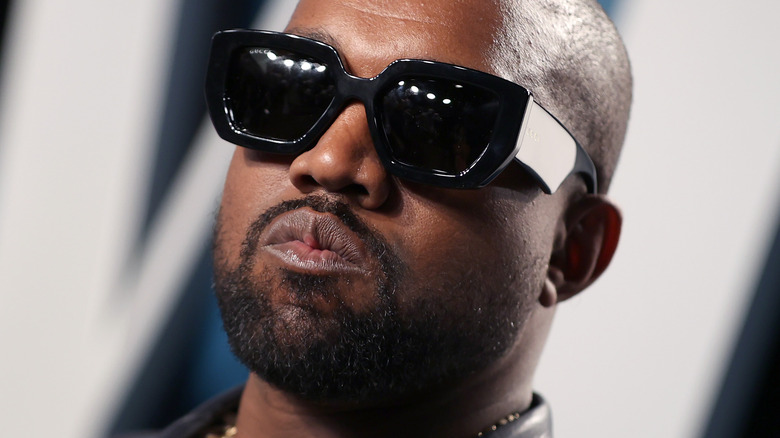 Rich Fury/vf20/Getty Images
It might not be entirely inaccurate to say that not a day goes by that Kanye West, who is also legally known as "Ye," isn't stirring up some sort of controversy. Whether it involves his business dealings or ex-wife Kim Kardashian, there's a good chance that the rapper and creative is in the headlines for some reason or another. The latest drama for West falls into the "business dealings" category rather than his personal life, and it has everything to do with his relationship with American clothing retailer Gap.
West entered a 10-year business agreement with shopping mall mainstay Gap for the Yeezy Gap collection in 2020, according to The New York Times. However, it wouldn't be surprising if the contract ends sooner, since West has now accused the company of ripping off a Yeezy Gap Engineered by Balenciaga design for the brand's regular, non-Yeezy label. The day prior, he insinuated the brand held a "meeting" without him. 
So yep, things have taken a major turn for the worse — and there doesn't seem to be much hope for making amends.
Kanye West unleashed the drama on Instagram
Kanye West took to Instagram on August 31 to share a screenshot of his text messages with an unidentified recipient, in which the person had shared with West what appears to be an Instagram screenshot of a Gap product photograph. In the photograph, a model is wearing a dark-colored T-shirt with the Gap logo on it. The unidentified person claims in the screenshot that Gap is copying the Yeezy Gap Engineered by Balenciaga (or "YGEBB") collection, to which West responded, "Exactly." West also wrote in the caption, "But they canceled the photo shoot with my kids in Japan without me knowing." (He did not elaborate on this point; however, he shares four children with Kim Kardashian.)
Hours after posting the claims, West continued his crusade, alleging Gap promised to open brick and mortar Yeezy stores. The star said instead of waiting around for the franchise to deliver, he would open the stores himself, starting in Atlanta. And if you're worried about whether Ye has the connections to pull it off, don't fret — he revealed rapper 2 Chainz can hook him up with the Atlanta mayor's phone number. Done!
Previously, West had stood by his collaboration with Gap, 1defending the Yeezy Gap Engineered by Balenciaga collection against criticism for selling items out of black construction bags, which many commentators online had likened to "trash bags". West stated in an August 18 Fox News interview, "Look, man. I'm an innovator. And I'm not here to sit up here and apologize about my ideas."