How Many Kids Does Kim Kardashian Have?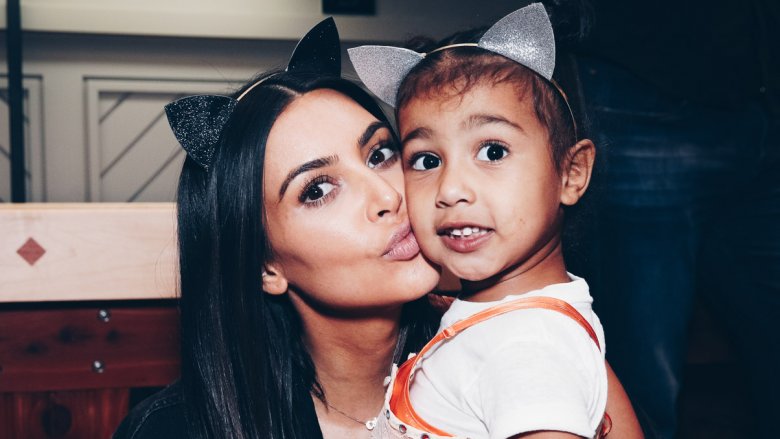 Handout/Getty Images
Kim Kardashian and Kanye West have four children: Daughters North and Chicago and sons Saint and Psalm. Kardashian revealed in late August 2019 that four children is the maximum she can parent, considering her insane schedule and workload. "I love my babies so much, but 4 is all I can handle with how busy I am," the Keeping Up With The Kardashians star admitted in an Instagram story (via Us Weekly). "And each one of my babies needs so much attention."
Kardashian and West welcomed daughter North in June 2013. Saint followed in December 2015. Then Kardashian and West used a surrogate to deliver daughter Chicago in January 2018 and son Psalm in May 2019, completing their family of six.
Another reason Kanye West and Kim Kardashian may be reluctant to have more children is because Kim suffered complications during her two pregnancies. During her first pregnancy with daughter North, Kardashian suffered from preeclampsia, a rare and dangerous condition, leading doctors to induce labor at 34 weeks — six weeks early. After North was born, Kardashian suffered from placenta accreta, a life-threatening condition that could have led to infertility, according to Parents. Entertainment Tonight reported that Kardashian suffered similar complications when Saint was born in December 2015, leading to her and West's decision to use surrogates for the births of their two youngest children.
That said, the Kardashian brood as a whole is constantly growing. In addition to Kim's four adorable tykes, Khloe Kardashian has daughter True, Kourtney Kardashian has sons Reign and Mason and daughter Penelope, and Kylie Jenner has daughter Stormi.
A source told People in January 2019, "Kim has always wanted four kids. She talks about it all the time. She likely won't have any more after this." Kim herself said as much to Elle nearly a year earlier in March 2018, shortly after daughter Chicago's birth. Kardashian said that "[her] home and [her] heart feel really full," but that she'd draw the line at four kids. "I don't think I could handle more than that. My time is spread really thin, and I think it's important that in all couples, the mom gives the husband as much attention as the kids."
In addition to having a full house, the West clan also has, well, a weird one. While you're here, check out how bizarre Kim Kardashian and Kanye West's living situation is.