The Sad Reason Shemar Moore Was Bullied As A Child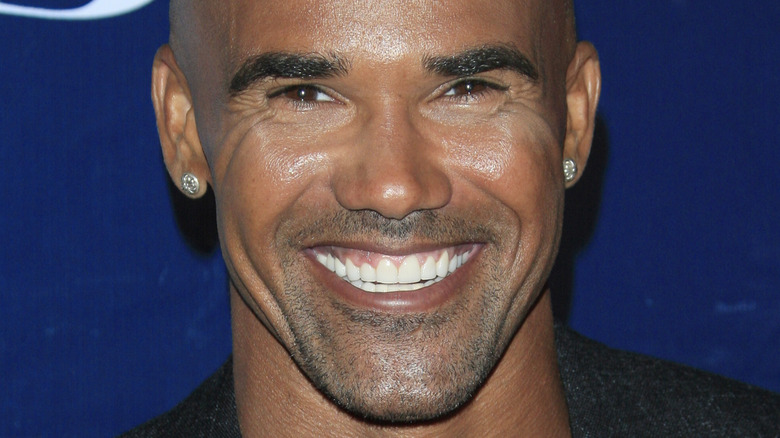 Kathy Hutchins/Shutterstock
Shemar Moore is an American through and through, but his upbringing received a generous dose of international exposure. The actor was raised by a single mother whose work as a math teacher took them across the pond when he was still a baby, he told The Boston Globe in 2007. By the time he was 6, he had experienced vastly different lifestyles in Denmark, Bahrein, and Ghana, he told BET 2013. 
After returning to the U.S., he continued to move around. He and his mother first settled in Boston for a year before moving to California, where Moore was born, according to The Boston Globe. Even though we know and love Moore for his work on "The Young and the Restless," "Criminal Minds" and "S.W.A.T.," he was originally on track to becoming a baseball player. After graduating from high school in Palo Alto, Moore secured a baseball scholarship at Santa Clara University, where he studied communications. But an injury dampened his sports aspirations.
So, to make money, he started to model for magazines — and eventually caught the eye of producers at CBS, a 2001 Ebony profile noted. Just like that, the baseball player-turned-print model found his unknown calling. "I could describe my career in two words: who knew," he told BET. But the journey from boy with life experience in Europe, the Middle East and Africa to promising young actor in California was anything but straightforward. Along the way, Moore experienced bullying over a specific aspect of his physical appearance. 
Shemar Moore was teased for being mixed race
Shemar Moore is the product of a white mother of Irish and French Canadian heritage and a Black father, according to Ebony. Living abroad during his formative years protected Moore from the stigma of being biracial prevalent in America, particularly in the '70s when he was growing up. "Civil rights were a big thing and Martin Luther King had just been killed in '68. There was a lot of unrest," he told Ability Magazine in 2009.
That was one of the main motivators that led Moore's mother to move them abroad. "My mother didn't want to raise me in a racist environment any more than she had to. It was tough ... So she was able to get us opportunity and she was able to get me out of that kind of racial unrest," he explained. But when they returned in 1977, the situation wasn't much different than when they left in 1970. "When my mother moved us back, it was a very difficult transition. I still remember the first time somebody called me n*****," he told BET.
Kids teased him especially because he was raised by the white side of his family. "'How come your mom is white, how can you be cousins with so-and-so,'" Moore recalled kids saying. The bullying got vicious. "That's how I learned I was good at baseball, because kids would chase me after school, so I started picking up rocks and throwing them to fight back."
Shemar Moore is thankful for his mother's efforts
Shemar Moore appreciates all the sacrifices his mother, Marilyn Wilson, made to protect him. "I'm grateful for that time of my life, though. I'm grateful for the travels and all of it, because I think it all instilled values and a sense of broad thinking," he told Ability Magazine. And that shared aventure around the world seems to have forged a deep bond between mother and son.
On Instagram, Moore often expresses his love for his mother, who died in February 2020. "She would always say to me..... 'Shemaaaa, I was in the front of the line when God was handing out sons' ..... and I would say back to her... 'Naw Ma, I cut the line to get to YOU!!!!'" he captioned a September 2021 post to mark what would have been her 78th birthday. Wilson suffered from a heart condition and multiple sclerosis, according to Essence. "I miss her more than I ever thought possible and I don't know how to do this life without her, but I get my STRENGTH from her and I will be OK because of HER," he wrote on Instagram, the outlet noted.
Moore was never afraid to show off his close relationship with his mother. In fact, he thinks that's part of why he's seen as attractive to women. "I think it's because I love my mama," he told Ebony in 2001. "Honestly, that's the truth ... that's the best asset I have."