How Jennifer Connelly Really Felt About Working With Tom Cruise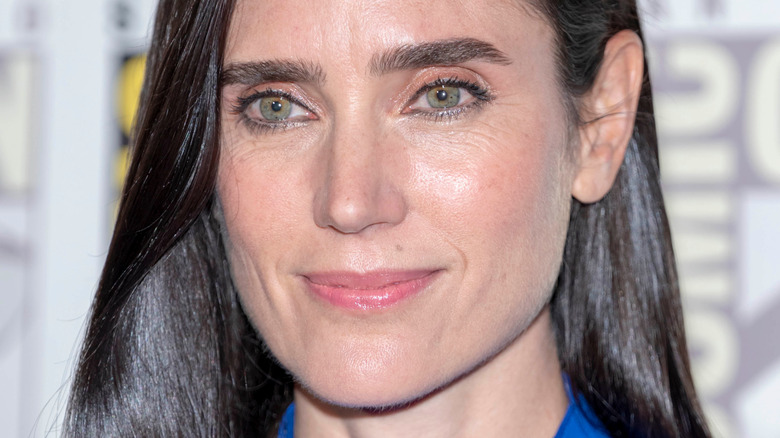 Eugene Powers/Shutterstock
Jennifer Connelly stunned audiences with her ageless beauty in "Top Gun: Maverick." The movie was a box office success for Paramount and, according to Deadline, the action flick had the second-largest opening weekend internationally, bested only by "Transformers: Age of Extinction." The actor was 47 years old when the movie started filming in 2018, but due to pandemic delays, the movie wasn't released until May 2022, per Us Weekly. Yet, many fans waxed lyrical about her beauty in the movie, with one tweeting, "The most beautiful woman of the world, Jennifer Connelly at the premiere of Tom [sic] Gun: Maverick." Strangely enough, at one stage of her career, Connelly believed her looks were holding her back. As she told "CBS Sunday Morning," "I tend to get cast more in dramas. I think it's my eyebrows. I look very serious. I look stern even when I'm not stern. If I'm not feeling cross, I look a little bit cross. I can't help it. It's just my face." (Talk about a case of RBF.)
Per Express, "Maverick" is one of the few times that Tom Cruise's love interest was closer to his age. The "Jerry Maguire" actor often works with co-stars who are a lot younger than him, but in this movie, Connelly was not decades his junior. Of course, this begs the question: How did the actors get along on-set? Connelly, for her part, has spoken out about what it was like for her to star alongside the legendary Cruise.
Jennifer Connelly admires Tom Cruise's work ethic
Jennifer Connelly sang Tom Cruise's praises in an interview with Variety. Cruise reprised his role of Pete "Maverick" Mitchell three decades after the character's debut, while Connelly portrayed the role of Penny Benjamin, his on-screen love interest. Die-hard "Top Gun" fans may recall that Maverick spoke about his dalliance with the general's daughter, Penny. Connelly told Variety she saw how much the franchise meant to him and was grateful to him, the director, and fans of the movie. As far as working with Cruise, she revealed they were virtual strangers at the beginning. "I had never even met Tom Cruise before. He's so exceptional. Spending time with him, you understand how someone has been such a movie star for so many years," she said. 
Connelly also admired Cruise's commitment to the role. She told BEONDTV that he was wonderful, saying, "He brings all of himself to every moment." The "Labyrinth" actor added, "Working with him and doing scenes with him was just an honor and privilege. You couldn't ask for more working with someone like that." The actor also admitted that she was excited when she heard that she was going to be working with the "Mission Impossible" star and may have been a little starstruck. She raved, "Wow, you're Tom Cruise!" But it wasn't only Cruise's work ethic that charmed Connelly. She also shared how he reacted when he found out about one of her personal challenges.
Jennifer Connelly hid her fear of flying from Tom Cruise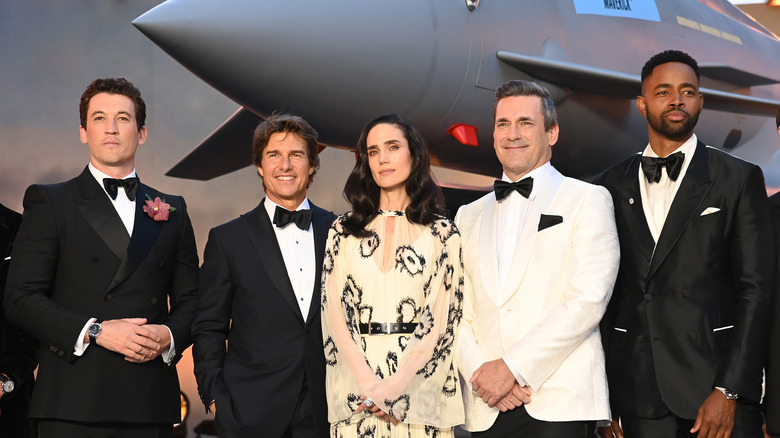 Dave J Hogan/Getty Images
Jennifer Connelly and the cast of "Top Gun: Maverick" have been touring the world with the movie, attending premieres, and even meeting royalty. And with all the interviews that they have been doing, the cast has also gotten to know more about each other. Connelly revealed that Tom Cruise learned an interesting fact about her during one press meeting. While talking to MRSS Dev, she divulged that she had a fear of flying. She was never supposed to be doing scenes in the air, and the move only came at a later stage of filming. Cruise explained that he wanted her to do an aerobatic flying scene, saying, "It's just going to be very graceful rolls. It's going to be very elegant." Connelly played it cool and didn't let on that flying terrified her. Cruise apparently only found out about her fear when she was talking to the press after the release of the movie. Connelly divulged, "Actually, the other day he was like, 'You know I heard recently that you had a fear of flying and you never told me.'" She responded, "Of course, I didn't tell you. You're Tom Cruise." 
In an interview on "Live with Kelly and Ryan," Connelly also talked about Cruise's warm personality when Kelly Ripa mentioned his kindness. She said, "He was incredibly generous with me and my daughter Agnes who came to work with me a lot. So sweet with her, really great."