The Unexpected Role Jay-Z Played In Manti Te'o's Catfishing Story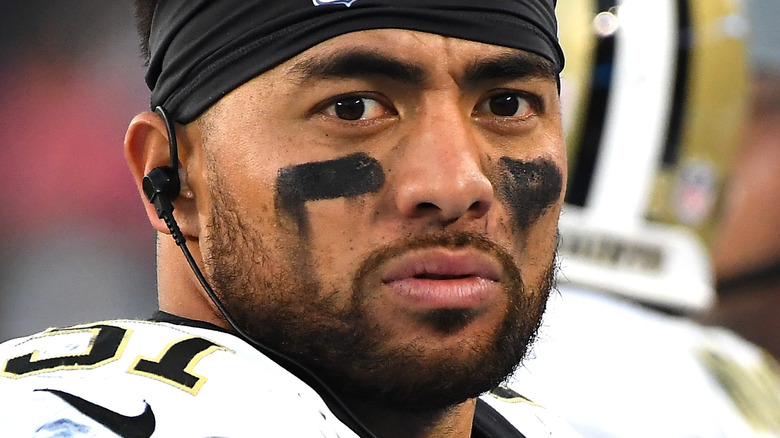 Jayne Kamin-Oncea/Getty Images
The Manti Te'o's catfishing debacle dominated headlines back in 2012. The incident, which saw the Notre Dame football star fall victim to an online hoax, is the subject of the Netflix docuseries "UNTOLD: The Girlfriend Who Didn't Exist." The series explores the creation of a pseudo Facebook account by Te'o's former teammate, Ronaiah Tuiasosopo. Under the name Lennay Kekua, Tuiasosopo used the fake account to seek out a romantic relationship with Te'o.
However, the catfishing scheme was brought to light after Deadspin published a shocking article exposing Tuiasosopo, as the face behind the alleged profile. Te'o has always denied any involvement in the hoax, telling ESPN at the time that the truth was far more shocking than anyone thought. "When (people) hear the facts, they'll know," he said in 2013. "They'll know that there is no way that I could be part of this."
It would take another decade before the release of Te'o's two-part docuseries. In an interesting revelation, the athlete opened up about how rapper Jay-Z inspired him to tell his story.
Manti Te'o said Jay-Z's words hit him like a ton of bricks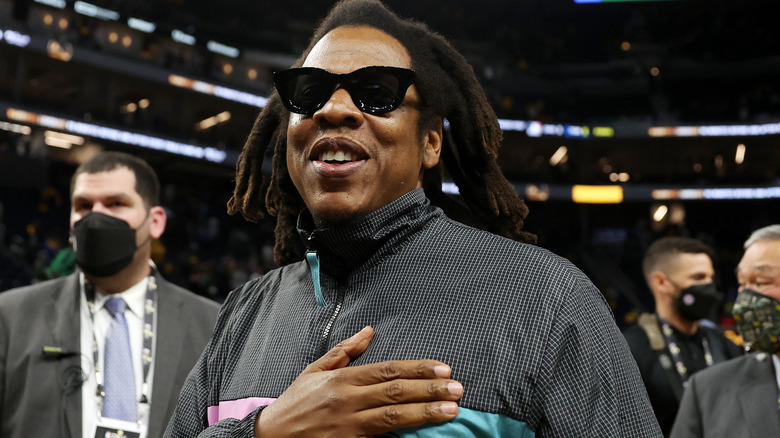 Ezra Shaw/Getty Images
Former NFL player Manti Te'o has opened up about the moment he decided to share his infamous catfishing story. During an August 16 appearance on "CBS Mornings," the athlete explained that he felt inspired to be more transparent after attending a 2017 Jay-Z concert. "Jay-Z opens up with saying these words; he said, 'You cannot heal what you don't reveal.' And it may have been just some random words to everybody, but for me, at that time, it hit me like a ton of bricks," Te'o stated. "So I challenged myself at that time if anyone had asked about it or had questions about it, that I would be open."
Te'o went on to explain that part of his reason for participating in the documentary was to give his grandmother the respect she deserves, as her death was overshadowed by the catfishing hoax. Te'o has also recently admitted that he continued to seek professional help over a decade after the incident. 
In August, he told For The Win that he goes to therapy regularly and has made mental health a top priority. "I continue to be in therapy and talk to my therapist because for one it helps me to talk to somebody, see how I can do things better," said the native Hawaiian. "It also equips me with the tools to deal with uncomfortable situations or challenges in life."
Manti Te'o later found love and got married
Years later, Manti Te'o appears to have moved on from the catfishing scandal and has since remarried. Amid the global pandemic in 2020, the athlete revealed that he married his longtime girlfriend, Jovi Nicole, after four years together. "Yesterday I got to marry my best friend and the love of my life in an intimate beach ceremony," Nicole wrote on Instagram. "Although this was not how we envisioned our ceremony, it was perfect."
Since the premiere of the Netflix documentary, Te'o has also received an overwhelming amount of support online. NBA star LeBron James tweeted, "Manti Te'o.. you good brother," along with a saluting emoji. Similarly, users on social media appear to now have sympathy for the athlete. "He was treated horribly and he was the victim," one fan exclaimed. Another suggested, "Man. A lot of folks in the media did Manti Teo wrong. Guy was a victim. Poor kid."