Inside Kenya Moore's Little-Known History With Jay-Z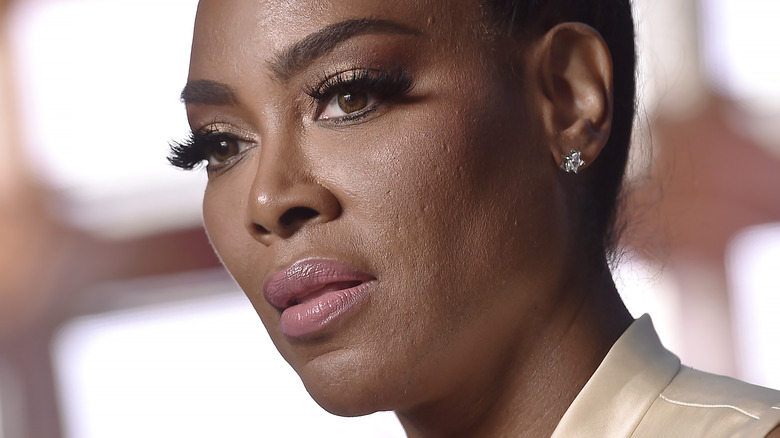 Steven Ferdman/Getty Images
In 2012, Kenya Moore joined "Real Housewives of Atlanta" which was then in its fifth season. And from that point, it did not take Moore a long time before she became a fan favorite with the heavy dose of drama she brought on the show. There was her feud with Phaedra Parks over a business deal gone wrong, and her epic fight with Porsha Williams which ended in the latter getting arrested and posting a $2,000 bail, per TMZ. Also notable was Moore's friendship and eventual fallout with OG housewife Nene Leakes whom she once described as a bully with barely any friends.
Of course, fans of the show live for all of the drama but Moore believes she was dubbed a villain too quick. "I think that I was just pegged into that villain role really early, and I just was never able to get out of that," she told Entertainment Tonight in 2022. "I sort of, in my own way, leaned into it and then it was just like, 'OK, this is old because now this really isn't who I am and I hate that I'm even perceived that way." But while viewers know Kenya for on-screen drama amid the Housewives franchise, many may not realize that her path crossed with Jay-Z's several years ago.
Kenya Moore and Jay-Z go way back
Per Cheatsheet, Kenya Moore met Jay-Z back in the late '90s when Jermaine Dupri was shooting the video for his song "Money Ain't a Thang" featuring Jay-Z. The outlet also reports that Dupri once shared the process involved in making the music video, revealing that they were particular about having models in it. Moore was cast as the "love interest" character in the video. In 2013, the reality star seemingly took a trip down memory lane back to the set of the music video when she shared a picture of herself with Jay-Z in a car.
Moore started her career as a teenage beauty queen and model, working as a video vixen sometimes, other times as an actress. Speaking of her start in modeling, Moore told OTSM: "I started my career as a professional model at 14 ... I believe the world is my stage and I'm very comfortable in front of the camera as a result of my background." Along with the numerous acting credits under her belt, Moore also appeared in two major music videos from the '90s — Nas' "Street Dreams" and 2Pac's "Temptations" per IMDb.
Kenya Moore debunked dating rumors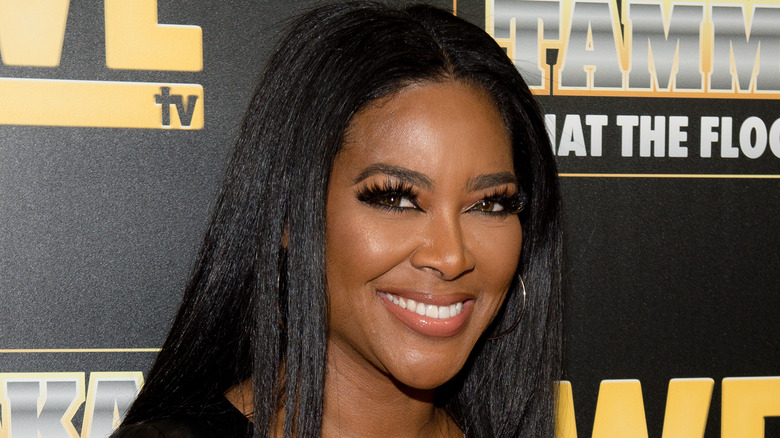 Marcus Ingram/Getty Images
When fans learned that Kenya Moore used to hang out with Jay-Z, rumors started swirling that the two might have done more than shoot a music video together. Moore was however quick to debunk the rumors. "Sorry... but NO I never dated Jay-Z," she tweeted at the time. "Only worked on the video. He and @jermainedupri were true gentlemen."
The reality star maintained her stance during an interview with The Grio where she again laid the rumors to rest. "I did a video with Jay Z it was pre-Beyoncé, and Jay Z is a very nice guy," Moore said. "I was his girlfriend in a video and that's all I'm gonna say about that. Of course, Jay Z is not the only famous person Moore has been linked to throughout the course of her career. According to Page Six, the reality star reportedly once dated boxing legend Mike Tyson and rapper Ludacris. 
These days, however, Moore couldn't be less bothered about the rumors — she is focused on her relationship with husband Marc Daly. The pair tied the knot in 2017 and while they have gone through their share of rough times, Moore and Daly seem determined to make things work. "We are in a really good place right now," Moore recently revealed. "Our relationship has really taken a turn."