The Truth About Joan Collins' Husband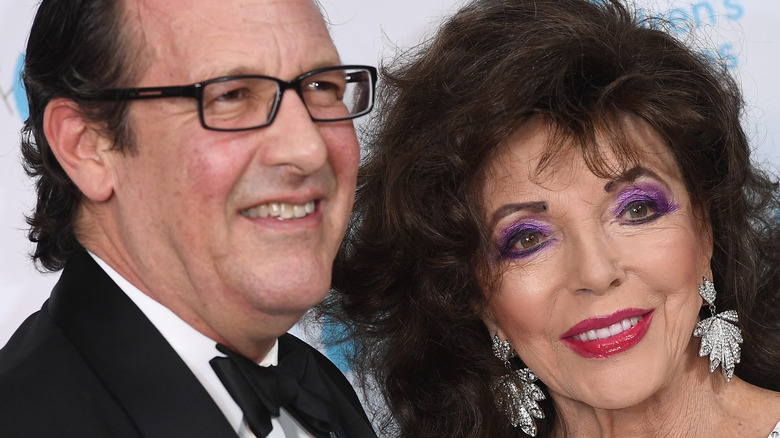 Jeff Spicer/Getty Images
Dame Joan Collins has no shortage of ex-husbands, but one lucky man has managed to stick around long-term. And, from the looks of their 20-year anniversary bash, it seems these two lovebirds are more in love than ever. We have just one question, though: Who is Collins' fifth husband, Percy Gibson?
Collins' decision to walk down the aisle once more came as a surprise to many — including the "Dynasty" star, herself. In fact, speaking to The Times in 2013, she joked that, at the time she met Gibson, she "certainly wasn't interested in getting married again. G-d no!" However, soon after they met, a romance blossomed, and in a February 2002 ceremony at Claridge's Hotel, the two were wed. It's worth noting that despite previously swearing off any more marriages, Collins appeared to be champing at the bit to wed the man she's since deemed her "forever husband" (per The U.S. Sun). As reported by Hello! at the time, the two were spotted already wearing their wedding rings during the 2001 holiday season, weeks ahead of saying their vows. 
It's pretty evident that Collins is head over heels for her hubby ... but what do we know about the man who stole her heart?
Joan Collins' husband comes from a prominent Scottish-Peruvian family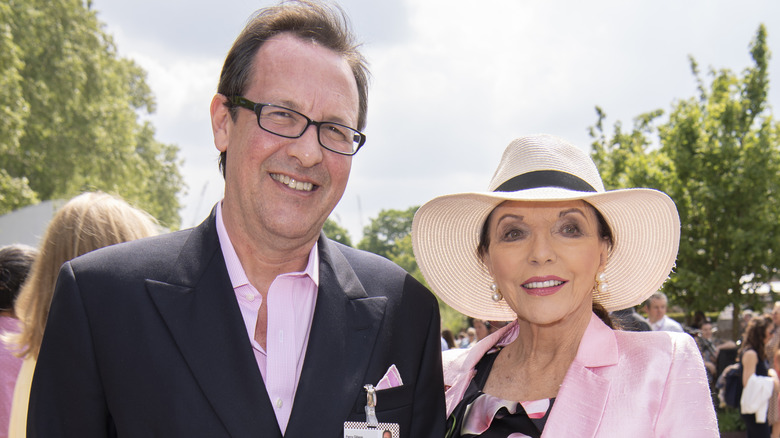 Jeff Spicer/Getty Images
"I've been married to an Irishman, an Englishman, an American and a Swede (it sounds like the start of a joke)," Joan Collins wrote for The Mail On Sunday back in 2018 (via Joan Collins). However, she ultimately found her happily ever after in the arms of a much younger Percy Gibson, who she describes as, "An alpha-male Peruvian-Scot." 
What the "Dynasty" star didn't mention, though, is that, per Closer, Percy comes from none other than a real-life Scottish-Peruvian dynasty, prominent in both publishing and finance. In fact, his aunt Doris Gibson was the founder of Caretas magazine, and was described by BBC News as nothing short of a genius. According to the outlet, Doris (and thus, Percy) was descended from an upper class British family, and her father — also named Percy Gibson — relocated to Peru to become a poet. 
Clearly, a name isn't all Percy has in common with his grandfather, as he also pursued a career in the creative space. IMDb lists him as the executive producer for the 2017 film, "The Time of Their Lives." Per Broadway World, he's also a theatre company manager and that's how, despite an age gap of 31 years between them, he ended up meeting his now-wife. 
Percy Gibson met Joan Collins when they worked together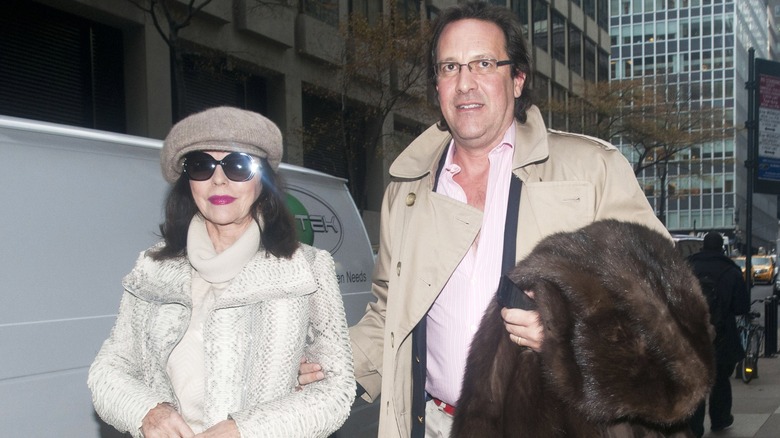 Arnaldo Magnani/Getty Images
It's just as well that Percy Gibson did become a theatre company manager. Per The Telegraph, it was while both he and Joan Collins were working together in a San Francisco production that they met and fell in love. 
Per an extract of her memoir published by Australian Women's Weekly NZ (via Magzter), Collins had a fondness for Gibson from the moment they met. From expressing concern over her hotel arrangements, to ensuring her favorite English newspapers were laid out for her every morning, he went above and beyond to ensure everything was just as she liked it. On top of that, on her first morning in San Francisco, she woke early for a morning interview, only to find that Gibson was already waiting for her, coffee in hand. According to the star, he'd known room service would not yet be serving coffee, so he got a latte for her himself. "I felt a great wave of warmth for this handsome young man," she reminisced. 
Two years after they met, Gibson and Collins wed, and earlier this year, they celebrated 20 years of marriage, once again at Claridge's. In his speech at the event, Gibson shared, "You're still my accomplice, my counsellor, my fearless leader and my loyal supporter," (via OK Magazine UK). As for Collins, she beamed, "I'm very proud that you are my husband, and I'm very prud to be your wife." So, who is Percy Gibson? The undisputed love of Joan Collins' life, that's who.