The Real Meaning Behind Demi Lovato's Tattoos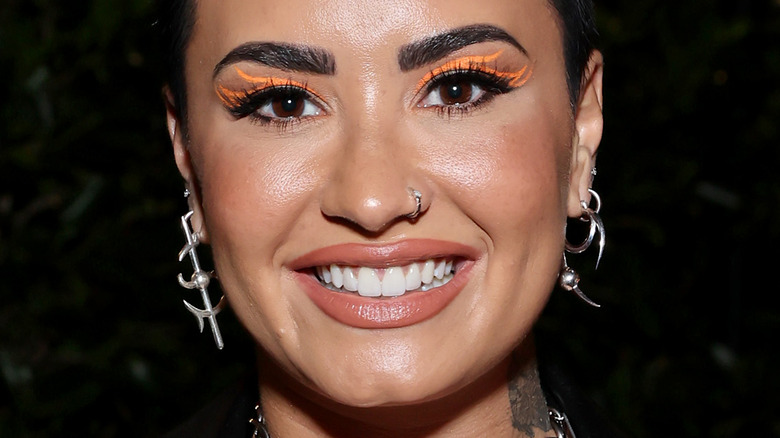 Amy Sussman/Getty Images
Throughout the years, Demi Lovato has been quite candid about their career and personal life. Despite their long-standing professional success, Lovato has been outspoken about their regrets. In a recent interview with Alternative Press, the singer revealed how they really felt about their album "Dancing with the Devil... the Art of Starting Over." They said, "I'm proud of the last album that I did, but it just didn't feel like me." They disclosed one reason why they didn't jive with their own music, continuing, "I was so high the whole time smoking weed that I wasn't focused." Lovato also shared their thoughts on their three documentaries, saying, "I wish I would have waited until I had my s*** figured out more because now it's cemented. Sobriety is what works for me and nothing else."
However, there's one area the performer isn't having remorse over. Lovato, who got her first tattoo at age 16, has built up quite the collection of ink on her body. According to PopSugar, the "Confident" crooner has accumulated over 20 tattoos. In a 2012 appearance on "Live with Kelly and Michael," Lovato confirmed that she is not looking back. They explained, "I'm young and I can rock it now. When I get older, I can worry about that later." This revelation has stood the test of time, as the star has continued to rack up tons of tattoos. Let's take a look at the meaning behind some of Lovato's significant images and words.
Many of Demi Lovato's tattoos are reminders of self-love
Demi Lovato has gotten numerous tattoos to document her journey with sobriety and to celebrate self-love. In 2011, not long after Lovato went to rehab for the first time, she got the phrase "stay strong" tattooed on her wrists. The purpose of the message was to help her with her addiction and self-harm struggles. According to Page Six, Lovato said, "It was very symbolic for me to be able to cover [up my scars from cutting] and also replace it with something else that's permanent so that I'll never be able to forget the support that I had when I went in [to treatment]."
Their tattoos caught on to a pattern. In 2019, the singer showed off some new ink with the word "me" on the ring finger of their left hand. Lovato took to Instagram Story (via People) to disclose what the tattoo meant. Along with sharing the art, Lovato wrote, "You can't love anyone unless you love yourself first." The same year, the star got the word "survivor" on their lower neck and a rose on their finger, which some people have interpreted as a reminder of Lovato's strength, per Women's Health Magazine. Their tattoos seem right in line with the themes of their songs. Take their 2013 hit "Warrior," with the lyrics, "Now I'm a warrior, Now I've got thicker skin, I'm a warrior, I'm stronger than I've ever been." Coincidence, not?
Demi Lovato has tattoos dedicated to loved ones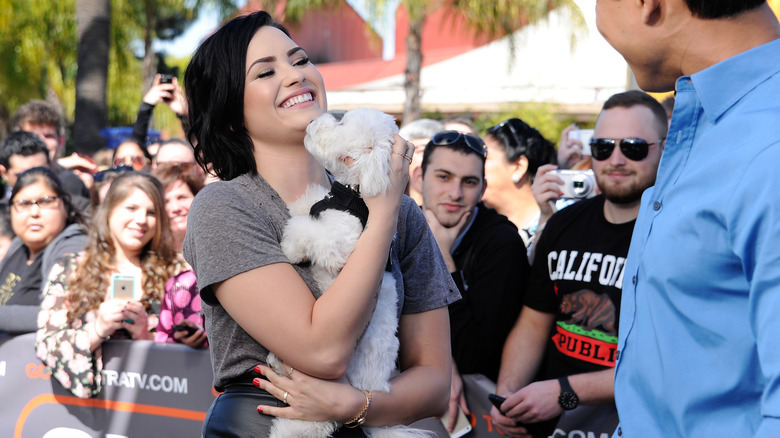 Noel Vasquez/Getty Images
Demi Lovato's tattoos are deeply personal. While some of them are symbols of their own path, others signify loved ones that passed away. In 2019, the star posted an Instagram photo of a cursive "T" on their left forearm, per Refinery29. The letter was to honor their friend Thomas Trussell, who sadly died from a drug overdose just a week before. A few years before, Lovato etched in her grandma, who died in 2016, with ink on her left forearm. In a now deleted Instagram post (via Us Weekly), she wrote, "This is for you Mimaw. You at 26 on my arm while I'm 26, and forever. I love you more. Thank you @_dr_woo_ for making her come back to life for me... it's stunning and the most meaningful tattoo I have ever gotten."
However, their tattoos aren't just limited to people. Adding to this collection of meaningful messages, the singer received a special foot tattoo in 2019. According to Refinery29, Lovato's tattoo was in remembrance of her late dog, Buddy, who tragically died in 2015. The image showed a picture of Buddy's face with the words, "Buddy was here" directly underneath. On Instagram Story, Lovato wrote, "Thank you @_dr_woo_ for the incredible portrait of my late baby Angel buddy. RIP @demisbuddy, I will love you forever and never forget you." Lovato's tattoos, which seem to serve as vessels of self-expression and commemoration, are clearly heartfelt and powerful.