Chrissy Teigen's Daughter Looks Just Like The Star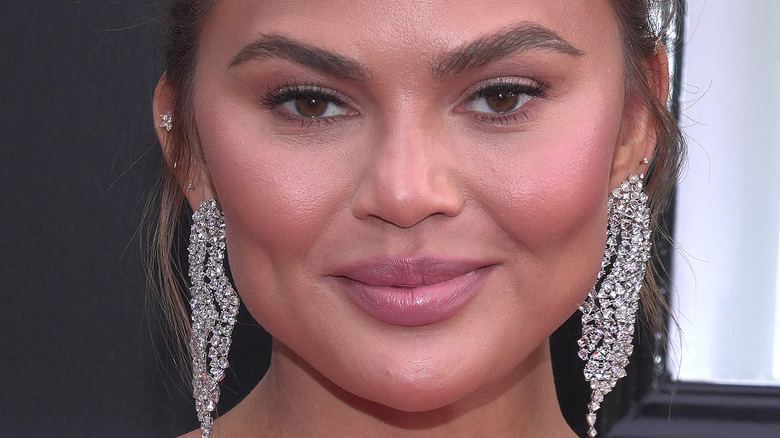 Kevin Mazur/Getty Images
Model, social media influencer, television personality, and wife to John Legend, Chrissy Teigen has been taking over our socials for years, and for good reason — she's entertaining. Teigen initially graced our timelines when she posed on the cover of Sports Illustrated in 2014 alongside Lily Aldridge and Nina Agdal. Since then, the model has had an impressive career.
Her modeling days are what led her to her now husband, John Legend. In 2006, the lovebirds met as she played his love interest in his music video, "Stereo," and the rest was history (via Cosmopolitan). The swoon-worthy love story is relatable, quirky, and restores our faith in true love. Teigen even shared with Cosmopolitan in June 2014 that she "was just happy to be with him" as "marriage was never [the] goal."
Recently, Teigen and Legend announced they are expecting, according to Vogue. The couple already have two children — Luna and Miles. While both Luna and Miles have their quirks and personalities, fans of the social media star can't help but notice how Luna is a splitting image of Teigen. 
Chrissy Teigen and Luna are twins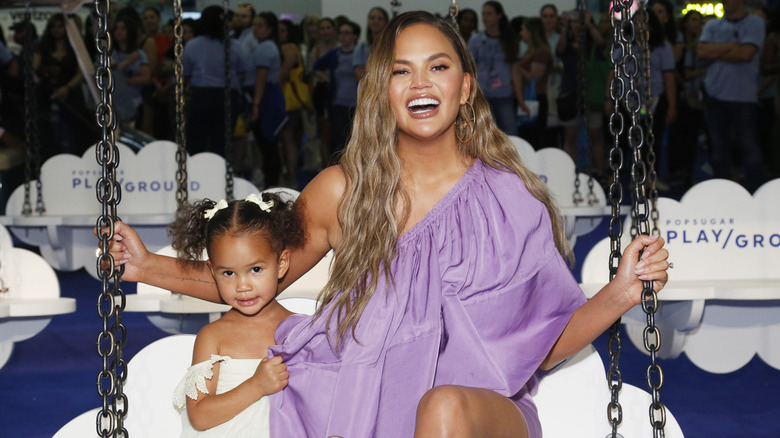 Lars Niki/Getty Images
Luna is Chrissy Teigen's mini-me! The "Cravings" author shared a throwback photo on Instagram in August 2019 and fans were seeing a lot of similarities between the star and her adorable daughter.
In fact, many immediately sounded off in the comments on how the pair are basically the same person. "Is that Luna with your mom? #twins," one user quipped. Another fan commented on how the twinning appears to be typical for the family as Teigen looks just like her mother as well. "Omg, Yes Luna is Chrissy's twin, but Chrissy — at first glance I thought who's that lil girl standing with Chrissy! You look just like your momma as well. Beauties," they wrote.
This isn't the first time the author had a twinning moment with her daughter. In July 2020, the brunette beauty took to Instagram once again to share a snap of her and Luna wearing matching pajamas while striking a pose. She captioned the cute snap, "Twins!" Looks like some things don't fall far from the tree as Luna may have a career in modeling in the future. In all actuality, Miles also resembles the "All of Me" singer. "Miles is a clone of John [Legend]! In so many ways," she told Us Weekly in November 2018. "He literally has his personality type and face." Teigen and Legend have never been shy to share photos and videos of their adorable children while gushing over their similarities.
Chrissy Teigen is excited to expand her family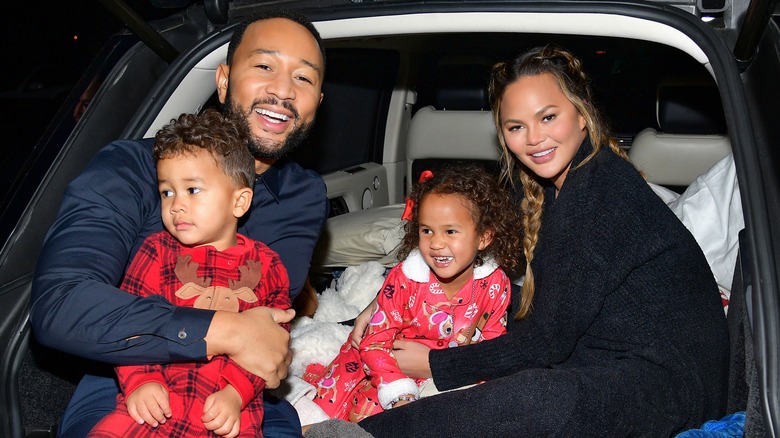 Matt Winkelmeyer/Getty Images
Chrissy Teigen may have her hands full, but that's not enough to stop their family from expanding. The "Lip Sync Battle" host took to Instagram to share the news in August 2022. In the post, Teigen shared her growing bump of her rainbow baby and opened up about how the pregnancy journey has been a "blur of emotions," explaining that "everything is perfect and beautiful" and she's "feeling hopeful and amazing."
Those who follow the star on social media are aware that Teigen and John Legend previously lost their son Jack in September 2020 (via Instagram). The model has been open and vulnerable about grieving on social media, and Teigen continues to honor her late son when she can. According to Healthline, "a healthy baby born after losing a baby" is known as a "rainbow baby," which  is why the model refers to her new baby as a rainbow baby. 
The soon-to-be-mother of three has always embraced motherhood. In an interview with Refinery29 in April 2021, the model shared that she ​"love[s] being a mom" and is "not sure if [she] would ever stop having children." The expanding family couldn't be more thrilled to be adding to their crew, and Teigen has said she is "lucky" to have the support system that she has. "I have a husband who truly loves the whole experience," the model shared with Us Weekly in an interview from March 2018. "He holds my belly at night, sings to it, wants to be there for me." Congrats to the dotting pair! We can't wait to see who their third child will resemble.