Did Harry Styles Write Any Songs About Kendall Jenner?
Featureflash Photo Agency/Shutterstock
Despite his superstar status, singer and former One Direction member Harry Styles has mostly kept his personal life away from the public eye. He's been known for being notoriously private and protective of his relationships, telling Rolling Stone in a recent cover story interview that he has found it extremely beneficial to him. Regardless, that hasn't stopped fans from keeping tabs on his romantic life, and understandably so given the slew of celebrity girlfriends in Harry Styles' relationship timeline. Currently, Styles is believed to be in a relationship with actor Olivia Wilde, but the English hitmaker has also been linked to other uber-famous faces in the past: Taylor Swift, Camille Rowe, and Kendall Jenner, just to name a few.
Per Us Weekly, Styles and Jenner were first linked in 2014 when they were seen together on a ski trip at Mammoth Mountain in California. An on-again, off-again romance followed, though the two never officially confirmed being an item. It wasn't until March 2021 when Jenner's mother, Kris, confirmed what fans had been suspecting for years about the two superstars: They did, in fact, date! Although their romance ultimately fizzled out, a lot of fans were convinced that Styles and Jenner shared a very special connection. So special, that Styles allegedly wrote songs about his love for the famous "The Kardashians" star (who, by the way, is now dating NBA player Devin Booker). But did Styles? Were any of his songs really inspired by Jenner? 
Kendall Jenner inspired Harry Styles' debut album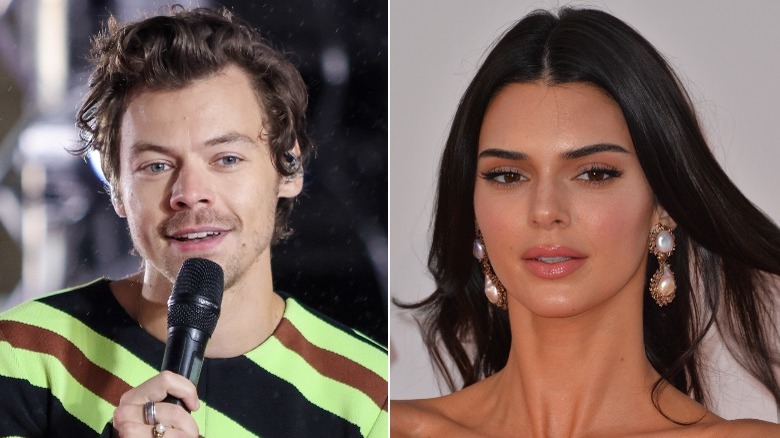 Debby Wong & Featureflash Photo Agency/Shutterstock
In 2019, Harry Styles and Kendall Jenner set the internet abuzz when they got together on "The Late Late Show" for an exciting game of "Fill Your Guts or Spill Your Guts." According to the rules, the two would take turns asking each other some personal questions, and choose between answering truthfully or eating something unusual. At one point during the game, Jenner asked Styles which of his songs from his last album was written about her. "I'm dying to know this," the supermodel added. The question drew cheers and laughter from the audience and Styles himself, who considered answering but ultimately dodged. "So I'd say track, uhm..." he said, before trailing off and proceeding to eat the cod sperm in front of him.
Rumor has it that Jenner served as the inspiration behind Styles' eponymous debut album which he recorded back in 2016 and released the following year. Some of the more popular tracks in the record include "Sign of the Times," "Kiwi," "Sweet Creature," and — get this — "Only Angel." (Hmm... coincidence?) In his profile for Rolling Stone, Styles seemed to allude to his relationship with Jenner as he spoke about the inspiration behind his musical project. "She's a huge part of the album," he said, without naming his muse. "Sometimes you want to tip the hat, and sometimes you just want to give them the whole cap ...  and hope they know it's just for them."
Fans think 'Matilda' was inspired by Kendall Jenner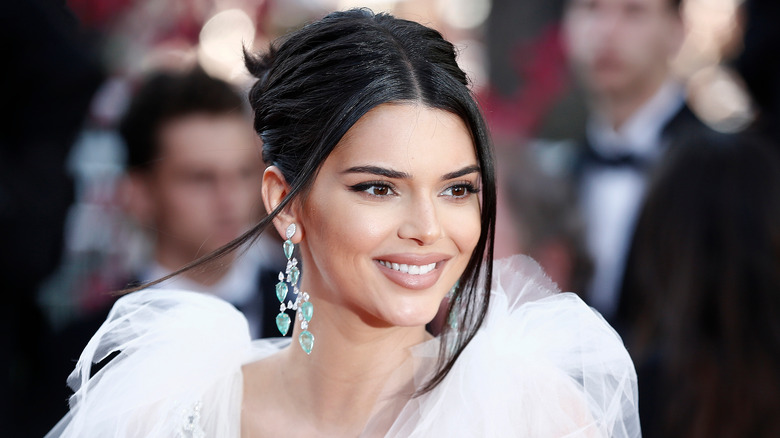 Andrea Raffin/Shutterstock
Another song from Harry Styles' latest album "Harry's House" (which he released just this May) is also said to have been inspired by Kendall Jenner. "Matilda," the seventh in the 13-track album, is about a person "whose family did not treat her well," according to Genius. "You can let it go / You can throw a party full of everyone you know / And not invite your family 'cause they never showed you love," read the chorus lyrics. A fan theory on Reddit suggested that the song may be about Jenner and how her "toxic" family exploited her growing up. "Think about it," said the user. "They dated when they were both very young and probably both a bit overwhelmed with newfound fame etc. She probably confided in him a lot about Kris, the show, and the hold her family has had on her to participate in the family circus."
In his interview with Apple Music's Zane Lowe, Styles did confirm that "Matilda" is about a person he knows in real life. "I had an experience with someone where, in getting to know them better, they revealed some stuff to me that was very much like, 'Oh, that's not normal' ... like I think you should maybe get some help or something,'" said Styles. As he pointed out in his lyrics, the singer knew it was "none of his business," but he just couldn't get it out of his mind. Could Styles be talking about Jenner? We'd also love to hear the answer, but at this point, only Styles knows for sure.