Season 26 Of The View Kicks Off With Low-Key Shade From Joy Behar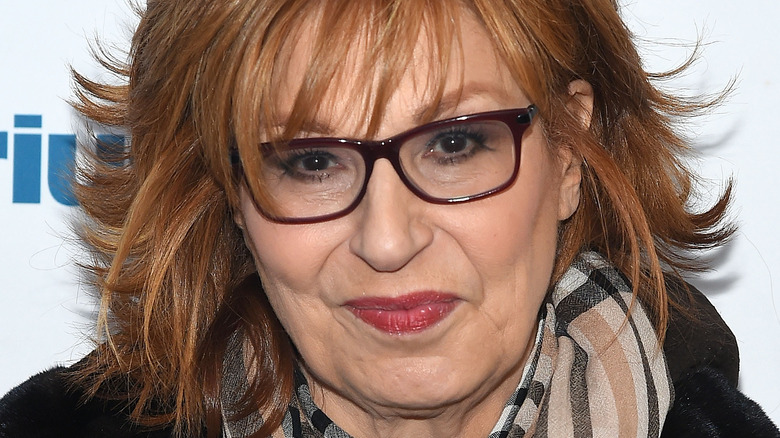 Ben Gabbe/Getty Images
Some viewers likely noticed a big change when "The View" returned for its 26th season on September 6, 2022 — and it had nothing to do with new co-host Alyssa Farah Griffin filling one of the seats at the table. That's because the chairs themselves had changed, and we're guessing that Joy Behar was relieved by the furniture swap.
Last season, Behar suffered a fall on the show's set while she was trying to sit down in a swivel chair. But as Entertainment Weekly pointed out, the set underwent a makeover that made the seats more stable. Now, the ladies can't physically spin around, so they'll have to settle for putting their unique spin on the news of the day.
It will take more than a tumble to make Behar permanently vacate her seat on "The View." She's been a fixture on the show for almost a quarter of a century, and the comedian's rep shot down rumors that she plans on retiring in the coming years, telling the New York Post that she and ABC have reached a deal that will have her ruling her non-swiveling roost through 2025. That's three more years of Behar stirring up controversy and throwing shade — and the latter she made sure to do during the Season 26 premiere.
Joy Behar's shady dig at former hosts
While the ladies of "The View" settled in for a long day of discussions about politics and pop culture on the Season 26 premiere, they caught up with each other and chatted about their summer vacations. The women lavished Joy Behar with compliments on how incredible she looked, and she revealed, "I lost a little weight." She also seemed to reference losing something else when she returned her fellow panelists' love: the co-hosts who were no longer with them.
After Sunny Hostin commented on how well the current group of panel members gets along, Behar said, "People ask me, and I always say this is the best group cohesively I think we've had." To take the edge off that slight shade, Behar added, "I mean, there were others that also worked." She didn't name names, but conservative political pundit Ana Navarro and former Trump official Alyssa Farah Griffin were brought into the fold to replace Behar's former on-air nemesis, Meghan McCain. In an appearance on "The Commentary Magazine Podcast," McCain revealed that she decided to leave "The View" over the way Behar treated her when she returned from maternity leave. "The day I went back to the show, Joy Behar said on air, 'Nobody missed you, we didn't miss you, you shouldn't come back,'" McCain recalled. "I started hysterically crying."
But during the Season 26 premiere of "The View," moderator Whoopi Goldberg assured viewers, "Look, we try to have a good time with everybody, okay?"