Piers Morgan Doesn't Hold Back His Disgust Over Kim Kardashian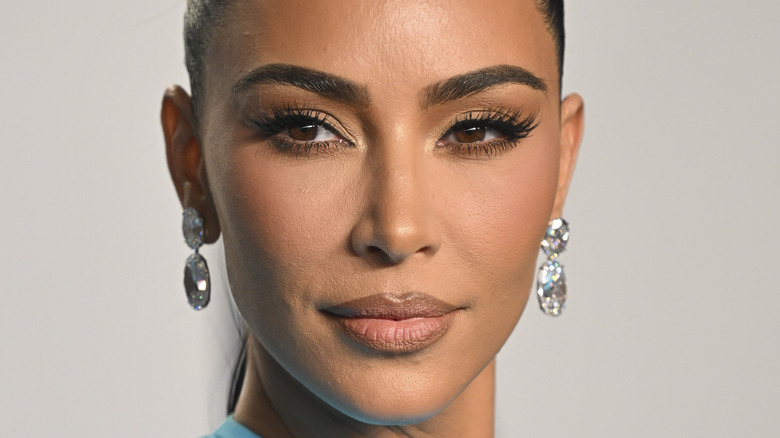 Karwai Tang/Getty Images
Kim Kardashian is breaking the internet again, and Piers Morgan isn't here for it. The British broadcaster had some choice words for the reality star after she bared her bum in front of the American flag for the latest cover of Interview Magazine. The news shouldn't come as a surprise to those familiar with the TV personality. Morgan is known for his brash, often ruthless, commentary on current events — and his no-holds-barred approach has landed him in hot water repeatedly. While his usually pent-up fury is usually directed at the Duchess of Sussex, this time he's taken aim at American royalty.
Kim posted the September cover of the magazine's "American Dream Issue" on Instagram earlier this week, and let's just say her assets were on full display. The reality star is barely recognizable as she looks over her shoulder in a denim-clad look. She's as blonde as ever, and it looks like she borrowed the bleached eyebrow look that Kendall Jenner debuted at the Met Gala. Of course, the star of the show is Kardashian's keister. On the cover, her perfectly perched posterior sits atop a slumping waistband for all to bear witness — and Morgan is decrying it as the end of the American dream. 
The broadcaster is disgusted by the cover
Piers Morgan is a man of snarky candor, and his take on Kim Kardashian's cover is nothing less than a scathing rebuke of everything that made the "Keeping up with the Kardashians" star famous. Writing in the New York Post, the broadcaster used the reality royal's rear end to declare the end of the American dream. The 57 year old mocked Kardashian as "barely recognizable from severe and deeply unflattering facial airbrushing" for having "her pants pulled down and her ginormous and gravitationally challenged naked backside bursting out of the top."
"My first thought when I saw it was to burst into derisive laughter, which is my usual reaction to anything the Kardashians ever do," he wrote in the smoldering op-ed, adding that his second thought was "one of genuine disgust." Morgan went on to say that he felt like "barfing" after seeing the cover, which he deemed "horribly offensive and inappropriate."
The British broadcaster continued his smear campaign against Kardashian — who is worth over $1 billion due to her successful shapewear firm — by chalking her fame and fortune up to "shameless, cynical exploitation" of her sex life, and her "short-lived marriage to one of the world's biggest and most genuinely talented music stars."