Piers Morgan Is Under Fire Yet Again For A Joke About Meghan Markle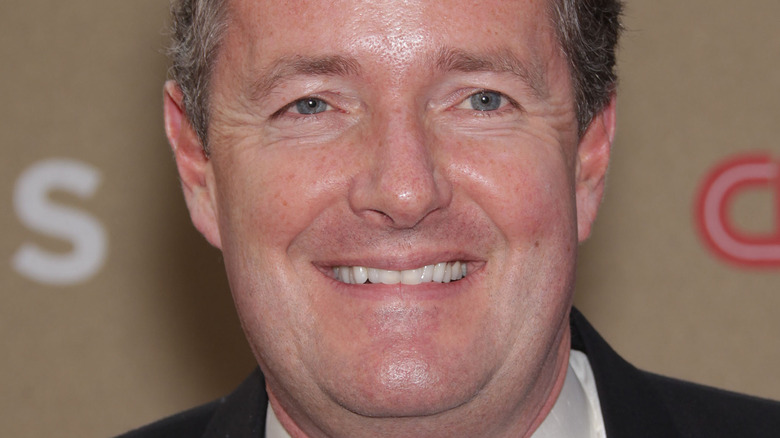 DFree/Shutterstock
Piers Morgan is not backing down on his criticism of Meghan Markle. Now, he is getting heat for a recent jab at the former royal. Morgan and Meghan have a storied history, as the outspoken British commentator has been a long-time critic of the former "Suits" actor. Morgan previously came under fire for bashing Meghan following her sit-down interview with Oprah in 2021, when Meghan claimed that an unidentified member of the royal family made racially insensitive comments about her son with Prince Harry.
In response to Meghan's statements, Morgan suggested the former actor was fabricating the story. "I'm sorry. I don't believe a word she says," Morgan said on "Good Morning Britain." He continued, "I wouldn't believe her if she read me a weather report. The fact that she's fired up this onslaught against our royal family, I think is contemptible."
Morgan's remarks caused a wave of backlash, and the television host exited the British talk show shortly after the incident. Now, Morgan has taken another shot at Meghan and is once again being slammed for his actions.
Piers Morgan is being slammed for a tweet about Meghan
Often controversial British television personality Piers Morgan has found himself in hot water after tweeting about Meghan Markle's arrival at Queen Elizabeth's Platinum Jubilee. "Is this when Aunty Meghan arrived?" Morgan tweeted, alongside a set of photos of a seemingly annoyed Prince Louis. Morgan doubled down on his sentiments about the former royals, telling the New York Post, "The huge reaction to my tweet perfectly summarizes public opinion to the Duke and Duchess of Sussex." He added, "Most people laughed because they're now global laughing stocks after all their hypocritical money-grabbing royal-bashing antics."
However, some users on social media are singing a much different tune. "I knew you couldn't go 4 days without mentioning Meghan. But I thought you'd at least refrain the first day out of respect for the Queen," one person tweeted. Meanwhile, author and TV presenter Gerry Stergiopoulos suggested that Morgan had an "unhealthy infatuation" with Meghan, adding, "I too wanted to marry Harry, but I am not angry he choose Meghan instead."
Morgan, who is currently a host at the U.K. based network TalkTV, has also claimed that Prince Harry and Meghan's arrival at the queen's Jubilee was "tense" and "frosty," per TMZ. And while there has been no response from Meghan's camp, something tells us that Morgan will continue sharing his thoughts on the famous couple.