The Truth About Dr. Phil's First Wife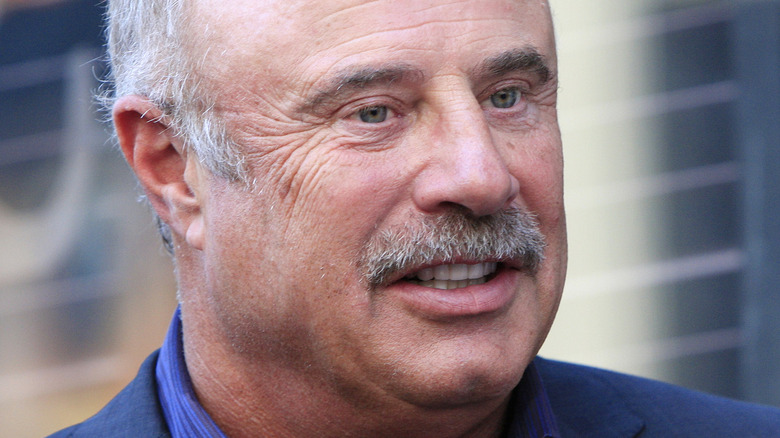 Joe Seer/Shutterstock
Dr. Phil McGraw is perhaps best known to the public for his many television appearances — particularly his show aptly called "Dr. Phil," which has been on the air since 2002. While he does hold a Ph.D., McGraw isn't a licensed clinical psychologist — but he has managed to launch the careers of numerous other media personalities, including Steven Assanti (of "My 600-lb Life") and Bhad Bhabie. Additionally, McGraw's life on and off television screens has remained a subject of public interest for many years.
Fans of McGraw might be aware of his family life, which includes his wife Robin McGraw and their two sons, Jay McGraw and Jordan McGraw, according to Closer Weekly. What fans might not know is that, despite their decades of marriage and profiles in magazines (such as Good Housekeeping) about how they have made their marriage work, Robin is Phil's second wife, not his first.
Dr. Phil's first wife was Debbie Higgins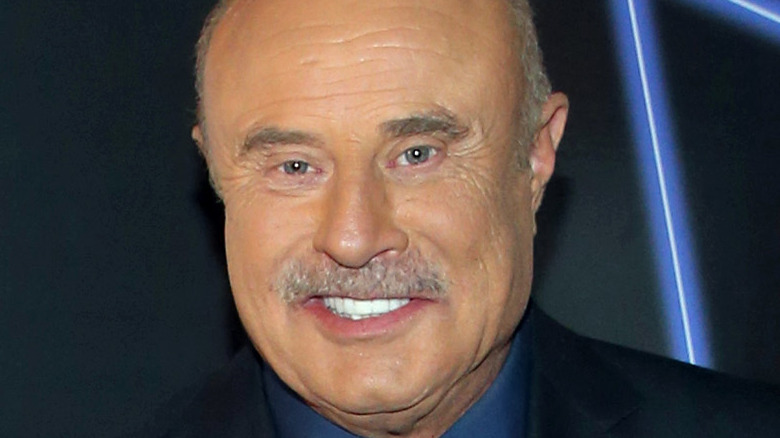 Phillip Faraone/Getty Images
Dr. Phil McGraw's first wife, as profiled in an article by The Kansas City Star (as archived by Recordnet.com), was Debbie Higgins, later Debbie Higgins McCall. At the time of the 2002 interview, McCall, a former cheerleader, was working as the manager of a liquor store. She explained that she married McGraw on November 27, 1970, before splitting with him in 1973 due to his interest in other women.
In a 2002 interview with Newsweek, McGraw stated, "We never had a cross word. We just sat down and said, 'Why did we do this?'"
No confirmed images of McCall appear to be available online. However, an obituary was published in The Kansas City Star in 2014 for a woman named Deborah Higgins McCall, who was 63 years old at the time of her death (via Legacy.com). The U.S. Sun reports that McCall's brother stated that she died of cancer.
Dr. Phil has been married to his wife Robin since 1976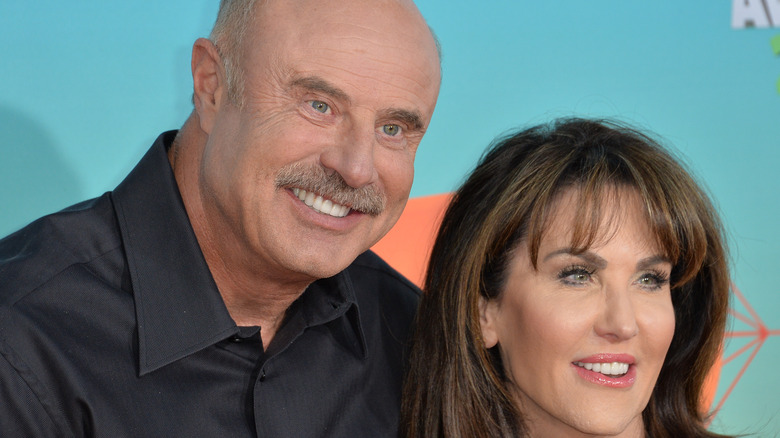 Jaguar PS/Shutterstock
Following his split from Debbie Higgins, Dr. Phil McGraw married his second wife, Robin McGraw. An Instagram post by Phil in honor of their 45th wedding anniversary confirms that his second wife's name was previously Robin Jo Jameson and that the two married in Texas in August 1976. Since that time, the couple has frequently discussed their marriage with the media, including Robin's decision to share what she has called "the secrets" of their long marriage (via "The Morning Show").
According to a Newsweek profile on Phil, the McGraws and their two sons moved to Beverly Hills so that Phil could begin filming the "Dr. Phil" television show. Both of the McGraws' sons, Jay and Jordan, have since married. Jay said
"I do" to model Erica Dahm in 2006, according to Closer Weekly. They have two kids: Avery Elizabeth McGraw and London Philip McGraw. Meanwhile, Jason married Morgan Stewart in 2020 — and they welcomed a baby girl named Row Renggli McGraw in April 2021, per Today.