The Spicy Way Alison Brie Began Her Relationship With Dave Franco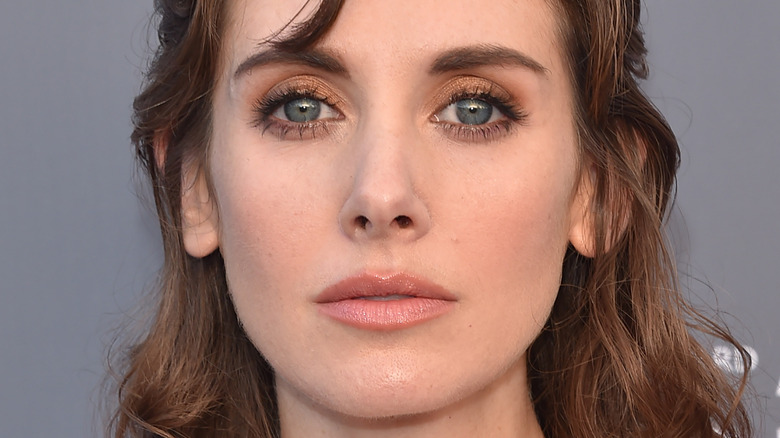 DFree/Shutterstock
Alison Brie and Dave Franco have enjoyed a sweet relationship over the years. The couple first met in 2011 and famously kept much of their romance under wraps — much like several other couples in Hollywood. But with the paparazzi, they could only keep things on the DL for so long. The cat was out of the bag when Us Weekly captured the pair holding hands in 2012, thus confirming their relationship. In 2015, People reported that Brie and Franco got engaged after spotting Brie with a huge sparkler on her ring finger. The pair tied the knot in 2017, and Franco told Entertainment Tonight that the wedding was "really special," while keeping other details scarce. 
Franco and Brie also famously bond over their love for cats. Yes, you read that right. Franco talked about the topic on "The Tonight Show Starring Jimmy Fallon" in 2017. "I don't know when I became the quirky cat guy ... At one point in my life, I was the single guy with two 16-pound cats," he confessed to the late-night host. "It definitely weeds out a lot of potential dating partners. We call them the small panthers. Alison loves them, thank God. She was really my only option [for marriage]."
But where did everything begin for Franco and Brie? Lucky for us, Brie spilled the tea on her spicy first meeting with Franco that kicked off their relationship with one another. And the rest, as they say, is in the history books!
Alison Brie details first few weeks with Dave Franco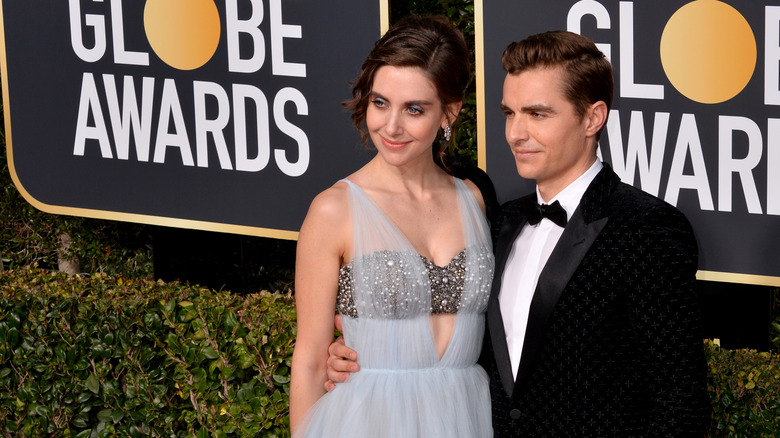 Featureflash Photo Agency/Shutterstock
Is it just us, or is it getting hot in here? Most of us know that Alison Brie and her husband, Dave Franco, have a super-adorable relationship, but how did it all begin? In a 2020 interview on "The Tonight Show Starring Jimmy Fallon," Brie revealed that she and Franco first laid eyes on one another during the famed Mardi Gras celebrations in New Orleans, Louisiana, with Brie joking that it's "where all great love stories begin." A mutual friend played matchmaker, inviting Franco to dinner and serving as Brie's wingman. Once the mutual friend discovered that Franco and Brie were into each other, they hit it off.
"It was the perfect setup because we both got to leave the restaurant [and] head out to the evening of drinking and debauchery having, like, a sexy secret that we knew the other person was on board," Brie told Fallon of the whirlwind romance while adding that they enjoyed "48 hours of drugs and sex and a lot of making out." But things didn't end in New Orleans; Brie traveled to New York and Paris with Franco for work. "He left a secret note in my sweatshirt on our last day of our trip in New York, saying, 'Come with me to Paris,' and so in cliché fashion ... How could I say no?" she told Fallon. How cute is that?
In 2012, Brie told Elle Canada that she wasn't sure that she wanted to get married, but looks like Franco changed her mind.
Alison Brie loves to praise her man on social media
Like the supportive spouse that she seems to be, Alison Brie shares photos of her husband, Dave Franco, on Instagram. Unfortunately, Franco doesn't have an Instagram account of his own to return the favor. In November 2021, Brie posted a sweet series of images, including one of herself and Franco rocking matching pink beanies. In the caption of the upload, she paid tribute to the movie they worked on together. "That's a wrap on 'Somebody I Used To Know!' *spoiler alert: I'm in love with the director," she gushed. "Time to celebrate!!"
In 2020, Brie shared another sweet tribute to honor Franco's "directorial debut" for the movie, "The Rental," which Brie also starred in. "I'm so d**n proud of him. He made a beautiful, complicated, horrifying film," she gushed. "And I got to be in it! This film is special to me in so many ways, and I'm just so excited for you all to see it." The post also included a shot of Franco watching footage of his wife and smiling. 
And aside from gushing over Franco and his outstanding work in film, Brie also celebrates normal milestones. In 2019, she shared a cute black and white shot of the duo smiling from ear to ear, and she kept the caption short but super sweet. "Happy Birthday to my whole heart," she gushed, including a single red heart emoji at the end of her post. We just love them!